Many girls and women have wardrobes full of skirts because these are commonly fashionable, multipurpose, and comfortable. They can use skirts in their everyday life and in special occasions; the type of dress meets every occasion's needs. Though people want to buy skirts, they also love to know about the fabric for skirts so that they pick the ideal one.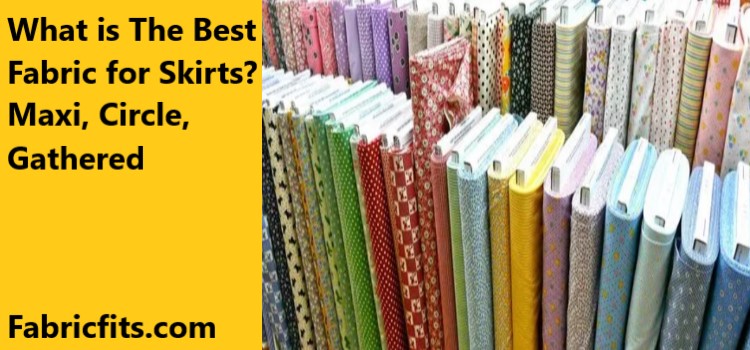 Cotton is the most used fabric for manufacturing skirts. But as skirts are different, different types of fabrics are applied to make them. However, some common fabrics that make most comfortable skirts are cotton, satin, poplin (Check Here), silk, rayon, denim, linen, jersey, and taffeta.
A skirt covers the lower part of the body from the waist to the legs. The fabric of the skirt shouldn't be stiff and incommodious because it can hamper your normal movement. So, make sure to choose flexible and comfortable fabric as the right fabric for your skirts.
What Are Skirts?
Skirts are one of the popular garments that cover the lower part of the body. Unlike the full dress, the shirt hangs from the waist to the downward direction. So, it has a tube-like shape. Generally, skirts have some drapes and are made of a single piece of fabric.
Skirts are stylish and comfortable. Mostly, females wear skirts in their day-to-day life nowadays. But males also used to wear skirts in ancient times. However, people wear skirts as both formal and informal dresses. The shape and design of the skirt represent whether a skirt is formal.
However, skirts are made of different types of fabrics. Moreover, skirts are one of the main elements of fashion and regular wear. This dress has gained massive popularity over time.
Different Types of Skirts
People make skirts with hundreds of designs and shapes. But skirts have some basic types. While making or designing skirts, one must know the types of skirts. Some primary categories of skirts are the following.
A-line Skirts
As the name implies, the A-line skirt looks like the alphabet 'A.' The length of the skirt might differ for different choices, but the shape remains the same. However, it looks good if the skirt ends right above the knees.
This skirt is tight from the upper part on the waist, but the drapes are loose at the knee. The A-line skirt looks cool and comfortable to wear.
Circle Skirts
Circle skirts are round-shaped skirts that are commonly short in length. Generally, these skirts have waists, and the drapes end at the knee. People also call this skirt skater skirt. However, this skirt creates the perfect circle, making users easily move. That's why this type of skirt is used as a tennis skirt.
Fitted Skirts
As the name implies, fitted skirts are made in such a way that it fits the body contours. The skirt is fitted to the body from the waist to the thigh. This shape makes the skirt stylish and also gives a corporate vibe. A pencil skirt or tube skirt are two types of fitted skirt.
Straight Skirts
Straight skirts are the primary type of skirts that you can modify differently. You can make different shapes with this skirt. Moreover, making this type of skirt is easy. This skirt's length might differ according to the user's preference.
Yoke Skirts
People also call yoke skirts hip-hugger skirts. This type of skirt is fitted to the waist, and the skirt shape is below the knee. That's why this skirt is called hip-hugger. This type of mash-up skirt is attractive and stylish.
Miniskirts
Miniskirts are common for day-to-day wear. These skirts have a short length up to the knee. Sometimes, the skirt might be a little above the knee. Generally, miniskirts are not too tight. That's why it provides comfort.
What Fabric is Used for Skirts?
Users have the flexibility to use various fabrics. That's why a lot of different materials are used for skirts. According to design, shape, comfort, and many other things, fabrics can be different.
However, cotton is one of the best fabrics used for skirts. Cotton provides comfort and ease of fabrication. Moreover, a huge variety of colors are available. Besides, this fabric is durable and lightweight.
Another suitable fabric for a skirt is silk. Silk is a shiny material and lightweight. Satin fabric is pretty similar to silk. So, this fabric is widely used for skirts. Some other common fabrics suitable for skirts are denim, wool, etc. Synthetic fabrics like polyester, acrylic, nylon, etc., are also used for skirts.
What is the Best Material for Skirts?
There are numerous types of skirts and a lot of fabrics are available to make them. Let's find out which fabric works best in which skirt.
Material for circle skirts:
Cotton felt or satin is mostly used in circle skirts to make the most flattering shape and free-flowering movement.
Material for pencil Skirts:
Lightweight cotton and silk are generally used in pencil skirts due to their breathability and beautifully stitched quality.
Material for bubble skirts:
Brushed cotton, linen, and linen tweed are the most preferred fabric for bubble skirts.
Material for A-line skirts:
Fabrics that drape and move gracefully are ideal for A-line skirts. Hence, satin, cotton, silk, rayon, wool jersey, and crepe de chine works well on this type of skirt.
Material for maxi skirts:
Maxi skirts require lightweight and comfortable fabrics. Cotton, chiffon, or jersey are mostly used in this type of skirt.
Material for miniskirts:
Choose stretchy or knot fabric for miniskirts to allow for free and comfortable movement. In this case, cotton or denim is an appropriate option.
Once you choose the skirt design you like then choose the right fabric material for your skirt. But one of the most popular and preferred for use in skirts is cotton. Its versatile qualities, low cost, and super easy to sew and care to make it more popular.
Where to Buy Skirt Fabric?
Fabric can be found at your nearest store. If you don't prefer to go to a shopping mall, visit online stores and you will be able to buy your chosen fabric with less hassle. Fabric.com is a trusted online source for buying fabric from its wide variety of selections.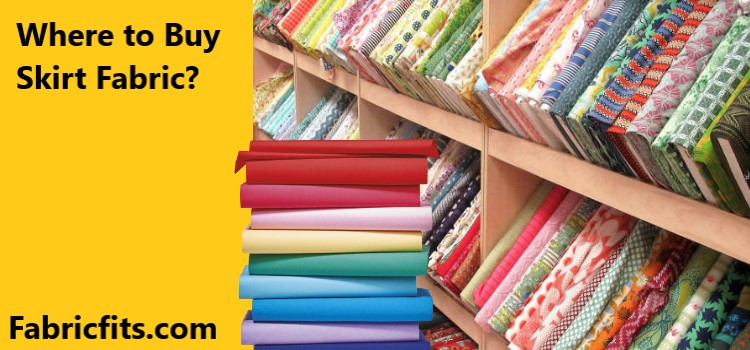 You can also depend on Etsy, Walmart, and Amazon for top-quality fabrics. These stores will make your selection process easier. Even, you can enjoy discount offers from their selected merchants.
However, online stores will not offer you any scope to check the fabric by hand. So, if you like to check different fabrics by hand and eye, your local fabric store is still the best option.
What to Check when Buying the Best Materials for Skirts
There are so many options for skirt materials in the market and so, it is tough to make the right purchase. Here are some important considerations that will help you choose the best one.
Characteristics and performance:
The most important thing in buying the best materials for your skirt is what kind of skirt you want to sew. Before purchasing any fabric material, make sure that the material specifications are right for the type of skirt you want to make.
That is, choose the material for skirts keeping in mind the style, shape, fit, design, and structure you want to achieve in your skirt.
Fabric quality:
Ensure that the materials you choose are long-lasting and of good quality. Pull the fabric with both hands to test the durability and longevity of quality fabrics. If it bounces back into place then surely it's a high-quality fabric.
Pattern vs. plain:
Decide, whether you want to take a pattern or plain fabric, which one you like best. If you are a complete beginner, I would suggest buying plain fabric. That is because, to maintain the beauty of stripes or big patterns, they have to match well which is quite difficult for beginners.
And if you are experienced or have the confidence that you can match the lines or stripes with special attention, then you can choose pattern fabrics.
Color endurance and weight:
Color durability or tolerance and degree of shrinkage are other factors in choosing skirt materials. Also, pay attention to the weight of the fabric. This will help you to choose a durable material.
Top 12 Best Fabric for Skirts Reviews
Different fabrics are used for making different skirts. One fabric can't be used for all because each fabric has its own qualities that are not suitable for all types of skirts.
So, it is vital to know about different fabrics.
1. Cotton
Cotton is one of the most used and comfortable fabrics for making different types of clothes, especially for summer. As it is extremely breathable, it gives your skin a comfortable feeling without being affected by the harsh heat in summer. It drapes very well on your body and enhances the beauty of your outfit.
It's very easy to sew with it even if you are a beginner. Although it's highly water-absorbent, it dries quickly. The fabric is easily washable in high heat also. It works well to make A-line skirts, circle skirts, pencil skirts, maxi skirts, and miniskirts.
However, the disadvantage is that it is relatively prone to wrinkling. That means it will shrink easily when washed. The fabric may not have a special finish which is another reason for it to wrinkle.
2. Poplin
Poplin has crosswise ribs that offer a corded surface. This is a fine and thick fabric. It is mostly a blend of other fabrics. Generally, you can find poplin which contains 100% cotton fibers or a cotton-polyester blend.
In the beginning, the poplin was created from silk. It was stronger and heavier. However, poplin is currently made out of 100% pure cotton and still contains thickness, smoothness, and strength. Other types are satin, wool, poly, and rayon blend.
In most cases, poplin is one of the major fabrics to make women's dresses. It can be used to design yoke skirts. Moreover, it has versatile uses in upholstery.
3. Satin
Satin fabric comes with the softest and most lustrous finish. It's a great choice for making skirts, gowns, and bridesmaid dresses. It has a different luxurious feel that will make you stand out from the crowd.
Due to its flexibility and concentration of fibers, it creates a beautiful drape on your clothes. It's durable for its long filament fibers materials. It is less prone to wrinkling than some other fabrics.
It's suitable for circle skirts. But it's quite difficult for beginners to work with. It requires a skilled tailor.
4. Silk
Silk is well known for creating elegant appeal and beautiful drapes. This is a lightweight, super soft, and shiny fabric. It is one of the best fabrics in terms of strength and durability.
It is widely used in skirts and other clothing items due to its elasticity and absorbency. Silk is the most preferred fabric for pencil skirts.
However, the drawback of this fabric is its shrinkage properties. It shrinks easily when washed. This is why the fabric should be washed before using it for making clothing items. Consider dry cleaning.
5. Voile
Known as a functional and stylish fabric, voile is made from a cotton and linen blend or 100% cotton. It's a very lightweight fabric with a higher thread count. It's quite smooth polished and silky compared to some other fabrics.
Good quality voile ensures airflow through the fabric meaning it breathes with no trouble. But it can also wrinkle easily. It's a perfect option to make summer and spring outfits like skirts, shirts, summer scarf, nightgowns, etc. Note that, it's an ideal choice for making layered skirts.
You will find a wide collection of voile in the market. It comes in different colors, prints, and patterns. Before purchasing, make sure it's tightly woven. To check its durability, lightly scratch the fabric surface with your fingernail. If you notice the threads start separating, then it's not good-quality voile.
6. Denim
Denim is one of the most iconic fabrics with high breathability and moisture-absorbing abilities. It has too many variations and uses. You can make skirts, shirts, jeans, jackets, and many other fabric items using denim.
This fabric is not prone to bubbling or pilling. It's very easy to care for and it can hide stains very well. It's also a long-lasting fabric. Due to its stretchability, it is very popular for making miniskirts.
Since denim is not pre-washed, the dye may remain on the fabric. So, there is a higher chance that the dye can come off while washing. So, be careful not to stain other clothes and try washing them separately.
7. Rayon
Rayon is not natural or purely synthetic fabric; it is semi-synthetic. Its fibers are generated from natural sources like wood and other agricultural ingredients. The fabric is moisture-absorbent and breathable.
There are mainly three types of rayon fabric; viscose, modal, and lyocell. The main ingredient in viscose is wood pulp which works as a substitute for silk. It offers a smooth and luxurious feel while wearing. Other types have relatively low-quality fibers.
Rayon has a vast use in making flowy and loose bottoms. It is mostly used to sew women's clothing. It is also popular for making athletic and silky wear.
8. Polyester
Polyester is a synthetic fabric that is the cheapest yet strong and resilient. While strong, it is flexible and lightweight also. It works well in various types of clothes making and holds its shape properly due to its resilient nature.
Polyester is in use for making skirts, t-shirts, athletic wear, and many other products. You can also print on polyester, though that will not be very good. If you want to make a skirt with pleats, it's an ideal choice.
Polyester can be easily washed and ironed. But the fabric is somewhat risky because it can melt under high heat. The most common complaint about it is that it's not breathable enough and holds odors.
9. Knit
Knit is popular enough for being wrinkle-resistant, lightweight, and comfortable to wear. Its elasticity is another reason for increasing its popularity. It drapes and stretches well.
It is preferred for making miniskirts. This is also used to make sportswear, shirts, dresses, and much more. It's not so easy to sew. A special needle known as a ballpoint needle is used for sewing it.
Pay attention to the gauge to determine whether the fabric is fine or coarse. Coarse knit is not suitable for comfortable dresses. So, pick the finer knit.
10. Jersey
If you want a soft, stretchy, and excellent draping-ability fabric, the jersey is an ideal choice for you. Despite its opaque and dense knit structure, it allows air to circulate and keeps you cool. It has a soft texture and excellent flexibility. It's easy to sew and wash with both hands and a washing machine.
But it's not so durable, and moreover, it's very sensitive to heat. During washing, high temperatures may cause deformation of this fabric. Jersey fabric is used to make skirts, t-shirts, underwear, and many other garment items. It works fine for making maxi skirts.
11. Linen
Do you have skin allergic reactions to different fabrics? If your skin is sensitive and has allergy problems, then linen fabric is definitely a boon for you. Interestingly, linen is not only a solution to allergies, but it also helps reduce inflammation.
It will create a classy look along with natural softness to your outfit. The fabric breathability is high. It makes your body sweat less. The obvious weakness of this fabric is that it's not wrinkle-resistant. It wrinkles easily.
This organic fabric is commonly used to make skirts, suits, dresses, pillowcases, upholstery, etc. It's suitable for bubble skirts.
12. Taffeta
When it comes to a special type of fabric particularly used to sew women's clothing, taffeta comes first in mind. Taffeta fabric is crisp, smooth, plain woven, and lightweight. It has other names like shot silk and paper taffeta.
This fabric is mostly made of silk. But currently, rayon or polyester is also being used to prepare taffeta. Silk taffeta is quite rare to find but polyester taffeta is very common. The fabric has a unique feature which is shape-retaining ability.
Note that this fabric is not common in skirt sewing. You can see its versatile use in wedding gowns, blouses, party attire, evening wear, curtains, and many more. Hand wash is recommended for this fabric.
Best Fabric for Circle Skirts?
Fabrics that are soft and give perfect flow are suitable for circle skirts. Cotton, satin, linen, and rayon can be the best choice for your skirt which give it a flattering look.
Among the fabric options, cotton will give you the most comfortable and smooth feel. Satin also works really well and gives you a very luxurious feel. But yes, you must be skilled to work with satin. If you choose satin and you are a beginner, go to a skilled tailor.
Best Fabric for Gathered Skirt?
Fabrics that are lightweight, easily breathable and drape well should be chosen for gathered skirts. In this case, you can choose any cotton, rayon, silk, chiffon, or georgette.
But I will suggest cotton as it's lightweight and it breathes well in warm weather. It can be easily machine-washed. Avoid tough and stretchy fabrics like denim, linen, jersey knits, and canvas. These materials will make your skirt heavy and hamper its comfort.
Best Fabric for Pencil Skirt?
Since this type of skirt is narrow and closely fitted from the waist to below your body part, slightly stretchy fabric is a good option. Medium or heavy-weight woven fabrics possess this characteristic. Linen, cotton, silk, denim, and gabardine are the fabric options to give you a better shape.
Among them, lightweight cotton and silk are the most suitable fabric for pencil skirts that will create an elegant look. Skirts made in these fabrics will give you more comfort than others. If you are considering warm weather use, buy fabrics made from natural fibers. And if it's casual, then denim is a good option.
Best Fabric for Maxi Skirt?
Maxi skirts are full length so they should be light and comfortable. You can use cotton, chiffon, and jersey fabrics. They will give you a stylish look as well as comfort.
If you want an elegant and feminine look, consider using chiffon fabric with a flowing texture. And if you're looking for something comfortable for casual wear, cotton or jersey is definitely the best choice.
Frequently Asked Questions
What are Most Skirts Made Out of?
Most skirts are made out of cotton. This is the most desired one for its versatile qualities. We usually look for qualities like softness, comfort, durability, and best breathability to make a perfect skirt. All these qualities are present in cotton which makes it so popular.
Apart from this, it is super easy to sew, maintain, and wash. Talking about price, you don't have to go beyond your budget. You can create a fashionable look on your skirts on a friendly budget.
Another significant point is that this natural fabric is hypoallergenic. In other words, those who have irritating skin allergies, rarely have allergic reactions in their body after wearing a skirt of cotton fabric.
But yes, nothing is perfect. It also has some drawbacks. But if you compare its good qualities with other fabrics, it will surely be in 1st position.
What Fabric is Best for a Summer Skirt?
When it comes to the best fabric for summer skirts, no specific fabric can be named. Various fabric options differ from each other in terms of features and quality.
Cotton, stretch cotton, poly-cotton, voile, and poplin are preferred fabrics for summer. Cotton is the most popular among them. Due to its superior breathability, it will give you a comfortable feeling even in summer. It's also very easy to use and clean.
Voile is lightweight so it can be easily carried. It will add a more feminine touch to your skirts. A skirt made of poplin will protect you from the rain. I mean, even if it rains, you won't get wet. Hence, it has a vast use in raincoat making.
What Fabric is Best for a Winter Skirt?
Are you looking for fabrics that are sure to give your skirt a fashionable look while keeping you warm in winter? In this case, choosing the right fabric is very important.
Heavy fabrics like wool or denim can be the ideal choice for winter skirts. They will keep you warm in the cool season. Not only that, denim skirts easily pair with other winter outfits.
Apart from this, you can try velvet, knit, cotton, and other heavyweight fabrics. If you don't have a specific color preference, I would suggest choosing a dark color like black or gray. These colors can absorb heat quickly and keep you comfortably warm.
Final Words
Skirts are beautiful and they are designed to fulfill different needs on different occasions and seasons. And mostly, it comes in handy in everyday use. As it is a staple dress, it should have some qualities so that you feel relax while wearing it.
Manufacturing quality is important, but its fabric is vital. After finishing the guide above, you know which one is the ideal fabric for your preferred skirt. It's time to make the decision to pick the right skirt made with the right fabric.