If you're a tailor, crafter, or love to do DIY projects, then you cut fabrics & different types of materials a lot by using different types of cutting tools. You may use normal scissors for cutting fabric, leather, plastic, upholstery, and more.
When I started my career as a fashion designer, there was one thing that used to bother me the most. Measuring and sewing fabrics together are fine, but nothing puts more strain on my hand than cutting multiple pieces of fabric.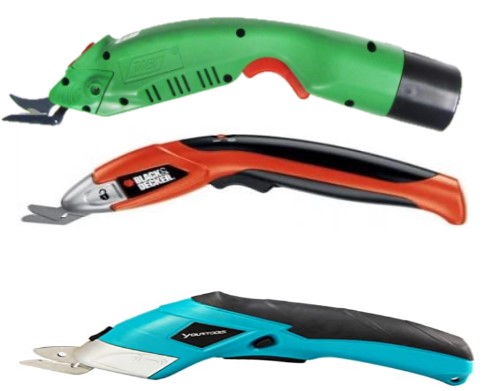 The manual effort really took a toll on my hands until I found electric scissors. I can stress how much of a saving grace it was.
So, for those of you who are still going through this dilemma, I am going to review the 8 best electric scissors for cutting fabric, sewing, crafts, and more in this article.
They are loaded with features that can make sewing seem like a hobby. And it's so pleasant that you might find yourself cutting randomly in your leisure time.
Our Top Picks: 4 Electric Scissors for Sewing, Crafts, and Fabric Cutting
What is Electric Scissor?
Electric scissors are exactly what they sound like. They are automatic scissors powered by a rechargeable battery that barely requires any manual effort.
With just one push of a button, you can swiftly cut fabrics and other essentials with these scissors. They usually have 1 to 2 hours of runtime with a full charge.
What are Electric Scissors Used for?
This ingenious invention is the perfect ally for sewing enthusiasts as they allow you to cut multiple pieces of fabric at one once. They contain a switch to turn on the blades at will.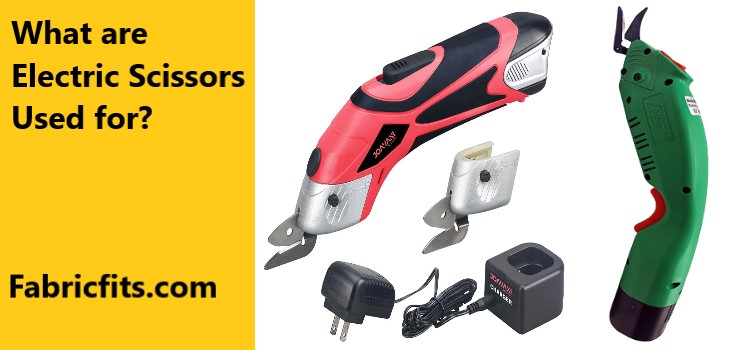 You can also use electric scissors to cut thicker materials like metal. Their efficiency depends on the type of material they are made of.
What Can Electric Scissors Cut?
Electric scissors can cut all types of fabrics, from cotton to silk. You can even use them to cut denim pants.
Some electric scissors are so sharp that you can use them to cut sheets of aluminum, tin, and copper.
Things to Check When Buying Electric Scissors
It's not wise to delve into the different varieties of electric scissors without considering a few factors beforehand.
These factors will help you determine which of these models is best suited for you. It will allow you to get the best off your purchase, to say the least.
Versatility
There is a wide variety of electric scissors on the market, each with its own special features. Some are great at cutting thick materials, while others are perfect for sewing projects.
You first need to decide what type of projects you need to work on before you choose a brand of scissors. If you only need to cut soft fabrics, then it's recommended to choose an electric scissor for fabrics.
Alternatively, if your job includes cutting large sheets of metal as well, then you should prefer going for a more versatile model.
Material
The type of material will inform you about the electric scissor's durability. You should choose a scissor made from reinforced steel to make sure they last longer.
These models don't rust easily. You should also look for an ergonomic handle that is comfortable to use. This feature will allow you to work long hours without tiring your hands.
Blades and Switch
Another crucial factor you must keep in mind is the sharpness of the blades. The stronger the blades are, the faster they can zip through the fabric.
The electric scissor blades are made from durable metal like tungsten. They are even capable of cutting large sheets of metal like aluminum and tin.
On the other hand, it's best to choose an electric scissor that has a safety switch.
This feature can prevent sudden accidents in the workplace. The placement of the power switch is also important.
Make sure you can reach the switch with your thumb whenever you need to.
How to Use Electric Scissors?
Using electric scissors is much simpler than using regular ones. You just need to place the material between the blades of the scissors.
All you need to do after that is press the power button with your thumb and zip away! Press the button again to stop the blades from cutting instantly.
Top 8 Best Electric Scissors for Fabric, Sewing, Craft – Reviews
I know how daunting it can be to pick any product with limitless options these days. Hence, I put together a list of the 8 electric scissors for you to make the right purchase.
1. MXBAOHENG WBT-2 Industrial Grade Cordless & Corded Electric Scissors for Cutting Fabric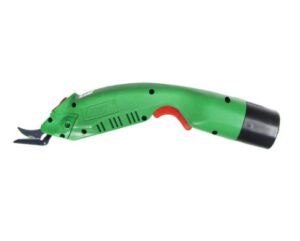 There is no better way to kick off this list of reviews than talking about this rechargeable electric scissor. You can plug it into a nearby outlet and start working in no time.
It only takes a couple of hours to recharge. That's why it's one of the fastest-charging pairs of electric scissors on the market.
Besides that, you will benefit from its small and portable size. This feature makes it easy to carry around in your pocket.
Despite emitting ample amounts of heat, these exclusive scissors barely make any noise. You can cut various types of clothes and fabrics with this electric scissor at your disposal.
They are designed to offer excellent range when cutting. This brand-new electric scissor comes with a modified head that makes it more powerful.
You will be able to cut different types of materials much faster. Due to the enhanced battery capacity, the electric scissor also lasts longer.
Key Features to Highlight:
It comes with an extra blade
Pack Includes extra battery
With a full charge, it can work for up to 60 minutes
It's less noisy
The scissor is convenient and portable
It's power pluggable and battery mountable
It can cut throw different types of materials
Perfect for S-shape cutting task
Pros:
Rechargeable scissors
Charges within 2 hours
Portable size
No noise
Cuts fabric swiftly
Cons:
2. Pink Power Electric Fabric Scissors – Heavy Duty Electric Fabric Shears
Although electric scissors tend to be sharp and powerful, most people tend to complain about their longevity. If you're looking for a durable model, then this pair of electric scissors is the best pick for you.
Most of you might be deceived by its pinkish design, but it doesn't mean it's any less capable. This is one of the few electric scissors on the market that comes with its own set of spare blades and lithium-ion batteries.
The electric scissor is rechargeable and comes with an efficient charger. What really sets it apart is its carefully placed power button.
You can easily reach it with your thumb to turn it on at will. Their blades are also made from a durable material that won't break under pressure.
This feature allows you to swiftly cut through various fabrics. You can even cut thick pieces of cardboard in no time.
On top of that, it gives you up to 2 hours of cutting time once the battery is fully charged.
Key Features to Highlight:
Perfect for both left-handed & right-handed people
Comes with a battery, charger, and extra cutting blade
Super easy to use
The scissor is lightweight(one pound)
It can work up to 1-2 hours with a single full charge
This scissor has a lock and safety button for preventing accidents
Ideal for small & big projects
Pros:
Durable model
Lithium-ion battery
Comes with a charger
Runs for 2 hours
Well-placed power button
Cons:
Should include an adapter or universal plug
3. Dr. Snipper – Cordless Electric Scissors – Battery Powered Scissors
The third product on this list is one of the most versatile electric scissors on the market. You will rarely find a cordless electric scissor like this that can zip through all types of fabrics with ease.
It can also cut cardboard and paper with the same level of efficiency. Although it can't cut through thicker materials like the previous models, this electric scissor is pretty durable.
Leather and blister packs don't stand a chance against this cordless scissor. It consists of a revolutionary pair of blades that resemble the sharpness of a kitchen knife.
Moreover, you barely have to put any effort into cutting when using these scissors.
The manufacturer also made sure you can charge this model from any outlet in the house. Unlike most products of its kind, it's available in 4 attractive colors.
Key Features to Highlight:
It's comfortable
It's all-purpose
The pack includes batteries, a blade, a charge
Can work up to 120 minutes after a full charge
Available in four different colors
The scissor is easy to use
Pros:
Cuts multiple types of materials
As sharp as a kitchen knife
Requires minimal effort
Available in 4 colors
Cordless operation
Cons:
The packaging case could be improved
Next Read: The 10 Fabric Shavers Reviews
4. Black & Decker Electric Scissors- Commercial Power Scissors
The most powerful electric scissors often consist of a cord that restricts your movement while working. This ingenious model removes this hassle by eliminating the cord itself.
It's one of the few power scissors on the market that lets you cut clothes and other materials freely. Despite their immense power, the scissor barely weighs anything.
But that doesn't mean it's made of weak plastic. Its durable construction allows it to last longer than most electric scissors.
Moreover, you will find it easier to maintain a strong grip due to its ergonomic handle. You will also be glad to know that it requires no more than 3.6 volts to charge.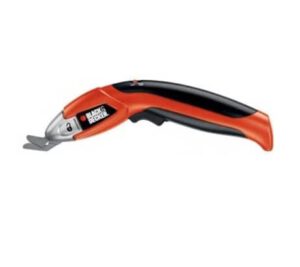 Once you recharge it, the scissor can cut various types of materials consistently for 70 minutes. It also comes with a universal cutting blade that makes it more versatile than its predecessors.
Key Features to Highlight:
It's a well-known electric fabric cutting
It's a powerful battery-powered scissors
Comes with a blade, charger, and battery
It can do 70 minutes of continuous cutting jobs
Battery & blade is replaceable
Comes with two years warranty
Pros:
Very lightweight
3.6 volts
Runs for 70 minutes
Easy to charge
Ergonomic handle
Cons:
5. Stalwart Cordless Power Scissors for Fabric, Leather, Carpet & Cardboard
At number 5, I decided to include an exclusive power scissor that is a must-have for every DIY enthusiast. If you want to hone your DIY craftsman skills, then there is no better option for you.
The blades are easy to install and even easier to use. And these are only some of its remarkable qualities. Unlike most electric scissors, this model comes with two razor-sharp blades.
The dual blades make it much more efficient at cutting thicker materials like leather and cardboard. This unique pair of scissors consists of a safety switch that keeps the blades inactive.
Now you can easily carry it in your pocket without the fear of any unwanted accidents. Apart from that, this electric scissor has compact dimensions and weighs only 1 pound.
It offers you cordless operations for an extended period. A highly potent lithium-ion battery is also rechargeable.
Key Features to Highlight:
The scissor is perfect for everyday cutting job, home DIY task, and crafting projects
It's affordable
Available in two color
The cutter is simple to use
After a full charge, it can work more than hours
Pros:
Can cut through thick leather
Compact dimensions
Safety lock mechanism
Rechargeable lithium-ion battery
Includes fast charger
Cons:
6. Hawkforce (Electric) Battery Operated Scissors for Cutting Fabric & Leather
What's better than an electric scissor with a single battery? – an electric scissor with two lithium-ion batteries. Each of these batteries gives you up to 60 minutes of operating time.
This means you will be able to continue all cutting tasks for 2 consecutive hours. It also comes with a fast charger that charges up the scissor in a short time.
The manufacturer has added some unique features, like a locking power switch. This feature helps you continue your task with even less effort.
You will also find two different types of blades on this electric scissor. Each of these blades is specialized in cutting certain types of materials.
What I love the most is that you barely feel any strain on your hands no matter how long you work with these scissors. The 4-volt power scissor comes with an ergonomic grip that makes sewing chores an absolute breeze.
Key Features to Highlight:
Comes with two blades
Comes with two batteries
Pack includes charger
Easy to carry
Super easy to store
Easy to replace blade & battery
It's ideal for cutting fabric, craft, dressmaking, sewing, quilting, scrapbooking projects
One of each battery works for one hour
Pros:
Includes two batteries
Runs for 2 hours
4-volt power scissors
Charges within a short duration
Comfortable on your hands
Cons:
7. JOAVANI Cordless Scissors for Sewing, Fabric, Cardboard, and Crafts
As we draw near the end of this list, I am going to review a state-of-the-art electric scissor that is more powerful than any other.
This is mainly because of its sheer capability of zipping through tin and aluminum sheets.
Yes, you heard it right! This isn't your regular sewing tool but way more potent than that. This impressive model is equipped with both D and O-type blades for maximum versatility.
The D embossed blade is perfect for cutting thicker materials like cardboard. Craftsmen and DIY enthusiasts will find the O-type blade more useful for cutting clothes and fabrics.
The blades are made from alloy steel which allows them to last longer. The manufacturers have also modified this scissor to give you more speed while cutting.
You can experience 7000 rpm constantly with a full charge. The quick and easy 1 hour charging time is what puts the cherry on top.
Key Features to Highlight:
It can cut through both thick & thin materials
Comes with everything battery, scissors, blades, charges
It's lightweight & compact
Super easy to use
Ideal for fabric, leather, metal, paper, and cardboard
Pros:
Consists of both D and O-type blade
Produces 7000 rpm
Charges in 1 hour
Cuts through thick metal
Extremely powerful blades
Cons:
Not so efficient with thick materials
8. MIFXIN Electric Sewing Scissors – Powerful Cordless Shears – Easy Cutter
As the final addition to this list, I am reviewing an impeccable cordless scissor with the strongest blade you can find. This one-of-a-kind electric scissor consists of tungsten blades which makes it a force to be reckoned with.
They are made to give you the cleanest cuts within the shortest duration. You can cut anything from leather to carpets with this excellent sewing tool.
Some people also love cutting metal sheets with this electric scissor. It's pretty hard to imagine a tool of this size can be so efficient.
The power scissors are renowned for their versatility and interchangeable batteries.
This is what amazed me the most. Although you can recharge the batteries, the manufacturer also gives us an extra 2000 mAh battery. They added a safety switch to reduce accidental cuts.
As if that wasn't enough, this electric scissor has an easy-to-reach power switch that makes your job effortless.
Key Features to Highlight:
Perfect for crafts, dressmaking, sewing, quilting, scrapbooking, and more
It takes only 70 minutes for a full charge
It can work 2-3 hours per full charge
It's nice looking
It comes with two cutting blades & battery
Easy to use, store and carry
Pros:
2000 mAh battery
Includes a safety switch
Very versatile
Tungsten blades
Can easily cut thick leather
Cons:
Doesn't include English instructions
Frequently Asked Questions
Are electric scissors better?
Electric scissors are obviously a better alternative to manual scissors as they require less manual effort. Their sharp blades make them capable of cutting almost any material in their path, unlike regular scissors.
Do I need a charger for my electric scissor?
Most electric scissors are powered by a rechargeable lithium-ion battery, which usually comes with a charger. You can connect it to any nearby outlet and charge it within 1 to 2 hours.
How long do electric scissors last?
With a full charge, you can cut different types of materials for up to two hours with an electric scissor. Some models even contain extra batteries for increased runtime.
What does a safety lock do?
A safety lock is one of the essential parts of an electric scissor. It prevents sudden accidents by hindering automatic blade movement.
Final Words:
By now, you have probably made your pick among the 8 best electric scissors I reviewed in this article.
If you are still confused, feel free to go through their different features again and see which one can benefit you the most.
Make sure you only make a choice after considering the factors in the buying guide.