Any dressmaker knows that cutting fabric is more difficult than it seems. And one crucial thing that can make it easier is by having a sturdy surface on which you can cut your fabric.
Having a dedicated cutting table helps you make uniform, straight cuts, reduces stress on your back, and can even allow for easier measurements and adjustments. Plus, many tables come with storage options and are portable to boot.
So how can you identify the best fabric cutting tables for sewing? To begin with, you'll have to account for dimensions, as well as implements such as integrated yardsticks, besides other design aspects.
So, to help you find the right table, we've reviewed the 7 best ones for you below.
Top 7 Best Fabric Cutting Tables for Sewing Reviews
After considerable research, discussion and analysis, we've rounded up the 7 following fabric cutting tables for your consideration.
1. Sew Ready Studio Designs Professional Cutting Table with Storage Drawers
Our first pick today is the highly-rated and beautifully designed Studio Designs cutting table from Sew Ready. It has everything we look for in a worthy cutting table, from foldable components to portability and designated storage compartments.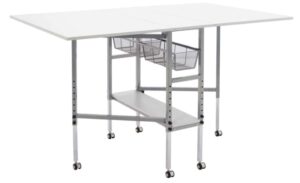 It's the ideal pick for the hobbyist or dressmaker who is ready to take their craft to the next level. With a center panel measuring 10.75 inches in width and 36 inches in length, this table offers a generous working space, to begin with.
But should you need more space to work with, you can fold out two additional panels which measure 24″x36″ each. The total weight capacity of the table is somewhat low, however, with the center and bottom panels able to accommodate up to 50 pounds and the side panels 25 pounds each.
However, we really love the onboard storage options on this thing: one bottom shelf and two slide-out drawers made from wire mesh. No doubt, having all your stuff right there with you will enhance your workflow greatly.
Furthermore, the table's legs are equipped with smoothly rolling caster wheels, which allow for optimal mobility.
Pros:
The frame has a protective powder coating for enhanced durability
The table's height is adjustable in 1.5″ increments
Equipped with two side panels for a bigger workspace
Comes with caster wheels for convenient mobility
Cons:
The weight capacity may be low for intensive work
Verdict
This cutting table has all the makings of greatness, with a dynamic design consisting of foldable panels. Its onboard storage options are super convenient as well. You won't be able to store your sewing machine directly on this table, however, due to its relatively low weight capacity.
Read Next: Top 8 Fabric cutting Machines
2. South Shore Artwork Craft Table
If you're a DIYer or hobbyist looking for an all-in-one solution for your work table needs, this offering from South Shore might just be what you've been waiting for. Designed for the purposes of sewing and crafting, this table has much to offer.
Sporting a desktop measuring 53″x24″, this crafting table has adequate space for you to store your sewing machine. It's designed for ultimate ease and accessibility, which is evidenced by its myriad storage shelves, cabinets, and drawers.
From sewing equipment to paper, cutting scissors, and books, you'll be able to fit your entire crafting repository into this thing! Not to mention, its rustic yet modern design will appeal greatly to cottagecore enthusiasts.
All that being said, this might not be the right choice if you are looking simply for a cutting table as it doesn't have enough space to facilitate large-scale dressmaking projects. Plus, it requires quite a bit of self-assembly, so if you're not willing to deal with that, this isn't the right pick.
Pros:
Boasts a wide array of storage options with shelves, drawers, and cabinets
Built from long-lasting laminated particleboard
Cabinets are interchangeable in custom assembly
Ideal for crafting and other hobbies
Cons:
Not spacious enough for extensive fabric cutting/dressmaking
Verdict
The thoughtful and efficient design of this table is undeniably superior, particularly in terms of storage. And it's undoubtedly one of the most beautiful tables on our list. However, this table is much more suited to crafting than it is to fabric cutting. Not to mention, it's quite expensive.
3. Sullivans 38431 Home Hobby Adjustable Height Foldable Large Commercial Fabric Cutting Table
Next on our list is a foldable commercial fabric cutting table available from Sullivans. This is a no-nonsense, straightforward table perfect for the cutting needs of an aspiring dressmaker. It's super customizable, has onboard storage, and is available at a reasonable price.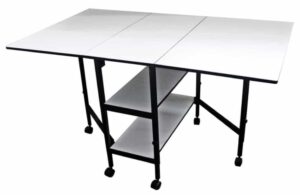 The large surface of this cutting table will provide all the space you need to get your work done. And if you choose to use the expandable side panels, the table's full surface dimensions will be 59″x35.8″.
Meanwhile, the height of the table is also adjustable between 29 and 38 inches, which is great if you usually share your workspace with others.
Below the table are two shelves where you can store your equipment with ease, although due to lack of compartmentalization, you might find it difficult to store your fabric.
However, Sullivans did ensure to put in caster wheels on the table's legs, so if you frequently need to rearrange your workspace, you'll appreciate that feature!
Pros:
Simple and easy design with dual foldable side panels
The table's height is adjustable between 29 and 38 inches
Suitable for cutting, sewing, and pattern and fabric layout
Comes with caster wheels for easy portability
Cons:
Not suitable for storing sewing machine, only cutting
Verdict
Given this table's adjustable height and the inclusion of optional side panels, it's easy to see why it's so highly rated. Although the storage options leave something to be desired, the overall design of this table is one of the best we've found.
Do note, however, that you shouldn't store your sewing machine on this thing, as it doesn't have the required weight capacity.
4. SewingRite SewStation 101 Portable Folding Sewing Cutting Table
For those of you seeking the perfect sewing table on a budget, the SewStation 101 is like a gift from God. No, we're not exaggerating! With an expansive surface, sturdy construction, and accessible design, this is one of the most efficient work tables for dressmakers looking for affordable options.
Boasting a total work surface of 5.5 square feet, this table also comes with a dedicated platform on which to store any sewing machine up to 17.5″x7.375″. The total weight capacity of the table is 50 pounds. The best part, though, is how easily foldable this table is and how compactly it can be stored.
That might not, however, make up for the lack of caster wheels. That being said, if you don't frequently need to move around your work table, then there's no reason to think of this as a setback. Besides, you'll be evading all the wobbliness associated with wheels.
Pros:
Laminate tabletop is resistant to cuts and scratches
Generous work surface of 5.5 square feet for a smooth workflow
Easy storage thanks to the foldable design
Available in 4 different colors, including black and grey
Cons:
Moving the table might be difficult due to lack of wheels
Verdict
The lack of onboard storage options or caster wheels might act as dealbreakers for those wishing to purchase this table. However, the table undeniably excels in many other aspects. Its sturdy frame, easy foldability, and wide work surface combine with its clean and minimal aesthetics to create a modern sewing table.
5. Arrow 611 Gidget II Portable Folding Sewing, Quilters & Crafters Cutting Table
Similar to our last pick, the Gidget II from Arrow is another table dedicated to sewing. It's much more than that, however. Whether you're cutting, crafting, or quilting, this desk will help you achieve all of your DIYing or dressmaking dreams.
That might not be obvious straight away from the table's simple design, but a closer look makes it easy to understand its high rating.
Constructed from super sturdy and stable alloy steel, this table comes with an opening of 23.5″x12″, which is perfect for storing large sewing machines. Its work surface is built from MDF for a smooth and easy workflow.
We absolutely love the foldable design of this table, which might at first seem unportable due to the lack of caster wheels on its legs. This table can be folded into two different positions between flatbed and free-arm, and when it's time to stow it away, you can easily transport it using its two caster wheels.
Pros:
Weighs only 35 pounds when folded for easy mobility
Folds down compactly for effortless storage and portability
Constructed from sturdy alloy steel with an MDF work surface
Fits sewing machines with dimensions of up to 23.5″ x 12.5″
Does not require assembly; arrives pre-assembled for your convenience
Cons:
Does not come with onboard storage options
Verdict
Storing your sewing machine on your worktop should not be a lot to ask for, and Arrow recognizes that. And when you're not sewing, you can easily reposition the machine slot for extended space. It's lightweight and portable, to boot!
6. Martelli Advantage & Elite Workstation Kit- Quilting, Sewing & Crafting Table
If you have a burning passion for sewing and crafting and cash to spend, there should be nothing stopping you from getting yourself the Martelli Advantage Elite Workstation Kit. As the most expensive fabric cutting table on our list, though, it's certainly not recommended for those on a budget.
Constructed from sturdy yet lightweight aluminum and equipped with a polyethylene work surface, this workstation is built for the long haul. It also has very impressive dimensions: a width of 31 inches and a length of 59 inches, to help you achieve your wildest crafting and sewing dreams.
Its height is fully adjustable between 30″ and 46″. The most impressive thing about this table is that it's… wait for it… electrically operated! Its leg lifts are electrically motorized, and they can tuck themselves quietly out of the way when not needed.
Pros:
Electrically operated, so there's no possibility of a hydraulic leak
In-built storage shelf and template organizer
Integrated side panels for expanded work surface
Adjustable height between 30″ and 46″
Purchase includes cutting mat, rotary tools, templates, and snap caddy
Cons:
Some of the components are cheaply made
Verdict
If you can afford it, this fabric-cutting workstation is certainly worth having. It has all the right features, extensions, and capabilities. Particularly if you also like to quilt and craft, you should spring for this table.
7. SEI Furniture Eaton Craft Station Cutting Table for Sewing Room
Our final pick for you today is a simple, no-frills rolling cutting station from SEI Furniture. Despite being one of our most affordable picks, this table is equipped with a great design and various implements.
For starters, this table is partly foldable, so you can decide how much of it you need to use. Plus, it comes with two separate shelves, so you can store your equipment with ease.
The dimensions of this table measure 31.5″x19″, and it stands at a well-considered height of 29.5 inches. Since the height is not adjustable, we would recommend this only for fully grown adults.
Although you will have to assemble this cutting table on your own, it should be easy considering the simplicity of its design. You'll also appreciate the inclusion of wheels on the body of the table if you like to switch up your workstation often.
Pros:
Simple yet efficient design perfect for beginners
Sturdy but lightweight MDF construction
Included caster wheels allow for easy mobility
One side of the table is foldable for your convenience
Cons:
The height is not adjustable
Verdict
For some dressmakers and crafters, less is more. If you relate to that, this might be the right cutting table for you.
It doesn't have the bells and whistles of electric adjustability, nor does it have a lot of onboard storage. But it will certainly get the job done at a much lower price!
Things to Consider When Buying Fabric/Sewing Cutting Table
Here are the factors to keep in mind when searching for the right fabric cutting table.
Table Size
Start by deciding the ideal dimensions of your cutting table's surface. If you're a DIYer/hobbyist/beginner, a smaller unit should be fine. For professionals, though, a larger surface is absolutely necessary, particularly if you plan to use the table for purposes other than cutting.
You can also always opt for a foldable model, in which some or all parts can be folded according to your needs.
This lets you decide how much of the table you'll use on a certain day and also makes it easier to stow it away when not in use. You can also look into adjustable tables, which usually allow the height to be set between 25 and 45 inches.
Weight Capacity
How strong do you need your cutting table to be? The answer determines your table's ideal weight capacity. If you want to use the table only for cutting, then a weight capacity of 50 pounds or lower should be suitable.
On the other hand, if you're planning to store your sewing machine on your cutting table, a weight capacity of at least 200 pounds is required. Ideally, you should spring for a table with a higher weight capacity than you need in order to avoid any accidents.
Portability
In our opinion, the perfect fabric cutting tables are those that come with caster wheels which allow the table to be moved around easily. Although you might not think it necessary, you can't really predict when you might have to move the table.
Also, consider the table's overall weight. If it's lightweight, that will obviously facilitate movement. However, heavier tables do tend to offer greater stability, in which case wheels are a must. Also, look for wheels with a locking mechanism to prevent any wobbliness.
Storage
One of the defining qualities of a fabric cutting table worth buying is the inclusion of storage compartments like shelves and drawers.
Many dressmakers find it very convenient to have everything in one place. This is because the shelves are usually open, allowing for quick and easy access to your fabric, scissors, etc.
Some tables even come with a dedicated compartment for the sewing machine.
Build Material
As far as construction materials for work tables go, nothing really beats steel and aluminum in terms of stability. If portability is a concern, go for aluminum, which is more lightweight than steel.
The surface of the table, meanwhile, is best when it's made of MDF, fiberboard, or laminate—each falls in a different price point.
Frequently Asked Questions
Do I really need a separate table for cutting fabric?
If you've ever tried cutting your materials on a crowded surface, you'll understand the need for a dedicated cutting table. But it's not just about space; cutting tables also come with useful implements such as yardsticks and a scissor groove to facilitate dressmaking.
Furthermore, a cutting table surface is usually resistant to cuts and scratches, so working with a rotary cutter is also easier.
What is the price of a cutting table?
It depends entirely upon your needs, but you probably won't find a decent model under $100. For commercial purposes, the price can go up to $500 or more.
What height should my fabric cutting table be?
For fully grown adults, the right height is usually somewhere between 36 and 40 inches. You can also choose to buy a table with adjustable height.
What are the right dimensions for a cutting table?
A cutting table should be at least 3 feet in width and 6 feet in length to facilitate easy cutting.
Can fabric cutting tables be used for other purposes?
You can use your table to aid you in sewing, quilting, and ironing. If your table comes with shelves and compartments, that only increases its versatility!
Final Words
With its impressive design and features, the Studio Designs cutting table from Sew Ready is among our top picks for the commercial fabric cutting tables for sewing. For those on a budget, our SewingRite selection is perfect.
Happy dressmaking!