How an invisible enemy can negatively impact our lives, we have already realized that in this pandemic situation. Our lovely clothes can be affected by imperceptible contaminants and bad odor after using them for a certain time. So, to stay healthy and feel the real beauty of your fabric clothes, it's vital to keep them neat and clean.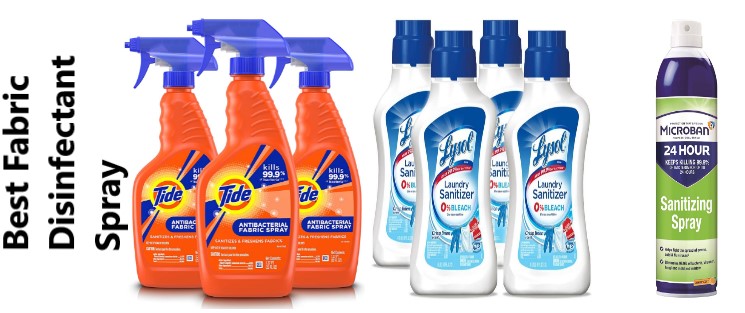 There are so many ways to clean fabrics but not all of them are equally effective. Using the best fabric disinfectant spray only can do a great job. The antibacterial disinfectant sprays not only remove contaminants but also helps to bring back the original beauty of the fabrics.
Top 7 Best Fabric Disinfectant Sprays Reviews
Professional Microban Aerosol Disinfectant Spray
Tide Antibacterial Fabric Spray for Clothes
Febreze Fabric Antimicrobial Spray
Lysol Crisp Linen Disinfectant Spray for Fabric Furniture
GG GARMAGUARD – On-The-Go Clothing Spray
Clorox Fabric Sanitizer – Bleach-Free
LYSOL Laundry Sanitizer for Fabric & Clothes
A quality disinfectant spray includes many significant features. By keeping all those factors in mind, I have selected the top 7 fabric antibacterial and disinfectant sprays. Let's check them one by one.
1. Microban Professional Aerosol Disinfectant Spray – Fabric & Upholstery Sanitizing and Antibacterial Spray
When it comes to finding a disinfectant spray that works effectively and for a longer period, I would like to pick this one. This is Microban Professional aerosol spray for fabric and upholstery. Only cleaning is not the work that it does, it sanitizes and performs as an antibacterial spray.
Check Price on Amazon
This Microban spray comes with an antimicrobial technology that kills 99.9 percent of pathogens like bacteria and it continues killing bacteria for about 24 hours. This feature is almost similar to our number 7 product: LYSOL sanitizer. The key difference between these two products is the price tag. You will need to spend a bit more on this Microban disinfectant spray.
However, this antibacterial spray works on sanitized fabrics and stops fungal and mold growth for about 28 days. Also, it prevents the spread of mildew spores, germs, as well as flu viruses. A citrus scent will blow your mind while using this disinfectant on fabrics.
Read Next: Top 4 Commercial Fabric Stiffeners
Top Features:
24 hours longer sanitization against bacteria and flu viruses.
Prevents spread of mold, germs, and bacteria growth for 28 days.
Best disinfectant spray for fabric, upholstery, carpet, and other soft surfaces.
2. Tide Antibacterial Fabric Spray for Clothes
Our daily activities don't allow us to stay neat and clean always. As a result, we can be affected by germs and bacteria. Mostly our clothes come in contact with the unclean environment and we may be attacked by flu viruses as well as bacteria issues. So, what's the solution?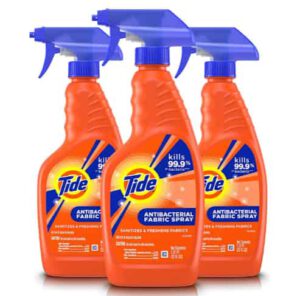 Check Price on Amazon
Bring Tide antibacterial spray to your home and it will solve everything regarding cleaning fabrics. It is designed for maintaining maximum hygiene as it can eliminate more than 99% of bacteria. Including the soft surfaces, this fabric spray also works on solid surfaces.
This spray has made things easy to disinfect any type of surface. When you think bacteria are crawling on your clothes, don't wait anymore; simply spray the Tide sanitizing spray. It's really fun as everyone likes spraying than other methods. It also eliminates odor and adds beautiful fragrances.
On non-porous and hard surfaces, this spray works against Salmonella enteric, Staphylococcus aureus, Proteus mirabilis, and Escherichia coli. On soft fabrics, it works against Staphylococcus aureus and Enterobacter aerogenes. To get the best result, always make sure to follow the instruction that comes with the product.
Top Features:
Active bacteria killer if you apply as directed.
Sanitize, clean, and freshens your clothes; eliminates odor.
Ideal for using on clothes, couches, bedding, towels, car seats and so on.
3. Febreze Fabric Antimicrobial Spray
Is there anything special about this product? We got one; this fabric spray is a strong odor eliminator and smells amazing after using it. The spray bottle contains two spraying options, antimicrobial and odor eliminator.
Check Price on Amazon
It works more efficiently for a small space. Just spray it here and there in your room. It is important to ensure proper ventilation. Wait for some time after spraying, and then come and see the change.
What about fabric? It is– Same as revitalizing your room. The balanced mist of the Febreze refresher will abolish the odor from your fabric items and fill the air with a fresh smell. Make sure you use it regularly for a better environment. Spray the mist on fabrics, curtains, upholstery, carpet, and any place where you move frequently.
One of the best features of this product is its convenient design. Spraying is not only that easy part, it is also easy to hold and store for next use. Remember that, it improves the quality of air which can't be done by air purifiers and humidifiers.
Top Features:
Can be used on anything where you want a floral scent.
Eliminates odors from fabric and air, and ensures a healthy environment.
Handy trigger spray can use on tough-to-clean fabrics like furniture upholstery, bedding,
4. Lysol Crisp Linen Disinfectant Spray for Fabric Furniture, couch, coats, sports bags, strollers, and backpacks
We have picked another disinfectant spray from LYSOL. It includes all the mind-blowing qualities that make a sanitizing spray the best. It is tested in labs and proven that it can kill up to 99.9% of bacteria and viruses.
Moreover, it can kill COVID-19 viruses if you use it according to the direction. This stronger disinfectant has also an EPA registration number that proves its efficiency.
Check Price on Amazon
This is a bleach-free product that works on most surface types. More than 100 harmful germs can be eliminated when using this antibacterial disinfectant properly. Even, you can abolish flu viruses with this spray. The manufacturer always asks users to follow the guidelines they provide. So, for the expected result, make sure you have read the instructions and follow that when spraying.
Use it wherever you want. It gives the best result for fabric furniture, backpacks, coats, couch, and so on. This household sanitizing spray contains chemical ingredients. Make sure to keep it away from children. You can experience eye irritation after using it. In that case, rinse your eye slowly with water. Wash your hands properly, before eating or holding anything sensitive.
Top Features:
Bleach free, antibacterial spray for any type of fabric items.
Removes germs and odor, reduce the risk of being sick by flu viruses.
Fast-acting sprayer; disinfect, sanitize, and deodorize soft and hard surfaces.
5. GG GARMAGUARD – On-The-Go Clothing Spray for Clothes, Furniture, Shoes, Uniforms, Bedding, Car Seats, Sofas
Wherever you go, keep this GG GARMAGUARD fabric spray with you and make sure you have clothing and other accessories free from bacteria. This is an eco-friendly option for refreshing air and eliminating odors. You can use it on fabric, bags, backpacks, and even on furniture.
Check Price on Amazon
The significant feature of this product is its natural ingredient called 'citric acid'. It is a common element in many of the regular cleaning items. It is highly effective to abolish odors as well as killing germs. The manufacturer uses this as the core element because of its high efficiency, colorless attribute, and organic quality.
The GG GARMAGUARD clothing spray is very gentle on the fabrics. All the soft accessories can be odorized with a nice scent. One spray can work for an extended period. This spray is ideal for mothers, athletes, teachers, and generally for everyone; it is because everyone's clothing requires a quick spray after their activities.
Overall, this Non-GMO, 100% organic spray can be your foremost choice if your aim is to remove the odor quickly from fabrics. It is a versatile product and also affordable relative to other products on this guide.
Top Features:
Made of natural ingredients, can be used on clothes and other soft products.
Quickly eliminate smoke, sweat odors, and other odors as well.
This spray works like dry washing; keeps clothes odor-free for longer time.
6. Clorox Fabric Sanitizer – Bleach-Free
This is really difficult to select only 7 fabric disinfectant sprays from a longer list. I have done it for you and this Clorox fabric sanitizer is our last pick. But don't think this is not like what you expect to sanitize your fabric. It works and really great for clothing sanitization.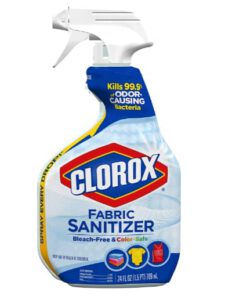 Check Price on Amazon
This powerful fabric sanitizing spray is bleach-free and can be used on any colored clothes. It removes odors and odor-causing bacteria and germs up to 99.9%.
Also, some other antimicrobial sprays on this guide work in similar ways but you have to spend a bit more on them. This Clorox fabric spray can be bought by spending less than 20 bucks.
Only 3 minutes of sanitization can offer you clean clothes. It works for most fabric items including clothes, sofa, backpacks, and more. No matter mild or tough odors, it eliminates properly.
The only drawback most users find for this product is its own odor. The odor comes from the chemical ingredients of this sanitizer spray. It should be improved as customers say.
Top Features:
Easy to use and store, safe for any fabrics and colors.
Breaks down bacteria in the fabrics and then remove them effectively.
One of the affordable fabric disinfectants in the market.
7. LYSOL Laundry Sanitizer for Fabric & Clothes
Our last pick is LYSOL Laundry Sanitizer liquid. But why is this one? You know that you should pick a disinfectant or sanitizer that is enriched with more natural ingredients and little chemicals.
This product is designed with bleach-free formula. That means it is very gentle and will work gently on most of the fabrics including colored and whites.
Check Price on Amazon
This sanitizer contains amillimeteronium chloride that effectively kills around 99.9% of bacteria. Consequently, you will get clean and safe clothes. This LYSOL laundry sanitizer is easy to use.
You need a very little amount to clean a certain amount of clothes compared to other detergent sprays. It comes in compact bottles. Therefore, with easy use, it is also handy to store.
This is overall a versatile fabric sanitizer. It can remove odors that may cause bacteria growth. It works as a cleaner and detergent booster as well. Considering packaging, efficiency, and value for money, this fabric sanitizer can be a great choice for your next fabric cleaning activities.
Top Features:
A versatile cleaner and sanitizer, great product for the money.
Suitable for any type of clothes including towels, baby, and gym clothes.
Due to 'no bleach' as an element, it lasts for longer.
Things to Consider When Buying the Disinfectant Sprays for Fabric
Normal cleaning is not enough for fabrics. You can only remove some visible dirt but the hidden enemy will remain in your clothes.
That's why you need to use the right disinfectant spray for clothes. But how can you select the ideal disinfectant spray? Check the following factors that determine a spray is the best.
Natural Ingredients:
Some fabric antibacterial sprays contain very harsh chemicals that are harmful to clothes and human health also. You will need to make sure that your clothes have the same softness and quality after using a disinfectant spray.
Therefore, you should consider buying a spray that is filled with mostly natural ingredients.
Proven Products:
It is important to check the label. Can you see any ingredient's name written on the label? Three vital household ingredients are alcohol, chlorine, and hydrogen peroxide.
These are also CDC-approved. If a disinfectant spray contains these ingredients, generally, that spray should be quite effective.
EPA Registered:
The EPA (Environmental Protection Agency) registered sprays are usually antimicrobial products that can kill particular kinds of pathogens like the Ebola virus or Avian flu.
Even there are some disinfectants that work for SARS-COV-2. However, choose a disinfectant spray bottle that has an EPA number. It is a sign of quality product.
Application Versatility:
You can find products that are available in different packaging like an aerosol can or spray bottle. Disinfectant spray from the aerosol bottles can be sprayed to the selected area. It is easy to apply. The spray bottle also has the same features. You can fill the bottle with liquid antibacterial products.
Well-known Brands:
Make sure you have researched a little before buying antibacterial disinfectant sprays for your fabrics. Learn more about which brands offer the best disinfectant sprays and how they pick the ingredients of a spray. Popular brands manufacture their products in a way that ensures the utmost quality. Their products are lab-tested and proven that they work efficiently.
Reasonable Price:
It is significant to keep the fabric sanitized. But do you like to make unlimited investments for that? Definitely, not! So, before buying a fabric disinfectant spray, compare some of the well-known products. Consider checking quality and also the price range, and finalize the best but most affordable disinfectant spray.
FAQ's
Q1: What is a fabric disinfectant spray?
A fabric disinfectant spray is a product designed to kill or deactivate harmful microorganisms, such as bacteria and viruses, on fabric surfaces. It helps reduce the risk of infection or illness transmission.
Q2: Can I use a fabric disinfectant spray on all types of fabrics?
Most fabric disinfectant sprays are suitable for a wide range of fabrics, including upholstery, curtains, linens, and clothing. However, always check the product label for specific fabric compatibility.
Q3: How do I apply fabric disinfectant spray?
Typically, you'll hold the spray bottle about 6-8 inches from the fabric and apply an even coat, ensuring complete coverage. Allow the fabric to air dry thoroughly.
Q4: Is fabric disinfectant spray safe for use around children and pets?
Many fabric disinfectant sprays are safe when used as directed, but it's important to keep children and pets away during the application process and until the fabric is completely dry to prevent ingestion or skin contact.
Q5: Can fabric disinfectant spray be used on outdoor fabrics?
Some fabric disinfectant sprays are suitable for outdoor fabrics, such as patio cushions and outdoor furniture. Look for products labeled for outdoor use.
Q6: How long does the disinfectant effect last on fabric?
The duration of disinfectant effectiveness can vary between products. Some may provide protection for several hours to days, while others may offer longer-lasting effects. Check the product label for specific information.
Q7: Can fabric disinfectant sprays remove stains?
While fabric disinfectant sprays are primarily designed to disinfect, some may also help with stain removal. However, their main function is to kill or deactivate harmful microorganisms.
Q8: Can fabric disinfectant spray be used on dry-clean-only fabrics?
It's essential to check the product label and fabric care instructions. Some fabric disinfectant sprays may be suitable for use on dry-clean-only fabrics, but others may not be recommended.
Q9: Are fabric disinfectant sprays effective against COVID-19?
The effectiveness against COVID-19 can vary among different products. Look for fabric disinfectant sprays that are specifically labeled as effective against SARS-CoV-2, the virus that causes COVID-19.
Q10: Can I use fabric disinfectant spray as a substitute for regular washing or cleaning?
Fabric disinfectant sprays should be used as a supplement to regular cleaning and washing practices. They are not a substitute for thorough cleaning and laundering.
Always follow the manufacturer's instructions for the fabric disinfectant spray you choose to ensure proper disinfection and safe use.
Final Words
With the use of the buying guide above, you can secure your investment. I have picked some quality antibacterial fabric sprays from which you can select your required pack. There is really little chance that you will not find the right product from the above reviews.
However, this LYSOL Laundry Sanitizer is our most recommended product. Including its quality and price, it can be your complete solution for the ultimate cleaning of your clothes.