Ever since childhood, I always felt a special connection with plants and nature. They say I was born with a green thumb because I have been planting vegetables and fruits in the garden since the age of 9.
It wasn't until recently that I realized that my beloved plants weren't as healthy as they were supposed to be.
That's what made me switch to the fabric pots I could find on the market.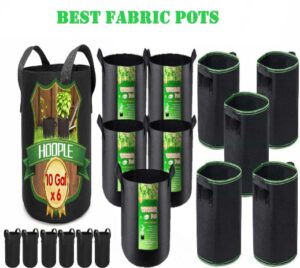 Believe me when I tell you, my plants have never looked so vibrant and full of life. The vegetables in my plastic pots seem dull in contrast to those in the fabric pots.
And if you are anything of a plant enthusiast like me, then you will love this revolutionary invention. You don't even need to look for them on your own, as I have listed the best fabric pots in this article.
Our Top Picks:
What Are Fabric Pots?
Fabric pots are a suitable and convenient alternative to plastic and ceramic pots. They are more lightweight in nature and are made from a breathable fabric.
The best thing about fabric pots is they don't contain any harmful BPA. Due to their breathable material, the plants grow faster and are easier to transport.
What Are Fabric Pots Made of?
Fabric pots are made from soft and breathable fabric that improves air circulation.
These BPA-free materials usually have holes in them for better draining. Fabric pots are often made from thick layers of polypropylene.
What Are Fabric Pots Used for?
Fabric pots are widely regarded by DIY gardeners for their excellent breathable material and draining system. They are used for growing shallow-rooted plants.
You can use them to grow multiple vegetables and fruits at once.
How Long Do Fabric Pots Last?
Although fabric pots are good for keeping plant roots in perfect condition, they don't usually last that long. You can rely on them for a couple of years even though they cost more than regular pots.
However, there are still some fabric pots that you can wash and reuse for years.
Things to Consider When Buying Fabric Pots
Just knowing about the different brands of fabric pots won't do you any good if you are unaware of some crucial factors. These factors will allow you to choose the fabric plant pots among the limitless options on the market.
Make sure you keep these factors in mind when you are out browsing for these items.
Material
The most important feature of a fabric pot is the type of materials it is made of. If you are a DIY garden enthusiast, then you must know how crucial it is to let the plant's roots breathe.
The fabric pot should come with a permeable material that is also durable. Sometimes the most durable fabric pots don't have breathable material.
This issue hinders the roots from reaching their optimum length. If your fabric pot has a permeable material, it boosts the air circulation in the roots.
It allows the roots to dig deep into the soil and grow faster than the others.
Retaining Temperature
There aren't many fabric pots out there that can regulate the temperature of the soil. It leads to poor root growth in different seasons.
The fabric pot should be able to keep the plants cool during the summer and warm and cozy during winter. This feature will help your plants grow significantly taller all year long.
Capacity
You should also take into account the capacity of the pots to deduct how many vegetables you can plant together.
The number of gallons of the fabric pot should resemble your needs and purposes.
If you want to plant multiple trees in one pot, then it's ideal to buy a 20–30-gallon fabric pot.
Easy to Transplant
Last but not least, a fabric pot should also be easy to transport from one place to another. A reinforced handle is recommended for this purpose.
If the handles aren't sturdy, the plants may suffer transplant shock, which will stunt their growth. The fabric pot itself should be compact and easy to store.
Guide on Using Fabric Pots
It's only wise to know the critical information about the application of fabric pots. Otherwise, even after spending several bucks, you won't have the faintest idea about how to use them. Let's get you associated with fabric pots usage
Once you pick the right fabric pot for your gardening project, you must find the perfect position to place them. It must be placed in a sunlit area with enough air for the plants.
Your next task is to set up course material before you add the soil. This is required for better drainage in the long run. You can use pebbles for this purpose and set them up to 1 inch of the fabric pot.
Now it's time to pour a mixture of soil into the fabric pot. This mixture must contain the right amounts of compost, moss, and vermiculite. Make sure you add one-third of each. Don't fill the pot entirely with soil. Try to leave a few inches of space at the top.
Shake the soil inside the fabric pot to make sure there is enough space for aeration. Doing this will make sure the soil is loose enough for the roots to grow freely.
Your fabric pot must contain perfectly placed holes near the bottom to let the excess water out. These holes will get rid of the humidity and keep the healthy plants overtime.
Now it's time to plant the vegetables with short roots. I recommend short-rooted plants because it leaves them enough space to grow. Plants like tomatoes and zucchini are suitable for this purpose. If your fabric pot is over 20 gallons, you can plant multiple vegetables at once.
After that, you just need to water the plants regularly and grant them enough sunlight for healthy growth.
Top 11 Best Fabric Pots | Fabric Grow Bags Reviews
Choices can be a curse when they exceed in numbers. It's hard to pick the best out of all the options. Thus, I have handpicked the top 11 best fabric pots I found in my research and reviewed them just for you.
1. VIVOSUN Heavy Duty 5 Pack 5 Gallon Fabric Pots | Breathable Plant Pots
When you hear the word fabric pots, most of you will find it hard to believe how sturdy it is. I'm starting this list of reviews with one such fabric pot that is often considered the most durable model on the market.
It's made from non-woven fabric that doesn't wear out under pressure. This heavy-duty pack of pots is semi-permeable.
This feature makes it perfect for holding various types of plants. Even though the material is thick and strong, it doesn't contain any form of BPA.
It's incredibly environmentally friendly, which sets it apart from its competitors.
Plants can often die due to excess water accumulation in the pot. The breathable material lets out excess water and allows the roots to grow.
Even the handles are made from reinforced material. The pot's portable size also enables you to carry plants and soil easily.
Key Features:
Made from high-quality non-woven weed barrier fabric
Grow bag has strong handles
Produce more roots
Allows plants to grow fast
Saves big on watering
Last for many years
Super easy to move around
2. JERIA 12 Pack 2 Gallon Fabric Nursery pots | Aeration Fabric Planter Pots with Handles for Plants, Flower, Vegetable
I picked this 2-gallon fabric pot not only because it's durable but also because of its excellent drainage. This pack of pots comes with a drainage hole that allows the excess water to escape.
It keeps the roots healthy, which instructs the plants to grow more quickly. The non-woven fabric keeps the pot breathable.
As a result, the roots get more room to spread and also become stronger. On top of that, the fabric pot is entirely BPA-free.
This is one of the main reasons why you should choose fabric pots over normal ones. They designed it in such a way that the plants remain at the optimal temperature throughout the year.
Its handles are made from a slightly sturdier material that makes it easy to carry. No matter how heavy the pot gets, it won't run the risk of breaking.
Due to its perfectly compact dimensions, you are free to store it anywhere.
Surprisingly, you can even grow more than one type of plant in each of these pots.
Key Features:
Comes with handles
Made from high-quality fabric
Perfect for growing onions, lettuce, carrot, potato, chili paper, latus, small flower trees, and more
Last for many seasons
These bags boost plant growth & yields
3. Ming Wei Garden Fabric Plant Pots- 7 Gallon 6-Pack
A lot of people complain that they can't grow their plants all year round. Hence, I put some extra hours into research and found the fabric pot for all seasons.
It does an excellent job of regulating the internal temperature to keep the plants warm in winter. The pot also manages to keep the roots cool during summer.
This is a remarkable feature that most people look forward to. It allows you to plant different types of plants in the same pot regardless of the climate.
I was glad to find that the pot was pretty sturdy as well. Its clever dimensions make it easy to store and even easier to transport.
The fabric pot flaunts a semi-permeable structure that retains the right amount of water in the pot. Due to this feature, the plants remain healthy and grow much faster.
If you have these pots in your garden, then be sure your neighbors will envy you. But that still won't change how durable it is.
Key Features:
Comes with a handle on both side
Made from 100% non-woven fabric
Ideal for indoor, outdoor, and nursery
They're hardy and durable
Comes with a money-back guarantee
4. Delox 10 Pack 1 Gallon Fabric Grow Pots
There are plenty of fabric pots out there, but only a few of them offer reusability.
Nothing says more durable than a fabric pot that you can use for years on end. It's made from a tear-resistant fabric for heavy-duty use.
Each of these pots is made with double stitches that make it impossible to break under pressure.
The soil inside the pot gets better air circulation due to the breathable non-woven fabric. This feature promotes growth root growth and enables the plants to grow rapidly.
These pots also maintain the water level in the soil. Its impeccable capacity allows you to carry up to 200 pounds of soil and vegetables.
There are hardly any plants or vegetables that you can't grow in this fabric pot.
Moreover, the bag itself weighs only 100 grams. The pots are built to protect the plants from various environmental factors.
This all-weather fabric pot is suitable for both indoor and outdoor use.
Key Features:
Available in 1, 2, 3, 5, 7, 10, and 15-gallon
The pack is cheap
The current pot size is perfect for smaller plants
These garden pots are reusable
Ideal for both indoor and outdoor plants
5. Smart Pots- 3 Gallon Fabric Smart Pot- Soft-sided Container
It's difficult to find a fabric pot that includes a perfect balance between soft and sturdy. The material is breathable enough to let air in a while keeping out excess water.
On the other hand, the durable material keeps the fabric pot rigid regardless of how much soil you add. You can rely on this smart pot to last several years without wearing out due to pressure.
It doesn't let the external temperature affect the roots on the inside. As a result, the roots reach their optimum length within a short time.
Just plant the seed and watch your vegetables grow swiftly right in front of your eyes.
The soft smart pot also keeps the plants safe from harmful bugs and diseases. Due to its water-resistant nature, you can keep the plants out in the open.
This way, the plants will get ample amounts of sunlight during the day. You won't have to worry about any sort of water damage either.
Key Features:
Smart pots is a well-known grow bag brand
Made from durable and high-quality fabric
This post was selected by professional growers
Easy to use
Super healthier for plants
Safe for the environment
Long-lasting
6. HOOPLE 6 pack 10 Gallon Fabric Pots for Plants
This is one of the few fabric pots on this list that gives you a whopping 10-gallon capacity. You can plant multiple seeds in the same pot due to the increased capacity.
It's an all-purpose fabric pot that provides your plants with good air circulation.
The 300 g thick material is made of superior quality non-woven fabric. It doesn't contain the same level of BPA as plastic pots do.
This eco-friendly pot is the best option for anyone with a green thumb. You will get 6 packs of pots with just one purchase.
They are designed to keep internal temperatures at peak levels. It's built to withstand harsh weather conditions, so you can consider placing the plants outdoors.
The manufacturer implements X-shaped stitches to keep the pot from tearing. On top of that, they offer amicable customer service in case you face any problems after purchase.
Key Features:
Perfect for growing many vegetables, fruits, and flowers
Keeps plants cooler and warmer when needed
They're made from high-quality non-woven thicker material
They're environmentally friendly and BPA-free
These bags last for a long time
7. MELONFARM 5-Pack 15 Gallon Fabric Pots With Handles
If you are looking for even more capacity, these 15-gallon fabric pots are meant for you. They consist of reinforced handles that will never give up.
Hence, you can carry your plants around the garden with ease. Adding and emptying the soil becomes much easier with this feature.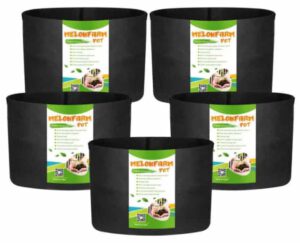 Moreover, these pots are incredibly easy to clean. The permeable layer of fabric improves air circulation within the soil.
This feature allows the roots to spread more quickly in the soil. You will definitely notice your plants growing faster in this fabric pot.
They also tweaked the pots to enhance drainage when you are watering the plants. It gives your plants a better chance to grow in the long run.
The immensely high capacity allows you to breathe some variety in your garden. Its non-woven fabric is durable enough to withstand years of heavy-duty use.
Key Features:
Made from non-toxic & non-woven materials
These pots are durable & strong
Very easy to use
Super easy to clean & storage
Last for many years
8. iPower 5 Pack 20 Gallon Fabric Grow Bags With Strap Handle
Coming in at number 8 is one of the few fabric pots on the market that you can wash and reuse. There is barely any chance of damaging them as the material is water-resistant.
You won't have to buy a new pot every time you need to plant a new vegetable. Just empty, wash, and reuse at will.
If you observe closely, you will notice that the straps are made from a sturdy material. However, they don't put any strain on your hands when you are trying to carry the soil.
The manufacturer has modified the fabric pot to increase the capacity to 20 gallons. Now you can plant more vegetables with stronger roots.
The stronger the roots, the faster the plant will grow. It also allows you to water the plants without the fear of suffocating them.
This BPA-free fabric pot reduces transplant shock to the bare minimum.
Key Features:
Perfect for all types of container gardening
Protect your plants from over-watering
Keeps plants safe and healthier
Helps to grow fast
Easy to move around & long-lasting
9. Garden4ever 5 Pack 30 Gallon Fabric Grow Bags with Handle
Now I'm going to review this 30-gallon fabric pot that is a class apart from others. Despite their unmatched capacity, the fabric pots are easy to carry.
The plants don't suffer from any transplant shock, mainly due to the sturdy handles.
You can use this extra space to plant a wide variety of fruits and vegetables in one pot. Just imagine the level of diversity in your garden once you start using these pots.
Its cylindrical shape and permeable structure allow the soil to breathe. The plant's roots will also benefit from this future and grow taller.
Several DIY gardeners across the world have recommended this fabric pot for growing vegetables. The material is also very durable and breathable.
Overwatering will become a thing of the past with these high-capacity pots at your disposal.
Key Features:
These pots are heavy-duty
Made from growth-friendly felt
They're washable and reusable
Healthy for plants and the environment
Perfect for growing vegetables, flowers, and fruits
10. Gardzen 2 Pack 50 Gallon Fabric Pots
Gardzen 2 Pack 50 Gallon Fabric Pots are perfect for planting large vegetables and fruits. These fabric grow pots are big enough for growing watermelon, pumpkin, tomato, potatoes, cabbage, collards, and much more.
If you need to move the pot after growing vegetables in these pots, you can do so with these gardzen pots because these bags come with sturdy, durable, and heavy-duty handles.
This gardzen 50-gallon pot pack has more than 300 online reviews, and most gardeners are happy with the pot quality.
So, overall, if you're looking for 50-gallon gardening pots, then you can go for this gardzen 50-gallon grow bag.
Key Features:
Perfect for growing all types of vegetables, fruits, and flowers tree
Made from high-quality breathable fabric
Long-lasting
These bags are reusable
Keeps the plants healthier
11. Oppolite 100 Gallon 6-Pack Round Fabric Aeration Pots
This 100 gallon grow pots pack is perfect for Hydroponic indoor plant growing. But also, ideal for outdoor gardening, and nursery. I notice that some people are searching for 100-gallon pots– that's why we've added this 100-gallon pack.
This 100 gallon grow pot pack comes with all these features that other fabric pots have. These 100-gallon garden pots are heavy-duty and last for a long time.
This 100-gallon grow pot makes gardening much easier in a small space or even indoors. Also, these 100-gallon grow bags are reusable, so once you've done that, wash and store them for next season.
Overall, if you're looking for long-lasting, heavy-duty, healthy 100-gallon grow pots for plants, gardening, and nursery, then you can check this product.
Key Features:
These 100-gallon bags are long-lasting
They're heavy-duty
Healthier for plants
You can reuse them
Perfect for hydroponic indoor growing, outdoor gardening, and nursery.
Frequently Asked Questions
Do fabric plant pots work?
Fabric plant pots work extremely well at keeping the plant's roots healthy. They are made from a breathable material that enhances aeration in the soil. Promote plant growth and are suitable for shallow-rooted plants.
Are fabric pots better?
Fabric pots are better in a number of ways than regular pots. They are easier to transport and have better drainage. Although they don't last as long, they can still help your vegetables and fruits grow faster.
Do plants grow better in fabric pots?
Fabric pots are responsible for healthy root growth in the soil. They also have holes that get rid of excess water in the soil. As a result, the plants tend to grow much faster in fabric pots.
Do fabric pots need drainage holes?
Fabric pots don't usually need drainage holes as they have a permeable material that lets out excess water.
Are fabric pots better than plastic pots?
Yes, fabric pots are a better substitute for plastic pots as they don't contain any harmful BPA in their construction.
Final Verdict:
Reading the entire article should give you enough information to identify the best fabric pots or grow bags among all the options on the market. If you are still lost in the sea of choices, make sure you read the detailed buying guide.
This will certainly help you to determine which of these products can benefit your purpose the most.