When you're designing your clothes, every inch of precision matters. Investing in a proper sewing kit and a pair of fabric scissors will undoubtedly change your life.
Some people use regular paper scissors instead of specialized ones. This can cause irregularities in the pattern you're trying to create and also slow down the cutting process. However, with so many different kinds of scissors and a wide brand variation, choosing the right one becomes quite difficult.
So, today we will be looking at a few of the best fabric scissors. Included within the article is an in-depth buying guide to help you distinguish the best from the worst.
Things to Consider When Buying Fabric Scissors
One might think that picking out a pair of fabric scissors is quite easy, but that is not the case if you want the best one. Here are some features you should look at before making your choice.
Ergonomic Design
Generally, cutting a piece of fabric requires more pressure than paper. Therefore, your chosen pair of scissors should be able to accommodate your fingers well enough to exert enough pressure.
Some fabric scissors will feature a flat base on one side, with the other side being raised at the handle. This allows you to lay the scissor flat while cutting through your fabric.
Material Construction
The build quality of your scissors will determine whether it pulls through in the long run. Most fabric scissors are made of stainless steel, which is the ideal choice.
The reason I say this is that stainless steel tends to be durable and corrosion-resistant. Now while it is true that your scissors won't come in contact with water, humidity is still a factor you should be wary of.
Scissors made of other materials might seem feasible and high performing at first, but they tend to wear out easily as the days go by.
Blade Length
Unlike paper-cutting scissors, fabric cutters need to have a longer blade in order to give you a smooth-cutting experience. If we had to state the bare minimum length, it would have to be 21 cm. Anything below that will make it difficult to cut through evenly.
There are scissors that go up to 26 cm in length, but they are used mainly to get the job done fast. This is only ideal for situations where precision is not the topmost priority.
If you want to cut fast while also keeping a close eye on your accuracy, try to opt for scissors ranging from 21 to 24 cm in length.
Long-run Maintenance
If you want your pair of fabric scissors to last long, there are a few tiny tips that can come in handy.
For starters, a common practice people engage in is oiling the hinges. This can be a good method for regular scissors, but when used to cut fabrics, the oil is most likely to be absorbed. A good alternative is to buy stainless steel scissors as they are resistant to rusting and do not need to be oiled.
You should also choose one with a thick blade that will allow you to grind it frequently. Scissors with thinner blades cannot be grinded after a while and need to be replaced faster.
Top 9 Best Fabric Scissors for Cutting Fabric Reviews
After putting extensive hours into research, I have picked out nine best fabric scissors. Let's check them out!
1. iBayam 8" All Purpose Heavy Duty Scissors for Cutting Fabric
Our first pick for the top-rated fabric scissors is this multipurpose 8-inch cutter from iBayam. Having a combination of the right design and build material, it can cut through paper, cardboard, fabrics, tape, and photos.
Check Price on Amazon
Its versatility makes for a great pair of household scissors, ready to help you in your day-to-day tasks.
In addition, the blades are entirely made of high-density stainless steel. This gives it an edge over regular steel scissors because of its enhanced strength. Also, the composition of the steel keeps it sharp 6 times longer- giving you consistent performance for longer periods.
Furthermore, iBayam fabric scissors have thickened the blade to 2mm, which aids its versatility. The increased blade thickness will allow the scissor to cut through hard surfaces like cardboard with ease.
Pros:
Comes in a set of 3
Can be used for different materials
Thickened blade to offer a smooth cutting experience
Comfortable handle reduces stress on fingers
Cons:
Some scissors might have bad finishes on their external plastic molds
Verdict
This scissor pack of 3 is a cost-effective buy for any household. Featuring a versatile blade shape and design, these scissors can come in handy in almost any cutting task.
Read Next: The Top 7 Fabric Cutting Table Options
2. Fiskars 12-94518697WJ The Original Orange Handled Fabric/Cloth Scissors
Fiskars has made a name for itself when it comes to making the best quality scissors. Known for their classic design and sturdy build, any Fiskars pair you buy will last you for the long haul.
Check Price on Amazon
When talking about the best scissors for cutting fabric, we must take into account all the various kinds of fabrics. Any scissors you invest in should be able to cut through both soft materials like cotton and hard denim too.
The 8-inch blades have a unique design that cuts your fabric all the way through. Its precision-ground edge also helps to give you a smooth cutting experience.
What's more, the Fiskars fabric scissors are multipurpose scissors that can cut through all sorts of different materials other than fabrics. Cutting sticky paper or fabrics with acrylic glue can be difficult as the glue would jam the blades. This orange beauty boasts a non-stick blade surface that prevents gumming to give you a smooth cut.
Pros:
Precision-ground blade for clean and tidy cuts
Ergonomic handle design to enhance comfort
Non-stick blades prevent jamming
Bent-handle design aids in cutting accuracy
Cons:
Plastic handles can be uncomfortable for long periods of cutting
Verdict
Fiskars has always had a good reputation when it comes to making durable fabric scissors, and it is evidenced by this pair. The stainless steel blades with innovative design features help maximize the cutting consistency. Since it can cut through both hard and soft materials, it is a good all-around scissor to have.
Read Next: The 8 Fabric Cutting Machine Options
3. Gingher 8-Inch Knife Edge Dressmaker's Fabric Cutting Shears
If you're looking for the best accuracy and precision, then the 8-inch shears from Gingher should catch your attention. With over 70 years of experience, their forged steel material construction makes it immune to wear and tear.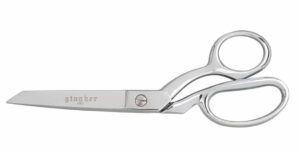 Check Price on Amazon
In terms of design, the scissor has undergone some changes to maximize comfort. The large handles make enough space for your fingers, allowing you to cut for longer without aches. It also features a bent handle that will hold your fabric flat while cutting.
Featuring an ultra-sharp precision-ground blade design, the Gingher fabric scissors cut all the way to the tip. As a result, you can glide through easily without losing your accuracy. When paired with the bent handle, this can get work done much faster than other scissors.
Pros:
Durable forged steel with double plated finish
The bent-handle design keeps fabrics flat when cutting
Precision-ground knife edge offers cutting up to the tip
Cons:
Hard to grip the handles due to the smooth finish
Verdict
This scissor from Gingham boasts a premium finish that enhances durability by a long margin. Other than looks, the forged steel construction ensures edge retention for many long years. This is a scissor you will need to get used to, but once you do, there's no turning back.
Read Next: The 10 Fabric Rotary Cutter Options
4. JISTL Green Professional Dressmaking Pinking Shears | Zig Zag Cut Scissors
When you're working on any project, creativity is a vital ingredient towards success. Our next pick is a pair of zigzag scissors from JISTL, which unlocks another level of patterns for you. Now you can easily cut edges without fraying or make zigzag edge patterns as a form of design.
Check Price on Amazon
What makes these scissors a must-have are their comfy handles. On the inner edges of the handles is a soft material that reduces stress on your fingers. This allows you to take on larger projects and cut them for longer periods. Also, these handles offer better maneuvering due to their grippy texture.
Indeed, zigzag fabric scissors won't come in handy when cutting inside shapes on a piece, but they are still worth investing in. Not many people can incorporate zigzag cutting patterns into their fabric pieces. With its A-grade steel build, this will turn out to be an investment for the long haul.
Pros:
Creates a consistent zigzag pattern
A grade steel construction ensures durability
Handles offer more comfort due to their design
Unique handle texture offers easy maneuverability
Cons:
The short length takes longer to cut large sheets
Verdict
Zigzag scissors are essential if you want to let your imagination run free. The consistent zigzag pattern can create some beautiful edges on dresses. Other than its difference in a cutting pattern, it offers precision through the blade shape. However, a longer blade would've allowed for more cutting distance to be covered.
5. SINGER Fabric Scissors with Comfort Grip for Both Right & Left Handed Person
Sewing shears from Singer have always been people's favorite. A particular 8.5-inch fabric scissor makes the best use of its design to offer comfort and precision. With soft rubber grips, you can easily cut for long hours without discomfort.
Check Price on Amazon
The blades are made of extra-hard stainless steel to ensure long-term usage. The singer has also put on extra layers of protection for rust resistance. This keeps the scissors snipping away at high speeds without fraying.
In addition, the stainless steel blade is sharpened to perfection, which aids the scissor's versatility. Now you can effortlessly cut through multiple layers of fabrics, up to 8 pieces of paper, or even a layer of cardboard. So, even when you're not cutting fabrics, this acts as a good multipurpose scissor to keep around the house.
Pros:
Can be used by both left and right-handed people
Scratch and nick-proof coating enhances durability
Cuts multiple layers of fabrics at once
Stainless steel blade ensures a smooth cut
Cons:
The blade can only be resharpened a few times
Verdict
These pairs of scissors are ideal for light users who take fabric sewing as a hobby. While they provide maximum comfort and allow for long hours of cutting at ease, they can get dull quite frequently.
6. LIVINGO Premium Multi-Purpose Titanium Coated Tailor Scissors
If you're on the lookout for something fancy, then you should check out these fabric scissors from LIVINGO. Featuring a rainbow-colored titanium-coated blade, cutting with this is almost therapeutic. Not only does it look much better than your average scissor, but it also ensures great precision.
Check Price on Amazon
Weight has a big role to play when working with scissors. The heavier they are, the harder it is to use. Now the handles on this pair have been made from lightweight materials to reduce any extra weight. This makes it easy to control and maneuver your scissor around.
The main highlight of the scissor is its titanium-coated forged steel blade. Other than its aesthetics, the blade is known to be 3 times stronger than regular steel. And after going through 44 different kinds of sharpening processes, it can cut through 16 layers of fabrics with ease.
Pros:
The forged steel blade is 3 times stronger than the average steel
Titanium coating gives a rainbow-colored effect on the blade
Lightweight handle build for easy operation
Soft grip handle aids in comfort
Cons:
Can be uncomfortable for left-handed users
Verdict
LIVINGO's titanium-coated scissors have one of the best blades we've seen in the market. The coating, along with its forged steel build, keeps the blade secured from abrasion. With the capacity to cut up to 16 layers, this scissor will undoubtedly boost your cutting speed significantly.
7. BIHRTC Professional 9-inch Sharp Tailor Scissors & Small Decorative Embroidery Scissors
For those of you who are more interested in buying scissor kits, this next pick from BIHRTC should have you going "wow." Other than the basic fabric scissors, you also receive two embroidery scissors which can be used for various other purposes.
Check Price on Amazon
Starting off, the industrial-grade high-carbon steel blade shows no mercy to any kind of material. Hard denim or multiple layers of cotton, this pair of scissors will cut through them as smooth as butter. When paired with its precision-ground edge, you are bound to get a seamless cutting experience.
Moreover, the scissor handles are well-made with rubber comfort grips. The ergonomic design and grip work well to reduce any pain you might feel on your fingers. BIHRTC tends to oil its scissors before shipping, so you will be exerting less pressure from the very start.
Pros:
Rubber grips offer comfort for prolonged usage
High carbon steel for enhanced durability
Precision-ground blade cuts all the way to the tip
Pre-lubricated for smooth cuts
Cons:
We couldn't find any cons to this product
Verdict
This scissor kit from BIHRTC offers everything you need for your art project or crafting models.
The scissor itself is quite impressive, featuring a durable and sturdy build that is bound to last you ages. This is perfect for people looking to take up tailoring as a hobby. The small embroidery scissors come in handy for many other tasks, such as trimming edges and cutting off loose threads.
8. CYNAMED German Premium Heavy-Duty Fabric Cutting Scissors
While the average 8-inch scissor size may be most preferred, larger sizes offer faster speeds. Our next pair of scissors from CYNAMED are entirely german made from handle to tip. This 12-inch heavyweight is the ideal option for cutting long lengths of fabrics in short time intervals.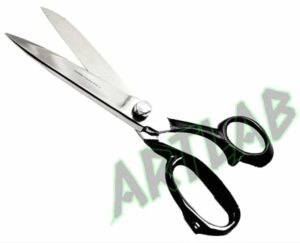 Check Price on Amazon
Made with only the finest quality German stainless steel, the blade retains its edge quite well. Since the scissor is labeled as heavy-duty, it will do its best to withstand wear and tear.
Other than oiling it now and then, there isn't much you would need to do. As the german steel will need sharpening less frequently, all you need to focus on is getting your new dress made.
Furthermore, the handles are larger than your average fabric scissors, allowing more room for your fingers. When you can comfortably grab the handle with all your fingers, the resulting cuts will be more accurate.
Pros:
German-grade steel ensures durability
The 12-inch length makes it faster to cut large pieces
Blade maintains edge retention for quite long
The large handle design offers comfort when cutting
Cons:
Can be difficult to use for smaller cuts
Verdict
This is ideal if you're often caught up with cutting large patterns on fabric. The large blades cover more area and give you clean cuts throughout. Although, you might need an extra pair of smaller scissors to perform smaller cuts where accuracy is most important.
9. P.LOTOR Scalloped Pinking Shears | ZigZag Fabric Craft Scissors
Finishing off our list, I have these decorative scallops fabric shears from P.lotor. Much like our previously mentioned zigzag cutters, these pairs are great for making rounded scallop patterns. Other than tailoring, these are great companions to spice up your DIY projects too!
Check Price on Amazon
Moving into the specifications, these pinking shears have stainless steel blades that offer a smooth cutting action.
If you're familiar with patterned scissors, you already know about the struggles of cutting soft materials. Most scissors fail to provide a clean cut, but not this one. Hard or soft fabrics- they will all have smooth rounded edges once you press down the blades.
What's more, the handle design caters to both right and left-handed users. This avoids the long-running trouble lefties have with adjusting to right-handed scissors. As a result, everyone in the household will be able to use these shears despite being left or right-handed.
Pros:
Ball-bearing joint enhances precision
Stainless steel blade for long-lasting service
Handle design is compatible with left and right-handed users
Cuts clean patterns across a variety of materials
Cons:
They are a bit heavy, which affects maneuverability
Verdict
These pink scalloping shears are perfect for DIY enthusiasts with a knack for trying out various designs. The stainless steel build, along with its ball-bearing joint, offers a smooth cutting experience.
Frequently Asked Questions
How to Maintain Fabric Cutting Scissors?
To maintain a pair of fabric scissors, you would need to use oil or any lubricant regularly and keep it well protected from drops and scratches.
Which Scissors are Ideal for Sewing?
When it comes to sewing, paper scissors are a good selection. Other than that, you can also use stitch scissors and pinking fabric shears to snip off bits and pieces of loose threads.
What Makes a Good Fabric Scissor?
Other than a seamless cutting experience, good fabric scissors should be comfortable to use and easy to maintain.
Are Dishwashers Safe with Scissors?
Logically, washing your fabric scissors in the dishwasher should be alright. However, dishwashing soap and water can lead to faster rusting. I would advise you to wash it by hand.
Should I Prefer Thick Blades or Thin?
Thicker blades are a better option as they leave room for resharpening. If the blade is thin from the start, you won't be able to sharpen it multiple times.
Final Words
It is a common misconception that paper scissors can be used to cut fabrics. Fabric scissors have a different blade and handle design which makes them well-suited to the purpose.
Make sure you prioritize durability and comfort when picking out the best fabric scissors for you. Otherwise, you'd have a set of aching fingers after every cutting session.