Back in the day, taping torn clothes together over sewing them was often frowned upon. This backdated mindset has made life a living hell for us in the fashion business.
It took us a while to realize that fabric tapes are actually a remarkable invention that can save us some precious time.
So, if you are tired of carrying your sewing kit on the go, it's time to find the best fabric tape for clothes on the market.
Don't worry, and you won't have to dedicate hours to research like I had to. Because today I'm listing the best brands along with their benefits in this small but informative article.
Our Top Picks:
What is Fabric Tape?
Fabric tapes are available in rolls or strips and are made from different kinds of materials. These tapes are used for repairing torn clothes and sometimes leather furniture.
They can also go well with your home décor. It's a suitable alternative for sewing kits as well.
What is Fabric Tape Used for?
Fabric tapes are every DIY enthusiast's dream come true. It's the perfect adhesive for crafting projects such as card making, gift wrapping, and designing new dresses.
They are usually made of cotton or nylon. You can even use them to hold dresses together at the hem.
Does Fabric Tape Stick to Fabric?
A fabric tape's main function is to attach two pieces of fabric together. The adhesive in the fabric tape is specifically made for this purpose.
They are so efficient that they don't lose their stickiness even when you put them in the washing machine.
Is Fabric Fusing Tape Permanent?
Not all fabric tapes have a permanent effect. However, the fabric hemming tapes I reviewed have a long-lasting effect and are almost impossible to remove.
This makes them a suitable substitute for sewing fabrics at their hems.
Things to Consider Before Buying Fabric Tapes
Before you buy any of the fabric tapes I discussed in this article, it's best to look into their main features.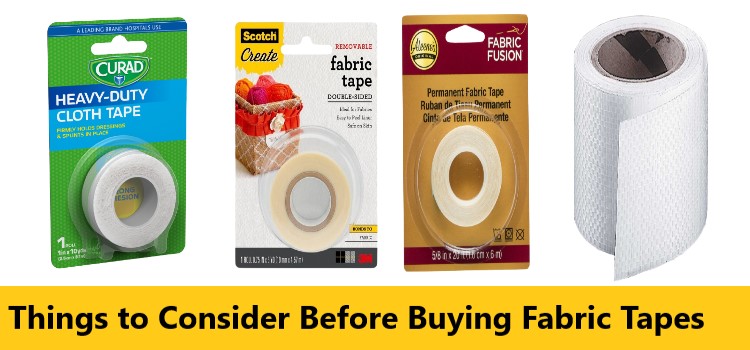 Considering these factors before buying will allow you to pick the best tapes for your purpose.
Material
The first thing you need to keep in mind is the type of material it's made from.
This feature will give you an idea about the durability of the fabric tape. It should also inform you of the type of fabric it's compatible with.
The color and texture can determine if it would look like an eyesore or make your attire look appealing.
Type of Fabric Tape
You also need to keep in mind which type of tape you need for your purpose. If you want to keep your strapless dress stable, then the double-sided tape will do you good.
You might need hem tapes if you are looking to reduce the hassle of sewing. The length and width of the tape will also vary depending on the type.
Machine Washable
It's best to pick a tape that is machine washable for your utmost convenience.
Since you must attach the tape to your clothes, it's only natural they will come into contact with water at some point. So, make sure the material is waterproof.
How Do You Apply Tape to Fabric?
Applying fabric tape has become easier than it used to be. Nowadays, it's as simple as pulling the tape off the roll and gently applying it to the fabric.
While some of them require a little bit of iron heat, other fabric tapes attach almost instantly. Double-sided tapes are even easier to apply.
Just peel off the plastic from both sides and place it in your desired position. After adding some slight pressure, your clothes will look as good as new.
The 6 Best Fabric Tape for Clothes Reviews
It's safe to say I have a hobby of helping people in need. And that was exactly my intention when I put together this list of top fabric tape brands in 2023.
1. Aleene's Fabric Fusion Tape
I would like to begin this list of reviews with duct tape that changed my life for the better. There are many waterproof tapes on the market these days, but none are as durable as this one.
This is one of the very few duct tapes that give you the freedom to wash your clothes in the dry cleaner.
The tape doesn't lose its efficiency one bit, even after several washes. This gives you the option to fix your torn fabrics in no time!
Just pull out a strip and repair the hole in your favorite jeans on the go. It's extremely easy to use and maintain.
To make things even better, these fusion tapes are also double-sided. Thus, you can easily use them for home decorations as well.
All these features make this duct tape widely versatile, to say the least. This 5/8-inch tape can unwind up to 20 feet.
That's why it allows you to repair your fabrics multiple times.
Pros:
Dry cleaner safe
Fix on the go
Double-sided tape
5/8 inches
Cons:
A bit tricky to use for beginners
2. Outus Fabric Fusing Tape Adhesive Hem Tape- Iron-on Tape
Those of you who love sewing will certainly admire this hem tape and its numerous features. It includes some extravagant features that can make sewing seem less like a chore.
The fabric tape is much easier to use than most of its kind. Simply place tape on the fabric and apply some heat with the iron.
Apart from sewing clothes, these adhesive hem tapes can also repair leather upholstery. It only takes a few seconds to apply without using any additional tools.
The hem tape is almost impossible to rip off once it sets on the fabric. It's a quick and easy way to fix tears as long as you have an iron at your place.
Even when you put the tape in the washing machine, it will work like a charm. The hem tape keeps the fabric together for years on end.
It's one inch wide and up to 27 yards long. This is every DIY enthusiast's dream come true.
Pros:
Replaces sewing kits
Can fix leather upholstery
Only takes a few seconds
Permanent bond
27 yards long
Cons:
3. Fearless Tape – Women's Double Sided Tape for Clothing & Body
This exclusive fabric duct tape is only meant for the fashion-conscious people out there. It is not only suitable for repairing torn clothes but also makes your designs stand out in public.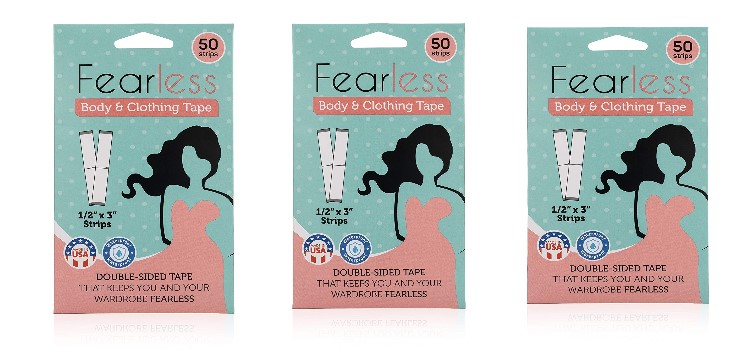 I have seen many professionals use and recommend this double-sided take to replace stitches on clothes. The duct tape is made for those strapless dresses that tend to slip off when you run too fast.
It easily attaches to your dress and body to keep the fabric steady all day long.
Now you flaunt your favorite dress out in public and even jump around if you want to. Unlike most double-sided tapes, it doesn't affect your skin.
It's not made from toxic materials that can cause irritation or itching afterward.
This fabric duct tape allows you to stay confident all day long. Each pack comes with 50 strips of double-sided tape that offer more freedom of movement.
You can even take the strip off your clothes without tearing the fabric.
Pros:
The pack contains 50 strips
Easy on your skin
Allows you to move freely
Doesn't damage the fabric
Long lasting bond
Cons:
Not suitable for permanent repairs
4. Scotch Essentials Permanent Hem Bonding Strips
Once you start using these duct tape strips, I promise you will forget your sewing kit ever existed. That's because they are best-attaching clothes at their hems without any manual effort.
Just peel off the plastic from both sides and place it on one side of the fabric. Press the two pieces of cloth together, and you're good to go.
These easy-to-use bonding strips have revolutionized the fashion industry. If you are a DIY enthusiast, then you can save a lot of time with these hem tapes.
These small strips can permanently attach two pieces of cloth together, giving you a tailored finish. You can use it on almost any type of fabric other than silk.
The manufacturer has also modified the strips so that they don't give away when you wash your clothes. Each pack consists of 30 strips that you can carry in your pockets.
Pros:
Easy to apply
Doesn't need sewing
Perfect for DIY
Contains 30 strips
Versatile
Cons:
Only suitable for occasions
5. Scotch Create Removable Double Sided Fabric Tape
Most people that rely on fabric tapes often complain they can't take it off without damaging the fabric. Although they provide a steady bond, the duct tapes are hard to remove.
Hence, I added the best removable fabric tape to this list to make your life easier.
It keeps your clothes together as long as you keep them on. I don't have to tell you how beneficial it is to have the option of peeling off the tape whenever you want.
You no longer need to worry about any tears or tape residue on the fabric. The fabric tape comes right off with minimal effort.
Women can also use these removable tapes to keep their backless gowns in place.
It gives you the freedom to move around without a care in the world. Who says you need to walk a certain way to look elegant?
You don't need to iron the fabric tape, either. It's safe on your skin and easy to use.
Pros:
Removable fabric tape
Easy application
Peels off easily
Allows confident movement
Doesn't harm your skin
Cons:
Not suitable for all purposes
6. GEAR AID Tenacious Tape- Fabric & Vinyl Repair Tape
It's impossible not to talk about this next product when you are discussing quick fixes. With these fabric tapes at your disposal, you can fix your clothes as soon as they rip.
You can even fix the gaping hole in your bed sheet without making any significant changes.
It's available in various colors that blend in with the fabric's color. This is what makes it so versatile.
You can repair anything from large tents to your favorite jacket. It doesn't require a sewing kit or heated iron.
All you need to do is peel the plastic off and gently place it on the fabric.
The manufacturers designed these nylon strips in such a way that you can't even notice after applying them. Their see-through nature allows you to stay fashionable and elegant.
This duct tape is machine washable as well. They are made from highly durable material that isn't prone to damage.
Pros:
Suitable for quick repairs
Doesn't need iron heat
Strips made of nylon
Blends in with the color of your clothes
Machine washable
Cons:
Frequently Asked Questions
What Tape do you use on fabric?
There are specific tapes for attaching fabrics, which are often made from cotton. They contain a special adhesive that sticks to the fabric permanently. Fabric tapes are available in the form of strips or rolls.
How well does fabric tape work?
There are various fabric tapes for different purposes. Hem tapes are used to keep dresses together at the hem and tend to last forever. Alternatively, you will also find double-sided tape strips that attach to the fabric and the body. They are usually temporary.
Can I use regular double-sided tape on the fabric?
Yes, you can use regular tape on fabric, but it surely won't work as well as fabric tape. They usually lose their stickiness when in contact with water. Peeling them off afterward can also damage the fabric.
Will duct tape stick to fabric?
Duct tape does stick to fabric and can offer a temporary solution in times of need. However, they won't last a very long time.
Will 3M tape stick to the fabric?
Although 3M tapes aren't made for this purpose, they will usually stick well to fabric. Nevertheless, you shouldn't expect them to work as well as fabric tapes.
Will Gorilla tape hold the fabric together?
Gorilla tapes are an excellent choice for holding fabric together. They often last permanently. You can use them for subtle DIY projects as well as repairing old and torn clothes.
Final Words
If you read through the entire article, you must have a fair idea about the top-rated best fabric tape for clothes on the market. They each have their own perks and benefits and are suitable for certain purposes.
Hence, it's best to keep your purpose in mind before you buy any of them.