Skirts are appropriate for many occasions. They are an excellent choice for casual wear as they are formal wear. The fabric requirement depends entirely on your intended use. You would need a shorter skirt for more flexibility as a cheerleader, while you would want to wear something larger in social gatherings.
Generally, you would need around two yards of fabric to make a skirt. This is more fitting for a straight, woven, or knit-style skirt. You would need two and a quarter yards for an A-line or a softly gathered skirt. So, the amount of fabric you need would completely depend on your preferred style.
In this article, I will explain how much fabric do I need for a skirt. What skirt styles will suit your physique and purpose the most? Should you pick a mini skirt over a gathered one? Should you favor A-line skirts over maxi skirts or the other way around? I will discuss everything you need to know to make the perfect skirt for yourself.
How to Measure Fabric for A Skirt
Take the measurement from the top of your waistband to the point where you want the skirt hem to end. Add two inches to the skirt length to allow for the hem to be folded and sewn inside without making the skirt shorter than you want. If your skirt fits at your natural waist, it will be shorter than the one you wear below your waistline.
Fold the cloth in half against the grain. Make sure that the right sides are together. Mark the skirt's length by measuring along the fold. To deduce the appropriate width of the skirt, apply the following formula:
(Waist Measurement + ½ Waist Measurement)/2 = Skirt Bottom
Join the outside marks for the sides of the skirt. Take two inches off of each line where they meet at the fold to compensate for body curvature. And voila! You have now completed the front pattern of your skirt. Trace it for the piece of the back skirt, then cut it out. To get backside curves, you can increase the center ham of the skirt by an inch or more.
How Much Fabric Do I Need for A Skirt?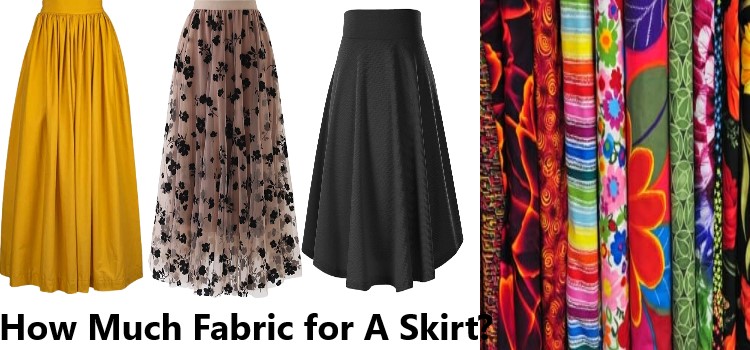 A wide range of skirts are currently in fashion. Each of them is unique, as is the amount of cloth necessary to produce each one. Your body shape and size will also dictate how much cloth you would need to sew your skirt. Usually, the yardage ranges from two and a quarter to three yards.
How Many Yards of Fabric Do I Need for A Circle Skirt?
A circle skirt pattern is cut in the shape of a donut, with the larger circle representing the hem of the skirt and the smaller inside the circle representing the waist. Circle skirts have a beautiful flare, they look good on all body types and are always in style. With a few simple calculations, you're ready to cut your skirt and start sewing.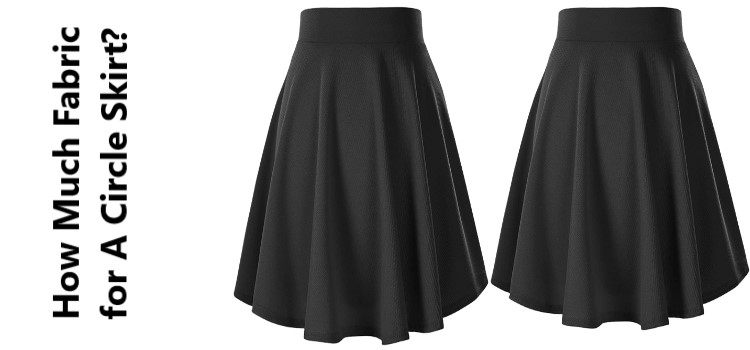 I would recommend two and a half yards of cloth for a skirt that touches the knee. For a floor-length skirt, you must add half a yard more. That means you would need three yards of fabric to sew a skirt that runs from waist to toe or even lower. Avoid using high-stretch fabric like jersey fabric. Go for something with less stretchability, like cotton.
Converting your measurements into a pattern is the hardest part, which is why many people avoid circle skirts. You will need to know two things:
The length of the skirt, which you must measure from the waistband.
The size of your waist, which you need to measure at the waistband.
Once you know these sizes, you can decide what kind of skirt to make. As you might guess, a full-circle skirt is made from a circle of fabric and gives you a full, voluminous look. 3/4-circle, half-circle, and quarter-circle skirts use less cloth and have a more casual look. Here's the formula for determining the yardage for circle skirts:
Skirt Length+ Waist Radius+ 2 inches = Required Fabric for A Circle Skirt
To find the waist radius, use this formula:
Waist Radius = (Waistline/3.14)/2
Carefully take the measurements and input the numbers you find into these formulas. Round up the numbers for the sake of simplicity.
How Much Fabric for Tutu Skirt?
Once seen only as children's skirts, tutu skirts have been in high demand for adults in the last few years. Modern fashion has built on the childish charm of tutu skirts and created a whole new brand of clothing that transcends age, shapes, and sizes. So, you can rock a tutu whenever you want. You can stay assured it'll look great on you!
Again, you would need to know the skirt length and waist radius. You must determine how far you want the skirt to extend below the waistline. If you want the skirt to stretch to your knee, measure the length between your knee and the length. Add an inch or two to the measured length to allow for the hem. You now have your skirt length.
Use the waist radius formula I mentioned above to determine the waist radius. Measure your waistline and divide it by 3.14. Divide the dividend by two, and congratulations, you got your waist radius. Add the skirt length and the waist radius, and you will know how much soft tulle you would need for the tutu.
If the sum is below 27, you will need six yards of tulle for the skirt. If it is more than 27, you will need about 12 yards of soft tulle. For the waistband of your tutu, you will also need a 3/4″ to 1″ strip of elastic. The one that is 1″ wide is better for tutus for kids and adults, while the one that is 3/4″ wide is better for a tutu for a baby.
How Much Fabric for A Maxi Skirt?
Maxi skirts happen to be at the top of the list when I talk about comfy casual wear for women. It's very comfortable because it has an elastic waist, but the waistline is curved, so there aren't too many gathers in the elastic waist, and the skirt doesn't get bunched or gathered. Sounds great for an everyday outfit, huh, ladies?
What makes maxi skirts even more appealing is that they are incredibly easy to sew. It's so easy because you only have to put together two pieces. And the elastic is attached in a clever way that doesn't involve threading it through a waistband. All you have to know is how much cloth you need to make this and you are good to go.
You would need about two and a half yards of fabric for a maxi skirt. You should use a light fabric that falls well. Fabrics that are too stiff, like organdy and denim, won't look good. Wash and dry it the way you want to treat the finished garment. Measure the skirt length and waist radius to confirm how much fabric you require.
How Much Fabric for A Gathered Skirt?
A gathered skirt is one of the simplest skirt designs that you can make by yourself without much effort. A gathered skirt comes from a rectangle of fabric, which you must cut into a skirt shape and then gather at the waist. The fabric needs to be sufficiently wide to cover the hips and make sitting down easy and comfortable.
How long the rectangle needs to be depends on how long the skirt needs to be. Find out your hip and waist sizes, and decide on the length and style of the skirt. The more of a gathered look you want in the skirt, the less you have to worry about how it fits at your hips. For very narrow, gathered skirts, the hip circumference is a very important number to know.
Also, remember that for minimal measurements, you must leave an opening at the back of the skirt. Otherwise, the skirt will make it hard for you to walk. Generally, a gathered skirt will need about three yards of fabric. You should use three times the fabric of your waistline length to have enough left for the waistband.
How Much Fabric for A Ribbon Skirt?
Many Native American women and girls wear brightly colored ribbon skirts as a way to honor their traditions and show support for causes like the missing and murdered Indigenous women and children. So, ribbon skirts are not just mere fashion statements. They bear a strong cultural significance.
Girls of all ages love ribbon skirts, which they can wear for play or as part of their Halloween costumes. Since the ribbons on these skirts tend to flow so gracefully, they can also be worn with dance outfits. These ribbon skirts are great for everyday wear because they can be worn over jeans or leggings.
Ribbon skirts are not something that you would usually find in retail stores. So, you have to sew them by yourselves most of the time. Thankfully, they are not difficult to make at home. You would need about two and a half yards of fabric to make an adult-sized ribbon skirt. It's possible to make them with no sewing involved.
How Much Fabric for A Mini Skirt?
The leg-bearing mini skirt has made a triumphant comeback in the fashion scene lately. It's easy to make your own miniskirt! Make a new skirt out of a fabric you like, or turn an old skirt you no longer wear into a mini skirt to give it new life. You can make a miniskirt quickly and without having to buy a new one if you just cut and hem the fabric.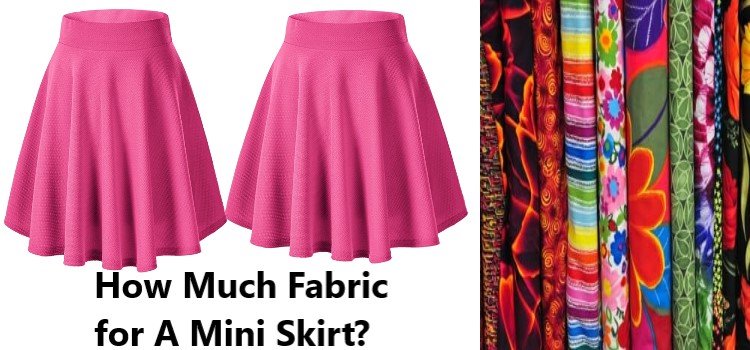 There are miniskirts in a variety of fabrics and styles for every occasion and taste, whether you want a lavish leather look or want to sport a flowy floral to get some air in your thighs. As the low-rise Miu Miu skirts have been one of the hottest summer fashion trends this year, it's safe to say the trend of super short hems isn't going anywhere soon.
You might find in some forums that half a yard of fabric is good enough for miniskirts. But, only half a yard of cloth will make the skirt quite a low rise for most women. So, you should consider getting a yard of cloth if you are sewing a new mini skirt. You might need even more to factor in your body's natural curves.
How Much Fabric for an A-Line Skirt?
The A-line skirt is a type of structured skirt that is tight at the waist and then expands out at the hips, creating an "A" form when worn. In 1955, fashion legend Christian Dior gave A-line skirts their name. Even though it was popular in the 1960s and 1970s, the A-line went out of style in subsequent years before a recent resurgence.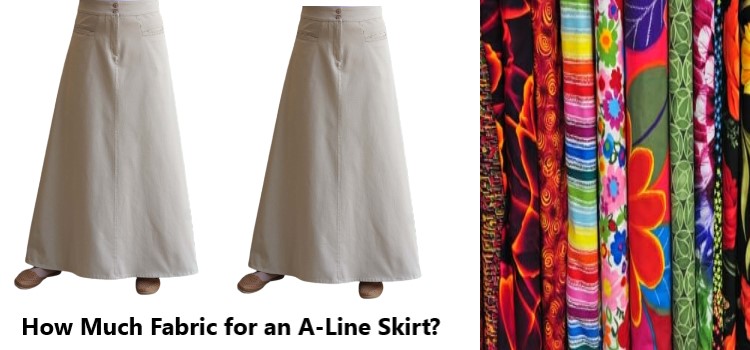 Every woman should have a few A-line skirts in her closet. They look good on almost everyone. Curvy girls and straight-shaped women both tend to look great in an A-line. That's because this cut makes your waist stand out and gives your hips just the right amount of room. A structured A-line skirt either makes hips look smaller or adds curves to a straight figure.
The best fabrics for A-line skirts are ones that are loose and flowy, like cotton or rayon. Use double knits, rayon, or wool crepe to make a skirt that keeps its shape better. In general, it takes about 2 yards of fabric to make a knee-length A-line skirt. For floor length, you will need around 3 yards.
How Much Fabric Do I Need for A Long Skirt?
The amount of fabric you need for a long skirt depends on various factors, including your waist measurement, desired skirt length, and the fabric's width.
As a general guideline, for a simple A-line or straight long skirt, you can typically estimate that 2 to 3 yards (1.8 to 2.7 meters) of fabric should suffice.
However, if your waist measurement is larger or you desire a fuller or longer skirt, you might require more fabric.
It's advisable to consult a sewing pattern or use your measurements to calculate the exact fabric requirement for your specific project, as fabric width can vary.
Final Words
There are many variables at play when you are buying fabric for sewing a skirt. You need to factor in the body shape, skirt length, and skirt design to ensure how much fabric you would finally need.
It's essential to have the right amount of fabric around to fulfill your skirt project. Don't hesitate to buy a little more than you need to allow for contingencies.