You've decided to dye your fabric at home to save money and experience a little craftwork of yours.
However, dying your fabric at home can be a lot messy if you're not extra careful. Now that you've successfully dyed your cloth and have the perfect red color shade you have always wanted.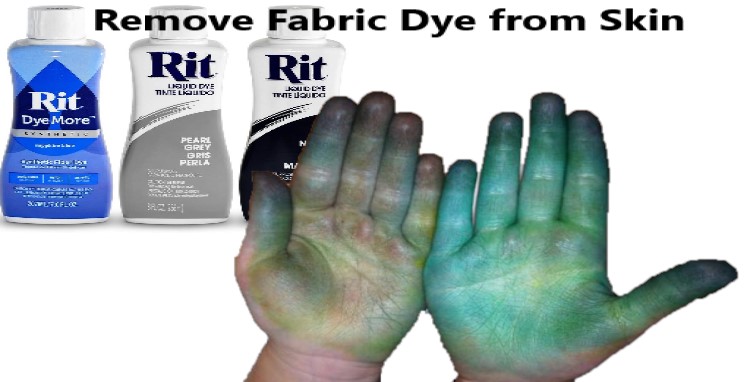 Soon after that, you saw that you have red dye all over your hands and around your neck and foot. Seeing this, you're regretting dyeing your fabric on your own. Now you're frustrated.
But don't you worry. Don't despair. In this blog post, we are going to show you how to get fabric dye off skin & hands. Take some special precautions to prevent dyed skin the next time you dye your fabric at home.
How to Get Fabric Dye Off Skin: Several Ways
Method 1: Using Household Items to Remove Fabric Dye from Skin:
Don't Let The Dye Absorbed Into Your Skin:
Try to remove the paint as soon as possible. After finishing dying your fabric, you need to remove any color on your hand quickly. If you don't do this quickly, the dye will soak into your skin.
If the color is absorbed in your skin, it will be difficult to remove it and require a lot of scrubbing. Use regular bath soap to scrub and then wash it off with warm water.
Read More About: How to Get Permanent Marker Off Fabric
1. Applying Baking Soda or Toothpaste Containing Baking Soda:
Baking soda plays a significant role in breaking down the dyes' active ingredients. It's also less abrasive for our skin. It will act as a natural scrub for your skin.
If you have sensitive skin or any skin problem, make sure to apply a little bit of baking soda, mix water to your skin, and scrub lightly. You can also use a toothpaste containing baking soda, apply it to your skin, and rub lightly.
To make an excellent natural dye remover, you can add lemon juice to the baking soda. If you saw that your skin is turning red or feeling irritated, try a different method. As I mentioned earlier, there're several remedies of how to get fabric dye off the skin.
Also Check: How to Remove Water Stains From Fabric
Read Next: How to Remove Fabric Paint From Fabric
2. Using Oil (Olive Oil/Baby Oil/Oil Moisturizer):
You'll notice that most of the commercial dyes will break down after applying any of the oil-based products to them. Those oil-based products like olive oil, baby oil, or oil moisturizer are good options if you have sensitive skin.
Dip the cotton ball into any of the oil products and scrub it on the dyed area of your skin for at least 10-15 minutes.
After rinsing it off with warm water, check if the dye is still on your skin. If the stain is still on your skin, apply the oil-based product again and let it soak for a more extended period than the previous one before scrubbing and washing the oil off.
It's your wish if you want to soak the baby oil, olive oil, or oil moisturizer on your dyed skin overnight to allow the oil to break down the dye on your skin. Rinse the fat and get the fabric dye off your skin with warm water in the morning.
3. Mix Laundry Detergent and Dish Soap:
The laundry detergent substances act fast to remove the fabric dye off your skin. If you have sensitive skin, don't use this method because laundry detergent is too harsh for delicate skin. But if you don't have sensitive skin, use the unscented dish soap for your skin to get the dye off.
Put a little amount of laundry detergent on a wet washcloth and rub it on your skin. If you think this process is too harsh for your skin, pour a little dish soap on a damp washcloth and scrub it on your dye skin.
After washing several times, rinse the detergent or dish soap with warm water. You can stop using the mixture in case you notice skin irritation or any rashes.
I'll recommend applying a moisturizer as soon as you're finished because soap can dry out your skin.
4. Using Vinegar:
Vinegar can remove fabric dye from your skin and dead skin cells and allow fresher skin to appear. Put a little amount of vinegar on a cotton ball and apply it to your skin's dyed area.
Now rub the dyed area lightly. You can also reapply as you feel the need to do it. If you notice some irritation or redness on your skin by using this, stop immediately and try using milder.
5. Using Alcohol:
Put a small amount of rubbing alcohol on a cotton ball and dab it to your skin's fabric dye area. You'll see that the dye is coming off. Next, Rinse the eye area with warm water. If you feel the need to use soap, then use it.
After drying your skin, use some baby lotion or oil moisturizer because alcohol can be pretty harsh for your skin. If you have skin sensitive, don't use this method. Choose another way instead, which will serve you the best.
Method 2: Use Professional Products to Get Fabric Dye off Skin: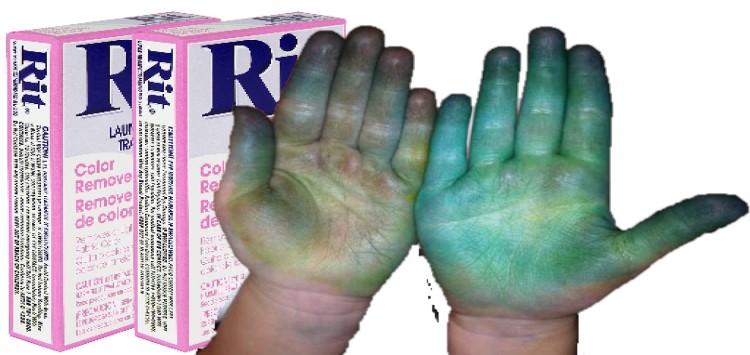 1. Buy a Professional Fabric Dye Remover:
If your fabric dye is too stubborn to get off your skin, you can still remove the fabric dye using a professional fabric dye remover.
Many drug stores sell fabric dye remover to remove the excess color from your fabric dye on your skin.
2. Using Fabric Dye Remover Wipes:
You can find fabric dye remover wipes at your local drug store. It's a straightforward application to use. These wipes can get off any color, especially fabric dye on your skin.
The best part of the wipes is that it's made of such right products that will not irritate or creates rashes on your skin.
3. Seek Help from a Professional Fabric Dye User:
An experienced fabric dye user can easily recommend a fabric dye removal product or method based on your skin type and what type of dye you used on your fabric.
Seek help from his/her. He/she will most likely scold you for not getting your fabric dyed by a professional. Be prepared for her to scold you.
Preventing Fabric Dye from Getting on Your Skin:
1. By Wearing Gloves:
In this method, you have to prepare yourself before you dye your fabric at home. Buy a pair of plastic gloves to protect your hands from getting fabric dye.
It would be better to spread a plastic sheet to protect the surfaces around the dye spot. You can also lay down a newspaper on the characters. In case any of the fabric dye splashes on your cloth, it's good to wear old clothes before dying your fabric.
2. Apply Any Oil-Based Products on Your Hand Before Dying:
Use any oil-based products like olive oil or baby lotion or products like vaseline petroleum jelly in your hand before you dye your fabric.
You can also use any lip balm. This process will help you to get less dye in your hand. After dying, you'll see that of your own. Next, wash your hand with regular soap.
Careful About Some Stuff:
Be careful when you use any alcohol-based method or baking soda method or while using detergent. Make sure any of these materials don't split around your eyes or in your eyes.
After washing off the dye from your skin, use a moisturizer.
Final Words:
Now you know, how to remove fabric dye from skin safely & efficiently and also how you can prevent getting dying your skin while dying your fabric.
Well, it's almost impossible not to get any paint in your hand while crafting a dye project on your own. So be careful and do your best to dye your fabric.
If you eventually end up staining your skin, use any of the methods that I mentioned above.