Can you paint fabric lampshades? Yes, you can paint fabric lampshades but the question might be very astonishing to people who are new to the concept of DIY lampshades. And for a beginner who is trying to figure out the steps to paint fabric lampshades, its answer brings the courage to start.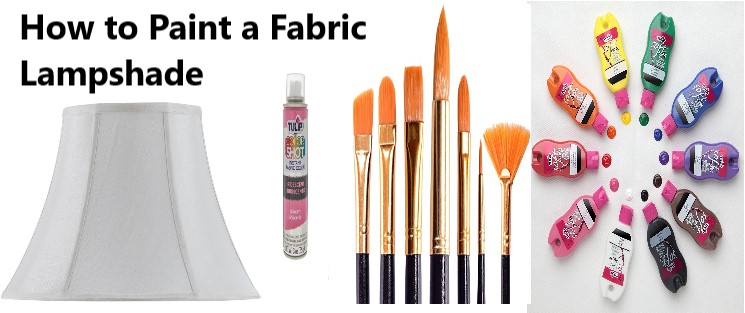 To paint fabric lampshades, you will need to apply some useful techniques and learn some secrets. For beginners, these techniques and info are like gems, and for DIY enthusiasts, these are still comprehensive enough.
We have a handful of info to share with you. So, I have prepared this very easy and fun guide to upgrading your dusty old lampshades to decent-looking home decor that match your interiors. So, grab your paints and brushes, and let's get to work on how to Paint a Fabric Lampshade.
Things You Will Need
Before you get started, you need to collect some tools and materials to paint on the fabric lampshade. After collecting the items below you will be ready to go.
Paintbrushes
Vacuum or lint roller
Acrylic paint spray can
Paper towels
Fabric lampshade
Paint palette or a disposable plate
It's Time for Preparation
Thinking of applying paint directly on those dusty old lampshades? Not so fast. If you want a standard quality finish you need to make sure you have taken good preparation. The way your finished product will look depends a lot on your preparation.
When you are thinking of DIY painting, first think of what will happen to your workspace! So, to protect your workspace or your favorite table from spills, you should cover the area with contractor paper or with two to three layers of old newspapers.
Though most paints are not toxic if you want you can use protective equipment. However, paint fumes are most likely to cause irritation to the skin and sensitive parts of the body like the eyes and throat. Therefore, always take precautions while working with it.
Now, concentrate on the lampshade you are going to use. You need to clean the dust, lint, or debris to get a smooth and even finish. If you don't remove the lint or dust properly, they will stick to the paint turning your art piece into a colorful mess!
And finally, unscrew the things that are holding the lampshade and take the lampshade off from the lamp. Use a vacuum cleaner or a lint roller to clean. Always stay careful because you don't want to damage the fabric.
How to Paint a Fabric Lampshade: Step-by-Step Process
After all the preparations are done, now it's time to start through a step-by-step procedure to paint the lampshade.
Step 1:
First, use a plastic grocery bag to cover the top of your lampshade. Make sure you cover all the metal parts. Now, use tape on the inside edge to make the plastic bag stable. Seal the edges of the lampshade to protect the unwanted parts from getting painted.
Here is a sneaky trick, instead of painting the whole lampshade in one boring color only, you can design your lampshade with patterns if you want. Try taping in patterns like zig-zag or other designs onto your lampshade.
After removing the tape you will be able to draw designs or patterns here. Or you can skip this if you want just a plain finish. After the taping is finished, we are ready to move on to the next step.
Step 2:
Now, place your lampshade in the middle of the newspaper-covered surface. Make sure you place it at least 1 ft away from the edges of the newspapers. Still, there is a possibility that the paint may drift outside, so avoiding the furniture as a work area is better. You will not like to clean other larger stuff after painting your small lampshade.
Step 3:
To begin painting, first, remove the cap of the acrylic paint spray can. Maintain about 6 inches distance from the lampshade. Now, spray the paint in the top to bottom or right to left direction. But keep the direction similar.
Lighter paints are always recommended for spraying. It is because the darker paints will create a burden and decrease the emission of light through the painted fabric.
Finally, maintain an even coat all over the lampshade to make it look like a professional quality finish.
Step 4:
Now, keep it in a safe place to dry. It may take a while depending on the weather. After checking that the paint doesn't stick to the hand, you can turn the lamp on. Keep it on the lamp for a minimum of 1 to 2 hours to make sure it's completely dry.
After drying, take it off again and check if it looks splotchy or not. If yes you will need to go for another coat. Apply the second coat just like the first one and let it dry in the same manner. Also, check for uneven or missed spots, if you find any fix them.
Step 5:
Now, it's time to show your creativity. You can choose any patterns and designs to make your lampshade look more gorgeous and classy.
First, you can use a flexible ruler measuring tape to measure the size of the patterns you are thinking of for the design. Then use light pencil strokes to mark all of your measurements. After that, you can use masking tape or painter's tape to cover all the unwanted areas. If you see any remaining tapes coming out, trim them.
After choosing your favorite acrylic paint color, take some of it in a disposable plate or cup. Now, use a flat brush and paint the stripes with bold and even strokes. You can also use smaller brushes depending on your preference and design.
You can cut paper in different shapes and complex designs to use as your custom stencils. You can use tape to hold it stable on the lampshade. Finally dab paint on it gently.
Step 6:
Again, let it rest for at least 1 to 2 hours until it is completely dried and safe to touch. Check if it needs any further coating. If it does, follow the process in the same manner. However, two coats of paint are generally okay. Check yourself or ask your family if the painting is perfect or not. Still, you have things to do to remodel the art.
After you are satisfied with your final coat, you can place it on the lamp. Attach the required wires and place the screws in their right position. And finally, the lamp is ready to add a touch of your creativity to your living room.
Painting a Fabric Lampshade Using a Paintbrush
If you are not that comfortable with spray paints, you can go the old-fashioned way; using a paintbrush. The procedures are almost the same.
Take some chalk, fabric, or acrylic paints in a small bowl. Don't forget to stir the paint for a while. Now apply the paint using long heavy strokes but don't apply too much pressure. The rest of the techniques are the same.
Before you leave, take a look at the other painting materials that you can use to paint a fabric lampshade.
Other Types of Paint for Painting a Fabric Lampshade
You can turn your old fabric lampshades into masterpieces in many ways. You have the freedom of choice to choose from any of these fun techniques. Let's take a look at them.
Watercolors
If you are trying something new and you don't know where to start, you can always count on watercolors. They are very fun to play and experiment with. You can turn regular white paper shades into stunning art pieces.
To start with watercolor, first, you need to wet the paint. The preparation process will be the same. Then use a paintbrush to paint the shade thickly. Keep in mind that watercolor will appear in a paler shade after it completely dries. But it will surely look like a handcrafted masterpiece.
This color will perfectly work on shades made of paper materials. The color will fade away over time but you can give it some retouching every now and then to keep it new or you can even add a whole new design every time.
Fabric Paint
The name of this paint is self-explanatory. These paints are made for fabrics. They even stand up to heat and dust. You can buy them from arts and crafts stores.
To achieve the best outcome, use the fabric paint on a lampshade with a solid color.
The brush strokes and techniques depend on your preferences. But you might get to see painted-over patterns so you need to use several coats until they completely vanish.
The drawback is that using fabric paints requires comparatively more time than other paints. So, you can avoid these if you don't want to spend a lot of time painting the shades.
Hobby Paint and Faux Finishes
If you are looking for something inexpensive to paint your fabric lampshade, hobby paint is the paint you are looking for. They come in different colors with metallic finishes, pastels, and semi-transparent shades.
The procedures are almost similar to the previous one. Apply the first coat on the lampshade. Then after the first coat is completely dried, you can use a flat paintbrush and smaller shades of color to test for the light areas.
Finally, if you have a metal lampshade and you want a high-quality faux finish, you can count on verdigris. You can just buy a kit or you can create a faux finish yourself using acrylic paints.
Final Words
We covered the essentials for painting a fabric lampshade. You may choose any of these methods and paints depending on your skills and preferences. The combination of this info and your creative skills will bring the best outcomes from any old lampshades.
Now it's time to grab your desired paints and tools to start transforming those lifeless lampshades into magical home decor.