Many people get surprised when they hear the name 'Minky fabric.' They ask What is minky? Despite knowing what it is.
That's because minky fabric is also known by different other names. So, what is it actually?
Minky fabric, also known as plush fabric or microfiber fabric, is a matter of confusion for many people. This fabric is completely synthetic. It's knitted using pure polyester fiber, which resembles plastic a lot.
If you're a serious sewist or a fashion enthusiast, you should know the ins and outs of this super-soft, must feel-fabric.
All your confusion will go away if you simply give this comprehensive article about minky a read.
What is Minky Fabric?
Minky fabric or plush fabric is crafted from 100% pure polyester fibers. These fibers are built into fabrics of different pile heights and weights.
There is usually a fur-like texture, but it's only on one side most of the time.
Also known as minkee, this fabric was previously used to make baby products because of how soft, warm, yet lightweight it felt. Nowadays, people of all ages love minky fabric items.
Made from pure polyester fiber, which is also called microfiber, minky can come in a diverse range of textures, weights, and colors.
Minky is used for many types of products, such as blankets, coats, baby blankets, plush toys, stuffed animals, jackets, and many other clothing and accessories.
Types of Minky Fabric:
Minky fabric's supple, buttery texture is why everybody adores items made out of minky. Different types of minky fabric are available in the market.
The variation occurs mainly in texture, pile length, and other important features. Take a look at these six most popular design types of minky below.
Smooth Minky
This type of minky fabric is completely seamless and ultra-smooth. The untextured, soft, yet glossy surface makes this type of fabric perfect for bedsheets and cushion covers.
You'll get both comfort and elegance in one product of smooth Minky. That's why smooth, Minky decorative pieces are so popular all over the world.
Minky Dot
If you don't mind a bit of texture in your fabric but don't want too much of it, Minky dot can be the perfect choice for you.
A Minky dot fabric is basically a smooth Minky that has small dots spread throughout its body.
This pattern adds to the fabric's appeal without overdoing it. That's why many people prefer various Minky dot-made decorative household items.
Minky dot fabric is also very suitable for blankets and other winter clothing. Its subtle and supple texture in items provides warmth, comfort, and elegance.
Sherpa Minky
This type of Minky fabric has a rougher texture compared to smooth Minky. As the texture is only one-sided, this type of fabric makes a very comfortable and warm line of winter clothing.
Blankets made out of sherpa Minky are very popular because of how warm yet lightweight they can be. They can also enhance the beauty of your bedroom if styled properly.
Sherpa Minky is also used as linings in warm-weather clothing and decorative household accessories.
Minky Rose Swirl
Another popular line of Minky fabric, based on texture and design, is the Minky rose swirl fabric. A piece of Minky rose swirl fabric is vividly textured and has a swirling rose pattern or a pattern of a similar kind of flower all across its surface.
This material is typically used for making large family blankets. With attractive coloring, items made of Minky rose swirls can be very stylish.
The added texture of the items can enhance the appeal of a room very easily.
People love bedsheets and blankets made of Minky rose swirls because of how beautifully these items can furnish their households while giving them warmth and comfort.
Minky Stripe
Another unique design variant of Minky fabric is the gorgeous-looking Minky stripe fabric. This fabric has a larger pile length and is formed with a stripe design that makes its surface look like luxurious fur.
Items made of Minky stripes look unique and beautiful. Despite being synthetic, the fabric's luxury fur-like appearance makes it more appealing to people.
Animal Print Minky
You've seen blankets with a cheetah or jaguar print before, right? Were you amazed at how authentic they look and feel?
Highly likely these blankets were made of animal print Minky.
Animal print Minky is just like sherpa Minky texture-wise. It's just this type of Minky comes with different sorts of animal prints.
Due to the incredibly shiny look and soft feel, animal Minky items look and feel exceptionally authentic. Baby blankets made of this design variant of Minky are very popular.
There are also items with art or letter prints on Minky fabric. These items make very fun decorative items if styled rightly.
Read Next: What is Neoprene Made of
What is Minky Material Used for?
Due to being a synthetic polyester build fabric, Minky fabric is very comfortable and malleable with designs.
Yet it is exceptionally cheap and lightweight. That's why Minky is now more prevalent than ever.
Previously, Minky was used only to make baby products. After people realized its true potential, the fabric is now being used for crafting a versatile line of products and clothing.
Let's take a look at the applications of Minky below.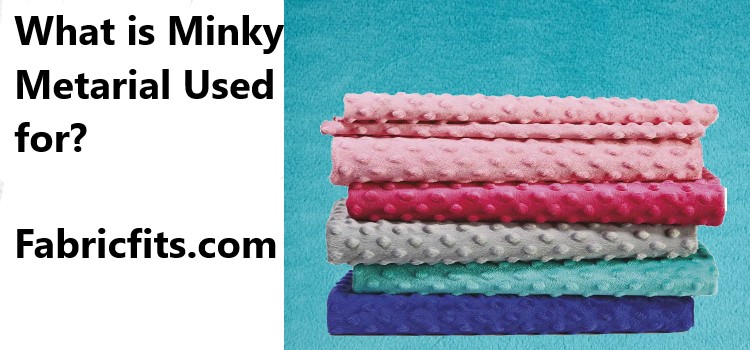 Blankets
The most common usage of Minky fabric is making blankets, especially baby blankets. Minky is very soft and can hold temperature very efficiently, making it a perfect choice for making blankets.
The fur-like variants of Minky make better blankets because their design lets them capture heat more efficiently.
You can even make a double-sided blanket by sewing two Minky together for extra warmth and comfort.
Baby Toys
The Minky fabric's soft and faux furry texture makes it the perfect material for teddy bears, stuffed animals, plush toys, and other baby toys.
Babies love their Minky toys because they look awesome and are perfect for cuddling with.
Baby Clothes and Accessories
Another reason that Minky fabric is suitable for crafting baby products and accessories is its increased ability to resist moisture. Minky is perfect for making baby bibs, towels, and napkins.
The improved moisture resistance lets Minky products easily keep babies safe from spills and sweat. Also, their incredibly soft texture provides excellent comfort to babies
As Minky products are very malleable design-wise, they make babies look cuter while providing them enough warmth and comfort.
Winter Clothing
Minky fabric is the perfect choice for crafting winter-wears. Coats, shawls, and caps made of Minky are very fluffy and warm.
Even if you sew just out of a hobby, you can easily make gorgeous-looking shawls and caps using Minky.
Home Decoration
Plenty of Minky-made home decor items are available in the market. If styled the right way, items made of Minky fabric can add so much personality to your interior that it's unbelievable.
It's easy to get complementing bedsheets, pillow covers, and cushions made of Minky for your home.
You can also get innovative by trying to create your own home decor items. The variety of textures, patterns, and colors available will make your sewing project very fun and easy.
The Difference Between Minky and Other Materials
A lot of people get very confused when choosing the right fabric type for themselves.
Let's take a look at how Minky is different from some similar fabric types.
Minky vs Fleece
Many people confuse these two fabrics because they're both crafted from the same base materials, 100% synthetic polyester fabric. Both Minky and fleece fabrics can have a faux fur-like texture.
But these two fabric types are different in many ways. Minky fabric is mostly one-sided, while fleece fabric has a fur-like texture on both sides.
Despite being one-sided, Minky is softer and heavier than fleece.
The fleece texture looks a lot similar to the sherpa Minky variant, but overall, the Minky has a better texture.
Minky vs Cotton
Minky fabric is very different from cotton in many ways. Firstly, Minky is made from synthetic polyester fiber, while cotton is made from natural fiber.
This gives Minky comparably high heat resistance and moisture resistance. Cotton is a cool fabric.
This means it doesn't hold temperature and is ideal for summer wear. While both of these fabric types are soft and comfy, you can't use Minky for summer-wears because of how warm it is.
Minky vs Bamboo
Bamboo fabric is very soft and comfy, like Minky. But bamboo is a cool wear like cotton, so it's only ideal for summer clothes.
Bamboo fabric has excellent moisture absorbance capability, whereas Minky doesn't shine at all. Minky actually repels moisture to an extent.
Unlike Minky fabric, bamboo fabric isn't design-friendly at all. In fact, they don't really come in prints. You can only get solid-colored or undyed.
How to Care and Clean Minky?
Minky fabric might be synthetic, but that doesn't make it any less delicate. To preserve the softness and the shiny look of the Minky, you'll need to wash it with care and patience.
It's better to hand wash, and air dry your Minky gently, but you can use a washing machine as long as you follow the points below.
Keeping It Separate
It's better not to mix your Minky fabric with other clothes when washing. Wash your Minky items separately for the best outcome.
Using Mild Detergent
Don't use hard detergents, chemicals, or fabric softeners for washing your Minky.
These hard chemicals will not clean your items better and rather damage the fibers and decrease their softness.
Wash and Dry in a Cool Setting
Always use cold water and gentle settings to wash your Minky fabric. This will help retain the original softness of the fabric.
The same goes for using the dryer. Don't apply a high heat cycle for drying your Minky. It might ruin the fabric completely.
Frequently Asked Questions
Is Minky stretchy?
Minky is knit using 100% polyester fiber. And any knit fiber shows stretching capability. That's why they might deform if you wash your Minky items using hot water or dry them in a hot cycle. It can also stretch here and there when sewing and cutting the fabric.
Does Minky fray?
No, it doesn't fray. You don't need to deal with the raw edges. But these raw edges can curl. If you don't like the curl, you can do a zig-zag stitch or an overcast stitch to prevent it.
Is Minky safe for babies?
Minky is very safe for babies. That's why people prefer Minky baby products over any other fabric. Minky becomes perfectly safe for a baby after the first wash.
The first wash is necessary to get rid of germs and dirt that have accumulated on the fabric. Minky fabric's excellent softness and warmth make it the perfect material for babies.
Is Minky flammable?
The answer to this question depends highly on the manufacturers. Manufacturers have the ability to make the fabric fire retardant when producing. A fire retardant fabric can greatly reduce the risk of any sort of fire damage to itself.
As Minky fabric is knit from polyester fiber, which is basically a form of plastic, it should melt when burnt. But Minky doesn't melt on the skin like other polyester or petrochemical fabrics. Instead, it turns to ashes.
Final Verdict
Minky fabric is getting more and more prevalent each day, and it's all for the right reasons. This fabric is very soft, warm, and comfortable. And it is highly shrink-resistant and heat-resistant.
Believe you've learned everything you need to about minky fabric, from this article. Manufacturers worldwide are putting more effort into improving this, and now is the best time to get into the trend and buy all the minky items you need.