You have already heard of different fabric names, isn't it? Well! There is a unique knitted form of fabric named "Minky" fabric at the market. In this discussion, we will illustrate the complete concept of this fabric.
So, what is minky fabric? It is certainly a useful and versatile fabrics that offer the users a soft, velvety feel. It is made of pure polyester and is applicable mainly in crafting winter blankets. You can find them at nearby stores at affordable prices.
We have included the story behind the fabric. You will also know the variations, quality, differences of minky fabric for fulfilling your knowledge.
What is Minky Fabric?
Minky fabric has some other names: minky plush, microfiber, and mink fabric. It is an entirely synthetic, hypoallergenic, super soft fabric. You can use this super-lenient, sturdy, and versatile fabric in making quality wardrobe items.
People say it is an easy-going version of fleece fabric. Manufacturers make this fabric from 100% polyester. Putting on minky fabric clothes feels like you are wearing velvety wool, soft and thick. Therefore, the naming of this fabric has exciting stories.
Looking at the history of minky is not so transparent. There are many stories behind the proof of origin. One story includes that the name "minky" comes after the investors' childhood blanket. The name of this blanket was "Minkey".
Another story says the name minky mimics the mink animals' fur. These animals are mammals categorized in the family of weasel. They are native belonging to the North America. Thus, you may know that mink fur is a popular, luxurious fur. Together these facts, the minky fabric is considered as a gorgeous fabric.
You can buy minky by its weight, pile height. Also, the colors, fabric quality, crafting method can differ the price and availability of the fabric. Usually, minky plush fabric is used to make blankets, toys, quilts, and so on.
Next Read: Read more about sateen fabric guide
What are the Characteristics of Mink Fabric?
Minky is soft, synthetic, and super-easy to clean. It has some mind-boggling traits that make it satisfactory to everyone. Let us read some mink fabric characteristics:
Soft Material
Minky fabric is super soft, fluffy to make you feel the touch of real fur. This quality makes the fabric preferable for making warm clothes such as a blanket. You may love to cuddle the warmth of a mink blanket in the winter.
Baby cloth made of mink fabric has already got the appreciation of many parents. It is fully safe for the sensitive skin of little friends. Again, knitted minky can be stretched, which adds softness and coziness to the material.
Warmth
As we already told you, minky is made of polyester, it can give superb warmth. Air cannot pass through it as it is not breathable. If you put on mink clothes, you will start sweating soon. So, it is ideal choice for areas where the temperature is lower.
Vegan
Since it is made of polyester, it is entirely vegan fabric, especially for people who don't love using fabric from animal fur. Alternatively, it gives the same feel, containing the same features of animal fur.
Hypoallergenic
You should not put on clothes for babies that are allergic to their skins. Baby clothes of minky fabric is hypoallergenic. It means there is no chance of allergies, rashes, scratches on the skin.
Low Upkeep
Think of the things made of direct animal fur. They are comparatively hard to clean. But mink fabric is very simple to wash like other fabric items. You can clean the mink clothes using the washing machine.
For cleaning the mink fabric, you can use laundry soaps. Add the soap to the washing machine, set the right washing cycle and temperature.
You can use the dryer too for washing the minky fabric. But you should turn of the heat feature to prevent burning the fibers. After washing them, you can dry the pieces under direct sunlight.
Multipurpose
Versatility is another character of minky fabric as it comes from polyester fibers. This man-made fabric has huge options of colors and designs. Some examples of minky fabrics are short-pile cuddle, faux fur, long pile. Short pile fabric mimics short velour. You can also grab the velvety textures, longer swirls like a fur coat.
What is Minky Cloth Made of?
Who doesn't love to enjoy watching movies or reading the favorite novel putting on blankets? Of course, we all love to cuddle wearing warm blankets. So, it is obvious that the blanket's material should be made with something that gives warmth.
Minky is made of complete polyester, a synthetic material. The same polyester is widely used to make yarn, baby pillows, blankets, toys, and so on. This material gives the final product sufficient durability.
If you can adequately care minky fabric, there will be no notable color, softness, or warmth for a long time. Above all, minky maintenance is really simple with a washing machine.
Is Minky Fabric Polyester?
Polyester is knitted to make mink fabric. So, the fabric stretches following the origin. It is good for making warm clothes. You can use polyester thread and minky fabric together for better performance.
Is Minky Hot?
Minky fabric comes from 100% polyester fiber or microfiber. It is available in different colors and patterns. Earlier, it was used to make kids clothing products for its softness. But now it has gained popularity for its warmth, lightweight qualities.
Minky is considerable as luxurious fabric. It gives perfect warmth appears lightweight. To keep the body hot, choosing minky is a great idea.
The thickness of mink fabric (of blankets) prevents cool air pass through it. So, it is proven that minky is hot and remains hot for a long time under proper supervision. You can keep it in your fabric list if warmth is your main concern.
But it is absolutely not recommended for use in already warm areas. Otherwise, you will start sweating and things can get adverse.
Is Minky Flammable?
The answer is both yes and no to some extent. In the industries, there is always a system to keep fire-retardant standby. It helps to prevent any risks regarding the burn of mink fabric.
Polyester, the material for mink fabric, is a somehow kind of plastic.
So, it can burn for sure. But the fabric turns into ashes when it gets close to the fire. It will not melt like regular plastic. Also, it is not flammable like other petrochemical fabrics.
Is Minky Safe for Babies?
Child safety is a bigger concern to the parents. Their skins are super sensitive to allergens. Ordinary fabric can cause the skin issues like rashes, redness, swelling, and so on. It is because these fabrics has allergenic materials. Also, they can make the baby feel uncomfortable.
But minky fabric is fully safe for babies. Soft and sleek polyester is knitted to make this fabric. Then, the fluffy, warm feel of mink fabric turns the baby's mood into happiness. Putting on clothes made of mink keeps your baby's skin safe, healthy, and visibly cute.
Minky provides sufficient warmth to babies as it is not breathable. In the cool weather, your baby can stay playful wearing mink clothes, blankets. Besides, babies will respond like they are cuddling their mother.
Another good point is mink clothes are available in childish colors, textures, and softness. So, you can stay worry-free to choose it for the babies.
Is Minky Absorbent?
Yes, minky is an absorbent material. Usually, this fabric is a prior choice for making baby blankets. But it is also an essential element for making diapers. It can absorb the liquid well.
It is less smelly even if it absorbs liquid. Also, the rate of mink fabric's staining is lesser than other fabrics. Many experts recommend it for its no-ick factor, unlike other microfibers.
Is Minky Expensive?
You may have this question especially when you need to buy bulk items. Most of us love to get quality things paying less. Minky fabric is a great idea in terms of its price.
Fleece fabric (another fabric) is soft and used as alternative to mink fabric. But minky stays one or two steps ahead if we talk about softness. Also, it gives better silky feelings than other synthetic fibers.
It is obvious that good coziness requires more money as price. Besides, the cost of producing luxurious materials is always higher. Just think of the cotton dress. It is comparatively cheaper than a same-looking size and embellishments dress made of silk.
Providing warmth, coziness, and looks are factors that cause minky cost a bit higher. Other similar fabrics may have these qualities. But they are not up to the mark of minky. For example, if you buy a mink blanket, it will provide the same service even after years if you care it properly.
However, many stores sell minky fabric items at an affordable range. But you should keep in mind, a better minky cloth will cost more than other fabrics.
Does Minky Shrink?
Another question comes with an ambiguous answer. Minky fabric can shrink often but there are things you should know. If you wash the item properly, it will not shrink. Nobody can confidently say mink fabric will not shrink after washing it with warm water.
We suggest you use cold water and turn off the heat feature of the washing machine. It will not shrink till you follow the process. But when you turn on the heat option, plastic (or polyester) may deform quickly. There will be no clear damages on mink fabric, yet it can reduce the lifespan.
Does Minky Fray?
No, minky does not fray. There is no need to finish the raw edges of the mink clothes. Usually, the raw edges of fabrics tend to curl soon.
Again, if you want to prevent curling, you can stitch the edges in a zigzag manner. A serger may also help you. But we recommend cleaning the serger deeply after stitching the minky fabric.
What are the Types of Minky Fabric?
Like other fabrics, minky also comes with its variations. You can find this fabric in many types including these:
Smooth:
These minky fabrics are good for uniform pile length. You will feel it soft to touch.
Dot:
Minky dot fabric contains raised dots set in a uniform pattern. It is also soft and smooth.
Rose Swirl:
If you want longer fiber, you can choose the minky rose swirl. The look of this fabric appears like a rose.
If you want fabric for better warmth, you can pick the below longer pile minky:
Sherpa:
Tailors or cloth-makers use Sherpa minky as a liner on warm clothes. It is also preferable for its smooth, soft texture and long pile.
Stripe:
You are vegan yet looking for fabric resembling the animal. Then, minky stripe is the right choice for you. It comes with the longer pile.
What is Minky Metarial Used for?
Minky fabric's characteristics have already caught the attention to its users and the manufacturers. There are lots of things that are made using the minky. Below are some useful things that are made from this fabric: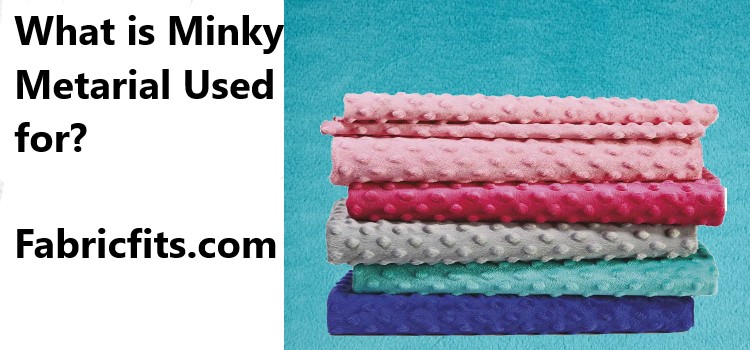 Adult clothes
Baby bibs
Baby blankets
Baby clothes
Baby toys
Cloth Nappies
Quilt backing
Caps and shawls
Home decoration
Bags and wallets
Day by day, the use of minky fabric is increasing. You may love to have them as regular used items.
Where to Buy Minky?
You can purchase the minky fabric both online and offline stores. Online stores contain library of mink fabrics of all types. There, you can filter the choices by size, color, and patterns on these websites.
Physical stores offer you the real experience of buying minky. The same fabric may cost different at different physical stores due to some factors. These factors can be quality, color, warmth, length, production method, cost, etc.
These fabrics are available as yard and bolts. Bolt means specific yards of fabric rolled onto bolts. A bolt contains 100 yards of minky.
Usually, the entry-level mink fabrics cost $10-$20 per yard. For better, softer, more lightweight fabric, you may need to pay more.
The Deference Between Minky and Other Materials
When you look for fabric, you will get multiple options. Similarly, minky fabric has some unique features that separate it from other fabrics. Look at the table to know the differences among mink, bamboo, cotton, and fleece fabrics:
Name
Material
Positive Aspects
Critical Aspects
Minky
Knitted
Soft, smooth feel
Multiple colors and prints,
Most dry when you wear
Most warm fabric,
Slowest to absorb
Bamboo
Bamboo rayon, cotton, and polyester
Velour like soft feel,
Faster absorption,
Solid and dark colors
May stain if not treated well,
No print options
Cotton
Cotton
Thinner fabric
Good for summer,
Limited but exciting prints
May stain soon,
Less absorbent than bamboo fabric
Fleece
Polyester
Two-sided fleece texture,
Cheaper fabric than mink,
More durable than wool
Not so good for quilting,
Heavier than minky

Minky vs Fleece
Both minky fabric and fleece fabric are made of polyester. Polyester fibers are knitted to prepare these fabrics. You can find good coziness and make different clothing from these fabrics.
Apart from these, there are significant differences between minky and fleece fabric. Continue reading the article below to know them and identify which one is more suitable for you:
Minky vs Fleece Comparison Chart:
| | | |
| --- | --- | --- |
| Facts | Minky | Fleece |
| Cost | $10-$20 per yard (average) | $5-$20 per yard (average) |
| Construction | Plush feel on one side | Both sides have plush feel |
| Versatility | Ultra-soft feel, preferable for warmth | Replacement of wool, scratchier quality |
| Durability | Long-lasting if treated well | Same as minky |
| Textures | More textures than fleece | Lots of options yet less than minky |
| Colors | Multiple solid colors, different prints, and designs | Same as minky |
Minky vs Cotton
Cotton and plush fabrics are an equally popular names in the fabric. They have unique qualities to attract users. However, there are some differences between minky and cotton fabric. You can learn these variations from the chart:
Minky vs. Cotton Comparison Chart:
| | | |
| --- | --- | --- |
| Facts | Minky | Cotton |
| Material | Made of 100% polyester | Made of 100% cotton |
| Temperature | Warmer material to make warm clothes | Good for cool feel on skin |
| Texture | Animal fur-like texture, soft and fluffy | Natural contrast |
| Maintenance | Less maintenance | More care during washing |
| Cleaning | A bit tough to remove stains | Easy to remove stubborn stains |
| Absorption | Better | Good |
| Dry time | Faster | Slower |
| Pricing | Expensive | Cheep |
| Production type | Man-made | Natural |
How to Care and Clean Minky?
It is suitable for you choosing minky plush fabric. You can use it for a long time without losing its qualities. But if you don't wash or care the mink clothes well, these qualities will vanish soon.
As, mink is made of 100% polyester, plastic-like material, it may burn when you heat it up.
So, you should follow proper ways to care for and clean minky. Here is some useful information to maintain the health of minky fabrics:
Most cleaning professionals recommend using vinegar to clean the fabric. You can do tumble dry while turning off the heat options of the washing machine. Alternatively, you can use less heat otherwise high heat can change the shape and quality. You can also use dryer to dry the mink fabric.
Coldwater, mild detergent and delicate washing cycle are the things you need to care mink fabric. But you should not wash other fabric items in the same wash of mink fabric. The friction with other fabrics can harm the traits of minky clothes.
If the mink dress label suggests using bleach, you can prefer it. But normally, bleach and mink doesn't work good together. You may use an alternative cleanser and sterilizer in such case.
After bringing the cloth out of the washer, you can hang it in the open air on a rope. The direct sunlight helps to dry it without harming the fibers. Remember, you should follow the instructions that come with the item. Otherwise, there will be risks of damaging fabric due to UV rays or direct sunlight.
Never iron the mink fabric as the polyester will start flaming. After all, iron heat is too high for minky fabric. Still, if you want to iron it, put another ironing cloth between iron and minky.
Final Verdict
Now, you have the insightful answer of "What is the minky fabric?". We have tried to show you all the ins and outs of this fabric. You have learned the features, verities, differences of minky fabrics in this article.
We have also talked out the positive and critical aspects of this useful and trendy fabric. Now, we hope you will prefer minky for your next sewing project or buy stuff made of it.