Polyester is one of the most diverse fabrics used for many purposes. Whether you are an artist, a school teacher, or a hobbyist, painting on fabric is a rewarding craft.
However, we cannot utilize just any dye type on polyester either. This brings us to the query many have pondered– can you paint polyester fabric with anything?
Your best solution is acrylic. You may have to apply a medium as well to adhere the paint to the fabric nicely. Textile artists have experimented with other synthetic dyes and spray paints on polyester with similar success.
This article will tell you all about what paint/dye type you can utilize to make that old tee/thrift upholster newer and error-free! I will also provide step-by-step guidelines for how to paint polyester fabric.
Can You Paint Polyester Fabric?
If you can master the versatile methods, you can easily paint on polyester fabric. Suppose it is to cover a stain or correct an old shade. Then you must ensure the paint you pick sticks smoothly on the fabric.
Remember that most of our clothing and household items now comprise a great amount of polyester. Advanced textile technology now produces this fabric to resemble natural ones as well.
It is because polyester production is cheaper than organic or natural fabric manufacturing. Most brands now blend polyester fiber with other cloth fibers to cut down the cost for both the producer and the customer.
This ingenious fabric's origin is from molecule strands in plastic form. Therefore, it offers better resistance against water, allowing only a few paint types to adhere well.
Can You Use Fabric Paint on Polyester?
Fabric paint is the center of fun and joy for many craft enthusiasts. Textile artists have it in bulk to design or recreate spectacular artwork. Plus, this paint is a favorite means to DIY T-shirt customizers.
Even the teachers let the children use it for fabric coloring projects at school. This paint type has diverse use. It is better to learn its ingredient to determine if it is suitable for the unique material.
Did you know fabric paint is also known as textile paint? Many garment factories utilize it to deliver durable colored designs on clothing.
The paint has acrylic polymer – a material that is stiff, transparent, and strong to endure several washes. When this acrylic is bonded with a color, the paint emulsifies.
As an outcome, you can use the fabric-painted clothing multiple times and be out in the sun. The material will protect the color from fading and cracking.
Thanks to this acrylic polymer, you can apply the fabric paint in polyester as well. Nevertheless, not all fabric paints are suitable for polyester.
Always keep an eye on the paint labels.
What Kind of Paint Can I Use for Polyester Fabric?
The best way to avoid confusion regarding what paint to use for polyester fabric is to focus on an acrylic base.
It can be fabric paint with acrylic polymer or direct acrylic paints, for that matter. You can even use acrylic markers and sprays to make the work easier.
There are different safeguarding steps to take as you implement either one of the options. For instance, it is recommended to use a medium with acrylic paints to add flexibility.
Acrylic paint can harden and crack when dried on fabric. The medium prevents the paint from damaging your work even after several washes.
Many suggest using oil and latex paint. Polyester reacts poorly with oil paints after a certain time. However, latex paint is more flexible than acrylic, making it another subtle choice for the fabric.
The 3 Best Paint for Polyester Fabric: Reviews
You need not go any further if you are looking for the best paint recommendation for polyester fabric. I have selected 3 incredibly amazing choices for you to check and opt for.
I advise checking the polyester thickness on the fabric before getting the paint. This will ensure long-term vivacity.
1. Jacquard Dye-Na-Flow 8 Color Set
Although each jar includes 2.25 ounces of fluid, it is thick and offers lively hues like no other. Users who have worked on various fabrics using these paints have not yet been disappointed.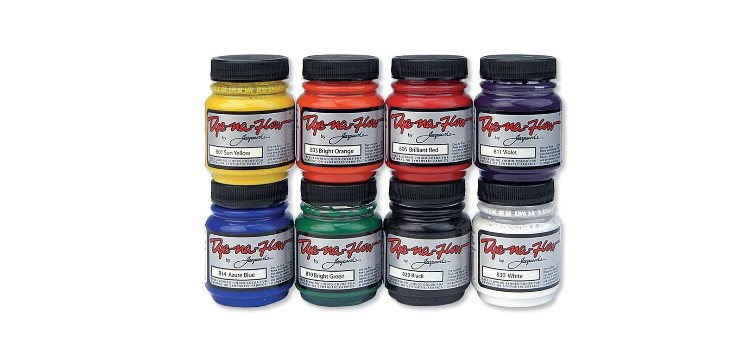 Dye-Na-Flow acrylic paint set is known for its excellent quality. Some fabrics may require you to apply a heat setting for more permanency.
This does not implicate that the color is susceptible to fading. In fact, the brand offers the best durability despite the effect you wish to achieve.
As a result, the color set is highly suitable for polyester fabric too. The dye sinks deeper into the fibers, making it long-lasting.
There is only one problem with this product. The fluid content empties quickly as you immerse yourself in the current project.
Yes, you will have a flawless finish if it is a single task. But you may have to purchase a bigger color set if the project entails multiple customizations.
Long story short – should you get Dye-Na-Flow acrylic paint for polyester fabric? I will always encourage you to do so!
Pros:
Great selection of colors
Easy to apply on versatile fabrics
Remains supple; no peeling or cracking issue
Suitable for airbrush
Top-grade paint quality
Cons:
Dries too fast; may have to work quickly on large areas
The colors are slightly less vibrant
2. Mont Marte Acrylic Paint Set 18 Colors 36ml
Do you want multipurpose paint for crafts? Mont Marte acrylic paint with 18 colorful tubes may give you freedom instantaneously.
The texture is perfect without a runny or too thick outcome. This is very crucial when applying fabric materials. There is hardly any residue once you finish the task.
It allows easy clean-up and swift heat set on cotton/rayon fabrics. The colors are vivid and yield amazing effects when on canvases. I always recommend this brand to many artistic hobbyists for its good value with greater quantity.
You can rely on its consistency which delivers brilliant strokes due to rich pigment. The acrylic paint set is water-based, giving a super-fast drying action. What is more, the aftereffect has a glossy finish that makes your work even fresher!
So, should you use Monte Marte acrylic paint set on polyester? The final picture might not turn out as seamless as you hope, but you can definitely go for it.
Pros:
Offers vibrant colors
Smooth finish without spreading
Suitable for varieties of textured mediums
Resistant to fade and water
Super pigmented consistency
Cons:
Might not be ideal for some polyester fabrics
3. Tulip ColorShot Instant Fabric Color Interior Upholstery Spray 8 oz – Black
What if you want a shortcut application that requires little effort? Many overlook the possibility of spray paints on the fabric due to the messy linings.
However, Tulip color spray will not splatter nor drip to ruin that favorite clothing item. You can use it without feeling rough on the texture.
The best thing about this spray is that it will not rub off since the paint dries quickly. You can apply it on outdoor upholstery fabric as well. Thanks to the weather and UV-resistant pigment, you can rest easy.
I suggest this product to anyone who wants an alternative method to regular paintbrushes. Although this is a black spray, five more gorgeous colors are available to create a stylish décor within budget.
Now the imminent question that looms overhead. Is this spray right for polyester fabric? You can use it for any synthetic fabrics you have, including polyester!
Pros:
Easy to use, prevents splatters
Drip-free
Waterproof and UV resistant
Perfect for natural and synthetic fabrics
Feels natural over the weave and dries fast
Cons:
The color range is minimal
How to Paint Polyester Fabric: Step-by-Step Guide
We can now move on to the technique. The tips below will help you prepare the fabric surface to apply different methods.
Polyester often has a type of sealant or coat to make it resistant to fire, water, mildew, etc. So you have to prewash the fabric before working on it.
Washing indicates no dirt residue or stain either.
Then you can opt for your choice of paint type.
Buy a fabric medium to mix with acrylics. It smoothens the paint by providing a proper thinning grade. This will make the paint crack-free as well.
Consider the level of viscosity for the project. For example, an airbrush needs thin paint, whereas stenciling demands thick consistency.
If the fabric is not a tight weave, the paint will bleed. So paint carefully.
Does the polyester item have several layers? Use a cardboard piece between the layers to prevent seepage on the other side.
Tape the fabric edges to avoid smudges or clip the corners to paint as you do on a canvas.
Does Fabric Spray Paint Work on Polyester?
One advantage of fabric paint sprays is that you can utilize them on any fabric type. You have to keep in mind that spray paint quality can vary based on the brand.
Some may produce a supple outcome, while others give off a stiff texture after application. You may even see cracks in some areas.
Therefore, choosing the right product is important when it comes to painting on a polyester item.
You can also use acrylics with a medium in an airbrush gun to attain the spraying effect.
How to Spray Paint Polyester: Step-by-Step Guide
Spray painting on polyester is a super easy task, as long as you make ready the fabric in advance. Follow the steps mentioned in the section above to prepare the polyester.
Prewash the fabric to remove any coating.
Cover the work area with plastic to avoid multicolored mess around you.
You can also work outdoors if you like.
Lay the dry fabric on a flat table/counter.
Next, mark the regions you wish to paint by covering them with plastic or taping the rest of the section. It prevents the paint from seeping or spattering outside the borders.
Wear hand gloves and eye protective glasses.
Now start spraying up and down in constant sweeps to avert drips.
Let it dry, and apply a second coat. You can go up to three coatings in this format to achieve perfection.
Check the spray can label to confirm whether you should use sealant coating or not.
Does Acrylic Paint Work on Polyester?
Acrylic paint is the only agreeable means that does not turn its back on polyester fabrics. Whether it is an armchair or a T-shirt, you can apply acrylic to stylize the surface without any damage.
It sticks to the fibers impeccably, especially when the fabric is tightly woven. This paint type delivers top-grade results with bright hues.
So, you can use acrylic paint without stressing about any consequences. Let your creative juices run as you work on your project.
Is Acrylic Paint Permanent on Polyester Fabric?
Technically, acrylic paint is permanent on polyester fabric. This is why I always opt for it without a second thought.
You have to remember that the color may eventually fade over time. The good news is that it will take years before you start worrying about that issue.
Some acrylic paint brands, on the other hand, can be cheaper in quality. These will fade out sooner.
If you wish to remove this paint from a particular polyester fabric, you may have to go through multiple machine washes with detergent and warm water.
How to Paint Polyester with Acrylic Paint Step by Step?
Let me explain how you can use acrylic paint on polyester in case this is your first time trying it out.
Prepare the fabric by prewashing it.
Lay the dried polyester piece on a table/counter.
Cover the surrounding area with plastic/tape.
If this is an upholstery, wrap the arms and legs with cling film or plastic to prevent splatters.
Damp the fabric surface that you wish to paint. Use a water spray. It helps open the fiber pores.
Add one part paint and one part fabric medium and mix.
Use your creative means to paint on the fabric, for instance, stencils, sponges, paintbrushes, etc.
Let it dry, then coat the surface with paint again.
Dry it for 24 hours.
Check the paint labels if you require a heat setting.
Final Words
So, can you paint polyester fabric without much fuss? Textiles artists will assure you that acrylic paint is the finest option for this material.
Yes, there are some preparations you need to take beforehand, but you will love the finished work! While most paints do not sit well with this fabric, you can unquestionably use the discussed items with the right mixture.
Now it is time to get your painting tools out and create magnificent art on the polyester fabric! I would love to know in the comment below the paint type you decide to use.