As you've already heard and probably used poplin fiber for several reasons, here's all the information that you need to know about it.
So, let's start with what is poplin fabric? It is a plain-weave cotton fabric compared to the more complex weaves that make up twill or satin. By plain-weave, it means the fabric is woven in a traditional and plain over-under texture.
In addition, it has intricate fine horizontal yarns or 'ribs'; the texture results in a rigid, durable fabric with a lustrous, silky, and smooth surface that's even comfortable to put on.
Mainly, poplin is used to make male and female shirts, dresses of women, and other clothing items like raincoats and sportswear.
What is Poplin Fabric?
As I said, it is a plain weave fabric but it can be differentiated from similar fabrics by its texture. It has a ribbed texture that is weaved crosswise. The combination of thicker weft threads and fine warp threads is what leads to this. The weft threads run across the fabric width which is why they are also called the cross grain. And hence the weft threads are thick, they are more evident which is how you get the ribbed effect.
Not only does this allow a ribbed effect but combining thick and thin fibers leads to crisp and rigid fabric with a smooth feel on the surface. Although it uses cotton base fibers, you can use different other fibers of polyester, silk, or even wool.
What is Poplin Made of?
Poplin was initially started being manufactured in the fifteenth century in the Avignon region of France. It indicates a fabric with a woolen weft and a silk warp.
However, for the modern poplin, I cannot say the same. It is manufactured from several materials, including the most common cotton, polyester, silk, and lycra.
How is Poplin Made?
For the procedure, the strong poplin is manufactured by the process of rib variation of the plain weaving system. The feature of such fabric is fine, closely formed, ribs placed crosswise.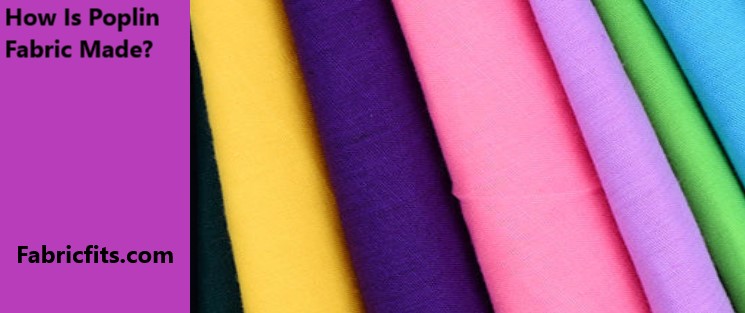 As I mentioned earlier, the fabric is made with more numbers of warp yarns and heavier filling yarns which gives a somewhat similar outlook to broadcloth. Although broadcloth has even more closely spaced and intricate ribs.
What is Poplin Fabric Used For?
If I point out the uses of poplin, you would be surprised what variations of clothing and clothing accessories you can make with it. Let's see.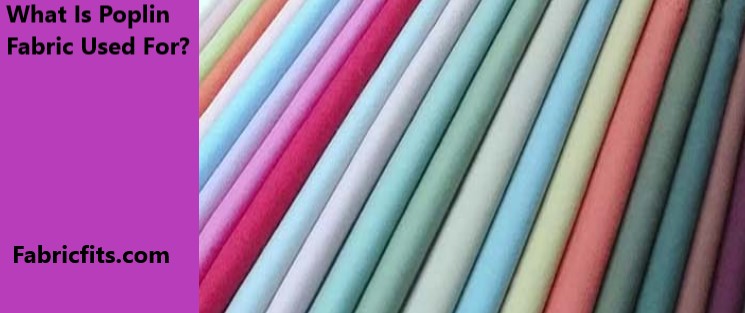 Shirts:
Among the top choices for shirting fabrics, poplin undoubtedly stands out. You can make any shirt type with this fabric, starting from casual tops and blouses to formal shirts for men and even button-ups.
Since poplin is made from different kinds of yarns, there is poplin for both summer and winter. Silk poplin shirts are an excellent choice for wearing in cooler regions or cool climates, while cotton fabric is a must-have in warmer regions.
Dresses:
Since poplin is extremely lightweight, it has an airy drape to it. So, when you use it to make a dress for women, it turns out to be one comfortable and flowy dress, especially for the summer.
Airy, Breathable Clothes:
With the lightweight texture of the fabric, it turns out to be an excellent choice for the summer season. You can make baggy pants or breathable tops with them as everyday wear.
Loungewear and Night Sets:
No doubt, with the softness and smoothness of the fabric, you would love to fall asleep in clothes made from it. Hence, it's a great choice for manufacturing night sets and loungewear.
Poplin Fabric Characteristics:
Now that you know how poplin is made, let's see what features it comes with.
Lightweight:
Poplin is made with plain-weave cotton and hence it is thin and lightweight. No wonder why people use it for shirts to wear in summer. However, since it's too lightweight it is a bit transparent; you need a lining for it.
Long-lasting:
Although it is lightweight, it can stand some heavy wear. You can even wash it in the washing machine. And the best part is since it retains its shape well, it does not get wrinkled either.
Smooth:
As you know it is plain and tightly woven giving it a soft and smooth feel, whereas complex woven fabric or knit fabrics can be coarse, bumpy, or rough.
In-budget:
Poplin is usually quite cheap for both the manufacturer to make and the buyer to purchase. Since poplin is made from several fiber types, there are several price ranges to them, making polyester poplin the least expensive and silk poplin the most expensive.
Easy Printing and Dyeing:
Prints and dyes on poplin look very natural and bright, and extensively durable. Hence, no matter whether it's simple plaids or gorgeous floral prints, your poplin fiber can retain it all.
Versatile:
Not only is poplin suitable for making shirts and clothing items, but you can also make several other household clothing items using it, thanks to its durability and high quality. For Example skirts, home decor, tablecloths, upholstery, quilting, etc.
Is Poplin Stretchy?
If you ask about the original poplin, it does not come with any stretch. Although nowadays, poplin is made from several types of fabric, including silk, wool, and whatnot, some of these types might be stretchy. But the question is, 'is stretchy poplin good?'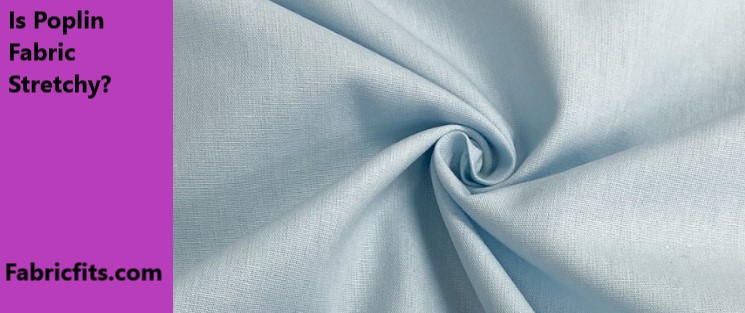 Well, it depends mainly on the type of dress you are trying to create. But, whatever you choose, make sure you grab a high-quality poplin for your DIY sewing, so you can make it exactly how you want to.
Is Poplin Soft?
There's no doubt that considering the plain weave with silk or cotton yarn, poplin is one of the softest fabric types out there.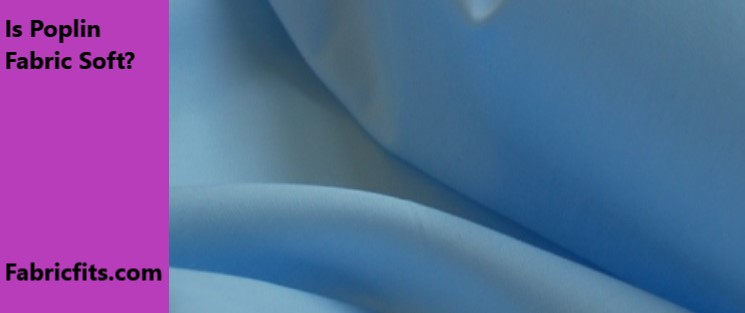 However, compared with twill, while both of them are solid materials, poplin, as I said earlier, is woven with thicker weft yarn and fine warp yarn.
Is Poplin 100% Cotton?
Initially, when poplin was made from a combination of silk and wool, it was coarser and used basically for robes and heavy dresses. But, nowadays, poplin is used to make regular-use shirts and blouses; they are woven in 100% cotton.
As I mentioned before, it is basically a plain weave cotton fabric that makes it comfortable, and lightweight, and does not damage the fabric's strength.
Is Poplin Good for Summer?
Being produced with plain weave and total cotton yarns, poplin has a very lightweight texture to it. It is also breathable and comfortable, which makes it a top choice for wearing in the summer.
You can make whatever summer dresses you want with them, starting from comfy tops, flowy, draping dresses, and even airy pants.
Is Poplin Good for Quilting?
Poplin is absolutely soft as flower petals and comfy, making it the perfect type of fabric for quilting. Most manufacturers consider poplin as their standard quilter's weight fabric. With this medium-weight woven fabric, you can make quilts, pillowcases, rompers, cloth diapers, and a lot more than just basic shirts.
One drawback can be during the making; poplin is quite a slippery material to work with. But if you can master that, you'll never know a better fabric for quilting.
Read Next: What is Pique Fabric
Pros Cons of Poplin:
Despite all the goodness, there are still a few drawbacks to poplin. Let's view them both.
Advantages of Poplin:
Strong
Durable and Longlasting
Soft and silky
Versatile to work with
Has a subtle sheen to it
Comfortable and breathable
Water-resistant and somewhat stain-resistant
Does not wrinkle much
Disadvantages of Poplin:
Not the ideal fabric type for winter
Cannot absorb heat
A bit slippery to work with, especially for quilting
Read Next: All you need to know about chenille fabric
Difference between Poplin and Other Materials
Poplin isn't the only popular fabric type in the market; there's cotton, linen, flannel, and so on. So, let's check out what makes poplin so different from others.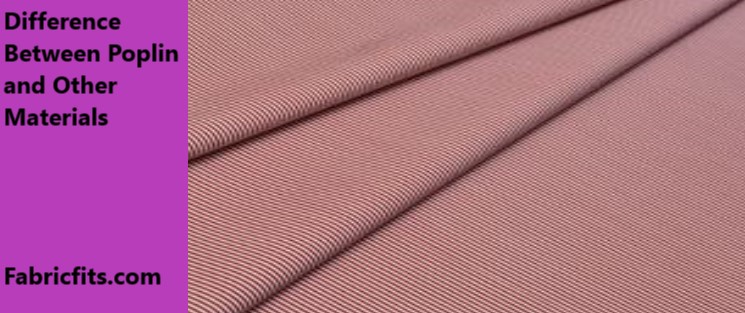 Poplin vs Cotton
Cotton and poplin are made with the same natural fibers but are different in the making process and texture. Both fabrics are well-known for their smoothness, softness, easy operability, and dyeing options. But the texture of the materials relies on the fiber type.
Poplin is actually much better than cotton, considering the tight weave for resisting water and stains and more strength. Besides, traditional silk poplin takes the fabric to a whole new level with a smoother feel than ever.
Poplin vs Broadcloth
The similarities between both poplin and broadcloth are so extensive that you might even consider them to be the same thing. The only prominent difference lies in the thickness of the used yarns. They are woven in the same way, but the yarns for broadcloth are more stiff and thick, giving the clothing a robust texture. On the other hand, poplin is strong too but not coarse, rather very soft to the touch.
Poplin vs Linen
The similarities between poplin and linen are that both are very comfortable to wear, perfect for the summer. They are incredibly breathable.
But the differences are quite a few. Linen materials do not have rigid strength or robustness to them like poplin. Again, poplin is more of a silky fabric that does not tend to wrinkle easily but linen, on the other hand, does.
Poplin vs Flannel
Poplin is more effective for the summer, while flannel is the more suitable kind for winter or fall. They are fuzzy and warm fabrics that are mostly nothing but brushed poplin or brushed twill. They are made with thicker weaves contradicting thinner plain weaves of poplin.
The flannel-like poplin can be totally cotton-made or even with a combination of cotton wool and cotton cashmere providing extra warmth.
Poplin vs Twill
Poplin and twill have somewhat a similar feel to them. However, while both fabric types come with thin ribs, twill ribs or yarns go on the diagonal plane, and the poplin ribs crosswise. Besides, poplin is much more suitable for the summer to get in the breeze while twill is mostly to stay warm in the winter.
Both fabrics are very durable and stain-resistant. And you can make flowy dresses using both. However, twill gives your office dresses a more professional touch.
Poplin vs Oxford
Oxford and poplin are actually very different considering the feel, texture, and even with the weaving kind. Poplin has a smoother texture with plain weave, while oxford has a symmetrical basketweave with a rougher texture. Oxford fabrics are not the kind to make dresses or even formal office wear; rather, it's more suitable for making casual polo shirts that don't even need ironing.
Read Next: What is Calico Fabric: Complete Guide
How To Care For and Clean Poplin?
Poplin is 100% cotton, lightweight, and even stain-resistant. All these features make it very easy to maintain and wash poplin. I'll give you some tips-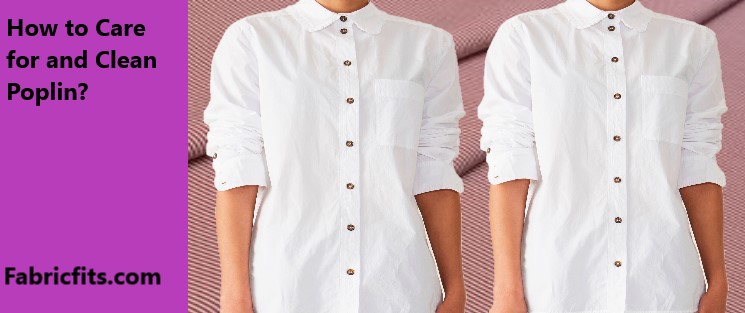 You can use warm water to wash the fabric. However, some poplin fabric types are well off to dry-cleaners. I'm talking specifically about the ones with bright prints on them.
It is not the most ideal for washing the printed-on poplin by hand at home because it will cause the fabric to bleed.
These materials must be dried in low heat.
After washing, you can iron it with a cotton setting to diminish the wrinkles, although poplin does not get any wrinkles.
Please do not press the wet fabric, or it will result in making it too stretchy forever.
Final Words
With all these said, poplin is undoubtedly one of the best choices for comfortable wear, especially in the summer. With its durability, smoothness, softness, extensive breathability, and versatility, you can make any kind of clothing piece with it that will be both a comfy fit and long-lasting.