Poplin is a quiet old fabric that has gained popularity over time among a bunch of other ones. Though this fabric was once used for only making attires; nowadays, people are using it for every type of fashion trend because of its variations and nature.
Knowing what is poplin fabric is a must if you plan to use it for projects.
Basically, the structure of poplin is made of cotton or cotton-poly blend which it feels so soft and comfortable. Besides, the heavy filling yarns of this staple fabric make it sturdy and tight, yet so smooth.
In this article, we have tried to cover every detail about poplin fabric along with its weaving characteristics and varieties.
Besides, you can also compare it with other fabrics depending on several factors mentioned here; so that it becomes easier to decide whether poplin is worth your choice or not.
How is Poplin Fabric Made?
Poplin is made with heavy-filling yarn and contains a number of warp yarns where the fibers are closely woven together in crosswise ribs. These types of ribs give a corded surface on poplin making it warm clothing.
If you wonder what is poplin made of; actually, there are a lot of variations of fibers that are used while weaving poplin. It can be made of single yarns and also by a combination of multi fibers.
Originally, poplin is made of wool and silk. The fine and traditional wood fiber makes it an item of heavy clothing suitable to use in winter.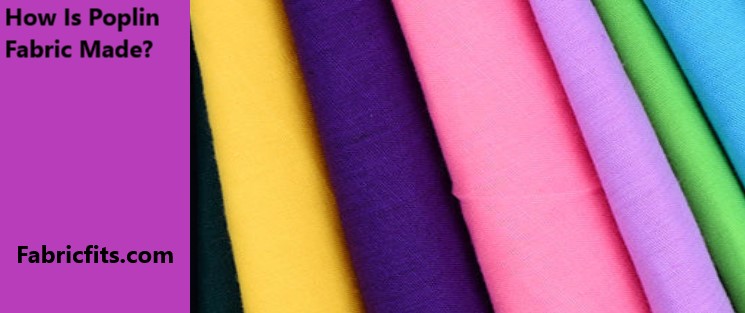 Additionally, the silk fiber gave a luxurious finish to the poplin that can be used both for traditional wear along with regular use.
When cotton is used as a base layer yarn, this cotton-made poplin can be an item of comfortable clothing in warm weather.
Often cotton fiber is mixed with polyester threads which makes poplin wrinkle-resistant clothing for regular use in warm weather.
Poplin Fabric Characteristics
Poplin has a bunch of variations and unique characteristics that make it an excellent choice for different sewing and designing projects.
The following characteristics of poplin will help you to know better about this fabric and decide whether you should choose it or not.
Smooth and Breathable
As the weave of poplin is attained by the crossing of vertical warp and horizontal weft yarns, it makes the surface smooth with the plain weave finishing.
Compared to the knit fabrics, the weave of poplin is tight and sturdy. So, the fabric surface is even and it feels smooth on the skin.
In addition to this, poplin has superior breathability which makes it a great choice for regular wear clothing and sportswear.
The unique weave of this fabric can circulate air through it, which blows away moisture quickly. So, it doesn't hold water and keeps you cool and fresh in warmer seasons.
Durable
Poplin consists of plane weave with the crossing of multiple yarn layers which makes it durable for both casual and formal wear. It can sustain rough handling and won't wear out quickly even if you are using it regularly.
For making regularly used uniforms, poplin has been the best choice since the 19th century. As it has a slightly ribbed texture, uniforms can hold up the actual shape for days without heavy ironing.
Basically, the combination of cotton and poly blend fiber weaved in a one-by-one crossing style increases the durability of poplin.
The finishing of the cross-weave makes it wrinkle-resistant that can be used as home decor such as tablecloths and upholstery materials.
Low Maintenance
If you know how to care for and clean poplin, you would definitely notice that it is one of those fabrics which are easy to clean and maintain.
You won't need to hand wash poplin as it is machine washable and can sustain heat up to 60 degrees. In addition to that, you can also dry clean it if needed.
Poplin is wrinkle-resistant which makes it easier to maintain after every wash. Whether you are giving a machine or hand wash, it doesn't require frequent and heavy ironing for keeping in shape.
Just a slight ironing is enough to look professional in poplin clothing.
Versatile
As poplin is made from different combinations of fibers; it is a versatile piece of fabric that you can use for clothing and house interior products.
It is a breathable and lightweight fabric that can be an excellent choice for the summer season to keep out moisture from your skin.
On the other hand, wool and silk-made poplin are great for extra layering in winter along with other warm clothes.
Because of the canvas-like weave, a poplin is a great option for dying and printing. You can easily print designs on it and use them for home decorative items.
What is Poplin Fabric Used for?
Poplin is a versatile fabric that has been used for different purposes for decades.
The popularity of poplin never went down for centuries because of its unique characteristics and superior quality.
We have divided this section into two different generations so that you can get a detailed idea about the use of poplin in different sectors.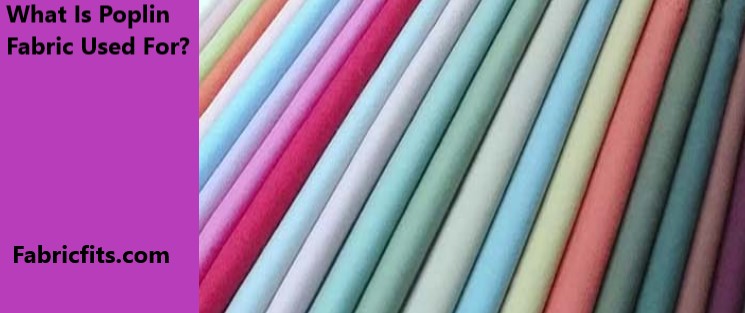 Ancient Times
In the 18th and 19th centuries, poplin was used for making dresses for women for its luxurious and professional outlook. The combination of silk and wool yarns gave these dresses a gorgeous look for wearing on any formal outing.
During world war Ⅱ, the poplin was used frequently for making uniforms for the soldiers both by the British and US military associates.
As this staple fabric doesn't have any additional maintenance criteria, the soldiers could easily wash them and wear them without heavy ironing.
These uniforms were sturdy enough to endure rough handling during the war. On the warmer days, this fabric circulated enough air through the uniform and kept the soldiers cool by drying out the body moisture.
In addition to this, poplin was a great choice as upholstery fabric in the traditional household of earlier days. Whether for seats and cushions or for leather covers, this fabric was the ultimate favorite for its durability and sturdiness.
Recent Generation
In recent times, this fabric is mostly used for making shirts and women's dresses. As it makes the clothes wrinkle-free and gives a formal vibe, these clothing are perfect for formal and traditional wear.
Besides, the subtle sheen and ribbed texture of poplin give a touch of luxury to your clothes on every occasion.
Poplin is still the first choice for making uniforms of daily wear because of their easy cleaning process. For uniforms, cotton and synthetic combined poplin work better because it is more durable compared to the other variations of poplin.
Nowadays, jackets and trench coats are also made with this fabric because it makes them lightweight compared to other heavy fabrics.
Fashion designers love poplin for making skirts as it is weighted enough and can hold the puffy shape in a perfect way.
In addition to this, you can print designs on poplin as it can be easily dyed and bleached.
Even after frequent washing, the color won't fade away because this fabric can retain the color for a longer time.
Read Next: What is Pique Fabric
Pros Cons of Poplin:
Despite all the goodness, there are still a few drawbacks to poplin. Let's view them both.
Advantages of Poplin:
Strong
Durable and Longlasting
Soft and silky
Versatile to work with
Has a subtle sheen to it
Comfortable and breathable
Water-resistant and somewhat stain-resistant
Does not wrinkle much
Disadvantages of Poplin:
Not the ideal fabric type for winter
Cannot absorb heat
A bit slippery to work with, especially for quilting
Read Next: All you need to know about chenille fabric
Difference Between Poplin and Other Materials
Before you buy poplin for your clothing or home decor, it is essential to compare it with the other fabrics available in the market.
Because it will enable you to know the actual characteristics of this fabric and understand the poplin pros and cons over other materials.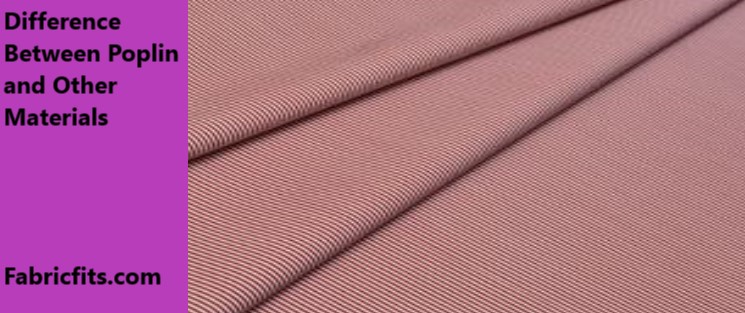 Here we have discussed some common fabrics available out there and compared them with poplin. Thus, it will be easier for you to decide whether you should consider poplin for your next projects or not.
Poplin vs Cotton
Though poplin can be made from 100% cotton fiber, pure cotton fabric and cotton poplin are not the same.
Cotton fabric is one of the most lightweight and breathable fabrics available in the market.
On the other hand, cotton poplin is heavier than cotton, but a bit smoother because of the combination of other fibers.
As the weave of poplin is close and tight, it is more durable than pure cotton fabric. Besides, poplin doesn't crease too easily and lasts longer even after regular use.
Poplin vs Broadcloth
The main difference between poplin and broadcloth lies in the thickness of the yarns.
Though both the fabrics are woven in almost the same way, thicker yarns are used in the broadcloth which makes it a more sturdy and strong fabric than poplin.
But due to the yarn thickness, the broadcloth is not so soft and smooth; thus, it is not comfortable as poplin in warm weather.
Besides, the broadcloth has less texture as no patterns and weaves of threads are visible on the fabric's surface.
Poplin vs Linen
Linen and poplin both are excellent fabric for making summer clothes as they are breathable and sweeps away moisture quickly. But linen is not wrinkle resistant as poplin and you need frequent ironing to keep it in shape.
Poplin is easy to dye and bleach, which is not possible for linen fabric. Besides, linen fabric loses its biodegradable properties in a few washes which makes it less sustainable in a short time.
Poplin vs Flannel
Poplin is comfortable to use in warmer seasons whereas flannel is a comparatively thick fabric best for use in lower temperatures.
But both poplin and flannel are wrinkle-resistant fabrics which makes them easier to maintain.
Though they both are breathable fabrics; the main difference between them is that poplin circulates air through it to keep your body cool; whereas, flannel holds heat inside the body to keep you warm in winter.
Poplin vs Twill
As poplin and twill, both are woven fabrics, people often think of their characteristics as the same. But actually, it is not.
Poplin is woven with thicker weft yarn compared to the twill fabric, which makes poplin more smooth and soft.
Twill fabric is a strong material that is thick and heavy compared to poplin. So, it can be a better choice for winter while poplin is great for warmer days.
The weave of poplin circulates more air through the yarns. So, it is more breathable than the twill fabric.
Poplin vs Oxford
The weaving technique and thickness of yarns make poplin and oxford different from each other. Oxford fabric is weaved by two strands of yarn with different thicknesses that makes a thick and bumpy texture compared to poplin.
So, the yarns of oxford remain loosely woven and thus, it is not as soft and comfortable as poplin. As poplin has an even texture, it can be used for formal clothing which is not suitable with oxford-made clothes.
Frequently Asked Questions
Is poplin stretchy?
Usually, poplin is not that stretchy and can be easily washed and ironed without ruining the quality.
But some combinational blends of poplin might be a bit stretchy because of the characteristics of the yarns. So, you should check the type of poplin before using it in your sewing projects.
Does poplin require frequent ironing?
As poplin is a wrinkle-resistant fabric, it doesn't need frequent ironing to keep it in its actual shape. It has enough weight to be flattered on every body type.
After washing, just a slight ironing can make your poplin dress look formal and professional.
Is poplin good for quilting?
Quilting needs several layers of thin cloth patches to sew and join together. As poplin is a lightweight and soft fabric, quilting can get easier with poplin.
Besides, this fabric doesn't shrink too much after washing which works as an advantage for quilting.
Final Words
The journey of poplin has been running successfully for decades and thus, it has loyal users globally.
Though it is a versatile piece suitable for almost every occasion, more experiments in designing functional poplin blends are still going on for creating future opportunities.
Hopefully, this article has provided you with all the information about what is poplin fabric; so that you can try them using for your next project whether for clothing or home decorative items.