Rotary cutters are quite popular right now because of their efficient skills in cutting fabric more easily and saving time and effort. With rotary fabric cutters, you can achieve fine fabric pieces without putting much effort, as these cutters will do the job for you.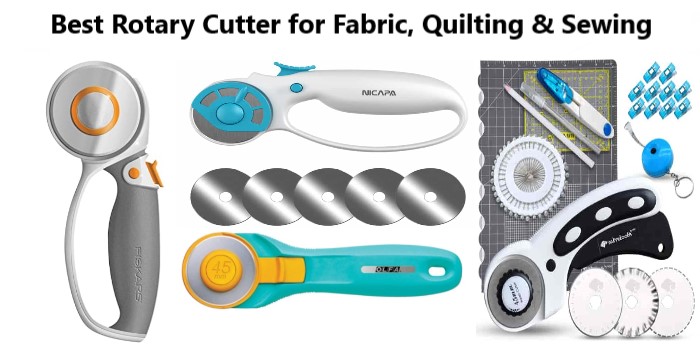 If you've just started out with quilting and sewing, it's normal to get confused about which rotary cutter to get. Since there are so many options available, it gets hard to pick a single one.
To help you get the best rotary cutter for fabric, quilting & sewing, I've brought 10 amazing options for you to choose from.
I've also included a short informative buying guide that will be helpful for you in making your pick.
What Is Fabric Rotary Cutter?
A fabric rotary cutter is a specialized tool used in sewing and quilting to precisely cut fabric with efficiency and accuracy. It consists of a round blade attached to a handle, allowing users to roll the blade smoothly across fabric surfaces.
This method offers cleaner and straighter cuts compared to traditional scissors, especially when dealing with multiple layers of fabric.
Rotary cutters are available in various blade sizes for different cutting needs and can be used in conjunction with a cutting mat to protect surfaces and ensure safety. They're popular among crafters and sewists for their speed and precision in fabric-cutting tasks.
What Is Fabric Rotary Cutter Used For?
A fabric rotary cutter is used for accurately and efficiently cutting fabric in sewing, quilting, and crafting projects. It's particularly useful for tasks such as:
Straight Cutting: Rotary cutters are excellent for cutting straight lines in fabric, ensuring precision and clean edges.
Quilting: Quilters use rotary cutters to cut fabric squares, strips, and various shapes needed for patchwork and quilting projects.
Multiple Layers: Rotary cutters are effective in cutting through multiple layers of fabric at once, saving time and effort compared to using scissors.
Templates: They're used with templates to cut out specific shapes repeatedly and consistently.
Clothing Construction: Sewists use rotary cutters to cut out pattern pieces for clothing construction with accuracy.
Home Decor: For projects like curtains, pillow covers, and tablecloths, rotary cutters help in cutting large fabric pieces neatly.
Accurate Measurements: Rotary cutters, when used with a cutting mat and ruler, enable precise measurements for various sewing and quilting tasks.
Curved Lines: While primarily known for straight cuts, some rotary cutters have specialty blades for cutting curves.
Foundation Piecing: In foundation paper piecing, rotary cutters aid in trimming excess fabric from behind the paper templates.
Efficiency: Rotary cutters speed up cutting tasks, allowing crafters to spend more time on assembling and sewing their projects.
Overall, fabric rotary cutters are versatile tools that enhance the efficiency, accuracy, and quality of various fabric-based creations.
Things to Consider When Buying Fabric Rotary Cutter
Now that you've got plenty of options to choose from, it's important to pick a rotary cutter that has all the right factors.
Let's see what factors you should consider when you're buying a rotary fabric cutter:
Blade Quality
This is the most important feature when it comes to buying rotary cutters. Make sure you get a cutter with the best blade material.
Blades with strong material are capable of lasting long and delivering precise cuts.
The best material would be tungsten-coated blades, but stainless steel and alloy are also quite good.
Also, pick the blade that can cut through thicker fabrics. With these features, you can pick out the best blade quality for your cutter.
Handle Quality
Another essential factor is the handle quality. Since the quality of the handle is very important in ensuring comfort and a firm grip, you should pick out a soft and ergonomic handle for the cutter.
Handles with good material will offer a long-lasting and comfortable grip without any fatigue. So, you should carefully pick the handle before buying the cutter.
Blade Diameter
Both 45 mm and 60 mm blade diameters are available right now with cutters, but you should go for the blade that will suit your needs.
If you want your blades for relatively thin materials, go for the 45 mm one. But if you want to work with thicker materials, 60 mm will be the best option.
How To Use Fabric Rotary Cutter?
Using a fabric rotary cutter requires careful handling to ensure both safety and precise cutting. Here's a step-by-step guide on how to use a fabric rotary cutter:
Gather Your Materials:

Fabric rotary cutter
Self-healing cutting mat
Quilting ruler (if necessary)
Fabric to be cut

Prepare Your Workspace:

Lay the self-healing cutting mat on a flat, stable surface.
Ensure you have adequate lighting.

Select the Right Blade and Cutter:

Choose a rotary cutter with an appropriate blade size for your cutting needs (straight, curved, etc.).

Position the Fabric:

Lay the fabric on the cutting mat, ensuring it's flat and wrinkle-free.
Align the fabric edges with the ruler markings if precise measurements are required.

Hold the Rotary Cutter:

Grip the rotary cutter firmly but comfortably in your dominant hand.
Your index finger should rest on the top of the cutter's handle, while your middle and ring fingers go underneath.

Safety Precautions:

Ensure the blade is properly covered by the safety mechanism when not in use.
Keep your fingers away from the path of the blade.

Cutting:

Hold the ruler firmly against the fabric where you want to make the cut.
Align the rotary cutter's blade against the edge of the ruler.
Apply gentle downward pressure to engage the blade and start cutting.
Keep the cutter's blade against the ruler's edge as you move it along the fabric.

Smooth, Continuous Motion:

Use a smooth, continuous motion while cutting. Avoid stopping and starting.
Push the rotary cutter away from your body, not towards it.

Reposition as Needed:

If you're cutting along a longer line, reposition the ruler and continue cutting in sections.
Lift the rotary cutter slightly at the end of each cut to avoid going off course.

Finishing the Cut:

When you reach the end of the cut, lift the rotary cutter and move it away from the fabric.
Keep the blade's safety mechanism engaged.

Repeat as Necessary:

If you need multiple pieces of the same size, repeat the process, aligning the ruler and cutter carefully each time.

Store the Rotary Cutter Safely:

After use, retract the blade and engage the safety mechanism.
Store the rotary cutter in a safe place, away from children and pets.
Remember that practice and familiarity with your specific rotary cutter are key to achieving accurate and efficient cuts. Always prioritize safety by using the cutter as intended and keeping your fingers clear of the blade's path.
Top 10 Best Rotary Fabric Cutters for Quilting & Sewing Reviews
Fiskars 60mm Titanium Rotary Cutter
OLFA 45mm Splash Rotary Cutter
NICAPA 45mm Ergonomic Cutter
SABRETOOTH Quilting Rotary Cutter
Fiskars 18mm Detail Fabric Cutting Set
Premier Blades Industrial Rotary Cutting Tool
Fiskars Titanium 45mm Comfort Cutter
ARTEZA 28 mm Cutter
AUTOTOOLHOME Cutter
Cricut Rotary Cutter
1. Fiskars 60mm Titanium Crafts Rotary Cutter
Fiskars is one of the most renowned rotary cutter brands out there due to its great quality and style.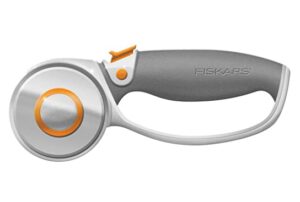 Check Price on Amazon
This titanium rotary cutter is not only extremely durable but also an efficient product. Built with high-quality titanium, this rotary fabric cutter is equipped with a 60 mm blade that can cut through anything.
No matter how thick the fabric is, you can count on this cutter to achieve the best results.
The best feature of this product is that it is suitable for both right- and left-handed users.
Besides, the blade of the cutter is easy to assemble and takes almost no time. It also comes with a curved handle that ensures the strong holding position of the cutter.
This cutter also offers a sliding button that is perfect for extending or retracting the blade. Such a feature comes in handy during storage by providing adequate safety.
Pros:
Capable of cutting through thick fabric
Highly durable titanium material
Sharp and strong blade design
Offers maximum safety during use
Cons:
Requires sharpening on a frequent basis
Verdict: Overall, this is a smart and effective cutter that you can add to your collection. It's worth every penny you're gonna spend on it.
Read Next: The 9 Fabric Cutting Scissors
2. OLFA Rotary Cutter – RTY-2/C 45mm Splash
Another great option from OLFA, this cutter has features that will impress anyone.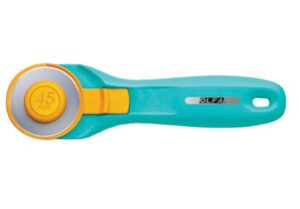 Check Price on Amazon
Built with a tungsten blade, this cutter can cut through almost any fabric. The blade is ultra-sharp and available in 45mm and 60mm sizes, whichever suits you best!
It can slide through any fabric smoothly without leaving behind any ragged edges. From cotton, fleece, tarp- there's nothing this cutter can't cut through.
The cutter is also equipped with a dual-action safety lock that comes in handy in resisting any accidents.
Especially regarding accidents that can occur during storage and when left unused, you can count on this cutter to stay safe.
With an anti-slip grip, the cutter is comfortable to handle without any fatigue or discomfort. It also bears a changeable blade side which is quite convenient if you're left-handed.
Pros:
Sharp tungsten blade design
Ideal for different fabric varieties
Offers a smooth and clean-cut edge
Ensures comfort and safety
Cons:
Blade needs recurrent sharpening
Verdict: To speak honestly, you can't find a better rotary cutter for quilting and sewing than this one by OLFA.
Read Next: The 7 Fabric Cutting Tables
3. NICAPA 45mm Ergonomic Rotary Cutter for Fabric With Replacement Blades
NICAPA is a famous brand known among crafters for its excellent quality and material.
Check Price on Amazon
This rotary cutter features a 45 mm blade that is capable of cutting through different fabrics with a smooth finish.
It bears an ergonomic loop handle that provides adequate support and comfort. So, when you're working those long hours, you won't lose your grip.
With a protective covering, your cutter stays safe at all times, whether it's in use or not. It also has a blade lock switch that enhances the efficiency of the machine. These features make it a suitable option for quilting.
The blade's superior part remains covered during use and prevents any injury or accidents. You also don't need to worry about slippage since this portion will resist it.
With such excellent characteristics, you can count on this rotary cutting tool to aid you in your quilting experiences.
Pros:
Tough blade design
The handle provides support and comfort
Prevents injury and accidents
Anti-slip feature included
Cons:
Does not have multiple size options
Verdict: To conclude, this cutter can totally meet your expectations and assist you in your everyday quilting.
4. SABRETOOTH Quilting Rotary Cutter for Sewing with Blades, Cutting Mat, Ruler
This quilting rotary cutter is another amazing option, especially for beginners.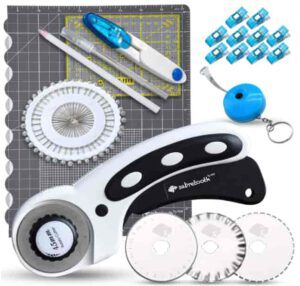 Check Price on Amazon
Equipped with strong and durable SKS-7 steel blades, you can be assured that this cutter is built to last long. The blades are extremely sharp and are capable of cutting multiple layers at the same time. From paper, leather, denim- you can cut through anything using this cutter.
You get additional 45mm rotary blades that are used for a different form of cutting, including dotted line cutting and wavy cutting. It also works for straight cutting remarkably well.
If you're looking for a perfect starter kit for starting your quilting journey, this one has it all. From a mat board, acrylic ruler, fabric tape, cutter knife, quilting clips, and pins- there's nothing that's not in the kit. So, you don't need to worry about purchasing additional supplies.
Pros:
High-quality steel blades
Cuts multiple layers of fabric at a single time
Equipped with essential accessories
Offers smooth and precise cuts
Cons:
Handle is of average quality
Verdict: Overall, this is an excellent choice for you, especially if you're looking for something user-friendly.
5. Fiskars 149800-1004 18mm Detail Fabric Cutting Set
This is another amazing product if you're looking for something decent in quality but still delivers a smooth performance. Fiskars always makes amazing products, so you can be assured of the quality of this one.
Check Price on Amazon
The 18 mm rotary cutter is perfect if you want to get detailed curves and patterns and want to explore various quilting methods. You can use this cutter for quilting appliqué pieces from ordinary materials of different weights.
Whether you're going for lightweight material or medium-weight material, there's nothing your cutter can't achieve.
Built with high-grade and premium-quality steel, the 18 mm blade within this cutter works well with different fabrics. The cutting mat included with the cutter also does a fine job of making precise trims.
Pros:
Suitable for trying different patterns
Works with quilting materials of multiple weight
Fine and sharp steel blade
Provides clean-cut trims
Cons:
Blade gets dull over a period of time
Verdict: This is a perfect rotary cutting tool that you can have in your collection to get the detailed curves and patterns and enjoy a smooth performance.
6. Premier Blades Industrial Rotary Cutter Tool for Quilting & Fabric, Paper, Leather
Another unique design, this one is from Premier Blades. As the name suggests, this one is built with a high-quality blade that will give you the best results possible.
Check Price on Amazon
With 6 rotary cutting blades, you don't need to worry about not having enough blades for a long time.
The blades are of strong-quality stainless steel and are designed to cut through at least 6 layers of fabric at a time.
No worries if your choice of fabric is wide and thick- because the blades are going to take care of it.
It is also built with a soft ergonomic handle that will minimize any hand fatigue and discomfort. So, say goodbye to those long hours of work because this cutting tool will put you at ease.
Another unique feature of the product is the dual safety technology which offers safe locking of the cutter when it's not being used.
Pros:
Powerful blade material
Cuts through 6 layers of fabric at one time
Handle ensures comfort and firm grip
Safety lock offers strong positioning
Cons:
Might be inappropriate for harder materials
Verdict: With such excellent features, you can't get anything better than this. This rotary cutting tool will work wonders for your everyday craft activities.
7. Fiskars Titanium 45 mm Soft Grip Comfort Cutter
We have another one on the list from Fiskars, and this one is also an excellent option for both beginners and professionals.
Check Price on Amazon
This rotary cutter is perfect for trying out different materials for cutting. With a precision-ground blade of 45 mm diameter, this blade will do a remarkable job with thicker and multiple fabric layers. You can even use foams and batting with the cutter.
The blade is designed with a titanium coating that ensures maximum durability and longevity.
It will also do a good job of cutting sharply without leaving ragged edges behind. The handle with the cutter is comfortable and reduces fatigue.
You also get a curved handle design that helps to boost the control and allows you to use it for different techniques.
Besides, this cutter is suitable for both right and left-handed users without any inconvenience.
Pros:
Strong quality blade design
Ideal for thick fabric material
Offers sharp and smooth cuts and trims
Diminishes hand fatigue
Cons:
The blade may wear out and need sharpening over time
Verdict: Ideal for both pros and newbies, this one by Fiskars will be an ideal option for your quilting and sewing activities.
8. ARTEZA 28 mm Rotary Cutter
You must've heard of ARTEZA since they are quite popular for making durable and strong tools. This 28 mm rotary cutter is no exception.
Check Price on Amazon
The blade included with this cutter is of premium quality Japanese steel which is extremely efficient when it comes to cutting fabric.
Whether you're cutting vinyl, paper, felt, carpet, or thick foam- this blade will give you a precise cut. It works with any thick material, and the results are astonishing.
With a single application, at least four layers of fabric can be cut through this blade design. A powerful blade like this will definitely win your heart.
The best feature about this cutter is that you can replace the blades with your other cutters from OLFA and Fiskars brands. It makes the cutter extremely versatile.
Pros:
Strong and powerful Japanese steel blades
Cuts thick and multiple layers of material
Offers precise cuts and trims
Interchangeable blades with other brands
Cons:
Handle is of poor quality
Verdict: If your requirements are good quality and have smooth cutting capabilities, this is the cutter that will be helpful for you.
9. AUTOTOOLHOME Rotary Cutter for Craft & Quilt
AUTOTOOLHOME also designs smart rotary crafts & quilt cutters for home and workshops.
Check Price on Amazon
This 45 mm rotary cutter is the perfect option for those looking for good-quality cutters with basic features. It can be used for sewing, crafting, or quilting with no inconvenience.
With SKS-7 stainless steel blades, the cutter can get through more than 5-6 layers of fabric easily. Whether the fabric is thick like leather, vinyl, or even if it is scrapbook paper- this cutter will help you achieve your desired cut.
It is also built with an ergonomic soft handle that is very comfortable and does not cause fatigue on the hands.
The presence of dual safety technology helps to lock the blade in position and ensures safe and protective functioning. It does a fine job at working without any difficulties or hassles.
Pros:
High-quality blade material
Can cut multiple layers of fabric for quilting
Works with versatile fabric categories
Keeps the blade in position
Cons:
Difficult to work with skipping sections
Verdict: If you're looking for a basic cutter without any advanced features for everyday use, this is the one you should go for.
10. Cricut Rotary Cutter for Both Right & Left-Handed Use
Last but not least, I have this outstanding design from Cricut. Its features are quite good, and it does a good job of taking care of your quilting activities.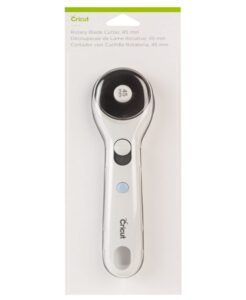 Check Price on Amazon
The rotary cutter has 45 mm blades with a premium carbon alloy steel material. Such strong material helps to achieve fine trim work and detailed patterns, which is perfect for quilting.
The blades are also compatible with different kinds of fabric, so you can achieve your desired result with any fabric.
It is also equipped with a quick-release blade cover that does a fine job of maintaining protection and safety when the cutter is sitting idle.
You also get a symmetrical handle that is convenient for users of both right and left hands- which is an amazing feature.
Pros:
Premium quality blade material
Compatible with varieties of fabric
Offers precise trim work
Safe and convenient to use
Cons:
The handle is not of high-quality material
Verdict: You can try this cutter if your requirements are simple and basic. This will give your quilting activities a new and better change.
FAQs on Rotary Fabric Cutter
Which is the best material for a rotary blade?
Tungsten-coated material is the best material for rotary blades since they are more durable compared to other materials.
They also offer precise cuts and have sharp margins that aid in cutting thicker fabric.
Why is dual safety technology important?
Dual safety technology is important when your blades are sitting idle or in storage. This technology locks the blades in their position without any movement and minimizes any accidents or mishaps.
Which brand is best for rotary cutters?
Fiskars is a versatile brand and best for rotary cutters. Fiskars always design cutters with high-strength material, and they have many advanced features that can change the regular quilting activities to a better form.
What is the role of a handle in a rotary cutter?
Handles with strong materials and efficient design can help in reducing hand fatigue resulting from working for hours.
They assist in providing a comfortable experience with quilting.
Why is a 60 mm blade necessary?
Most cutters can work with a 45 mm blade design, but if you want to work with thicker fabric like vinyl, construction paper, and leather, 60 mm blades do a better job.
Final Words
To wrap up the article, it can be said that finding the best rotary cutter for fabric, quilting & sewing can be challenging if you don't know the basics regarding them.
Our reviews will help you in finding the ideal product that can help you with your everyday activities.