A sewing machine helps to sew the fabric together with the thread. But fabrics come in different compositions and you can't use a usual sewing machine for all types of fabrics. In this case, you need special types of sewing machines for heavy fabrics.
A sewing machine for heavy fabrics means it should be made of sturdy metal to offer the necessary strength with proper stability. Built-in stitches and reverse stitching are also required qualities of a heavy-duty sewing machine.
However, finding this particular option is not so easy. Various manufacturers and different types of sewing machines can throw you under stress. To lessen your stress, I have come up with the best sewing machine for thick fabrics. In this guide, I have also added a buying guide and other relevant queries so that your decision-making turns into a fun process.
Top 9 Best Sewing Machines for Heavy Fabrics & Thick Fabrics Reviews
SINGER Heavy Duty 4432
Brother ST371HD Sewing Machine
Janome HD3000 Sewing Machine
SINGER Heavy Duty 4411 Sewing Machine
VEVOR Industrial Sewing Machine
SINGER Heavy Duty 4423 Sewing Machine
Janome 4120QDC Computerized
SINGER | Quantum Stylist 9960 Portable
Juki HZL-80HP Sewing Machine
Considering all the required features of a sewing machine for thick and heavy fabrics, I have chosen the top-rated 9 options. I didn't create a big list so that you can easily select the best of them for your projects.
1. SINGER Heavy Duty 4432 Sewing Machine for Beginners and Heavy Fabrics
Here is our best pick: SINGER 4432 sewing machine offers the most expected services for an extended period. You can sew heavy fabrics without any problem. Also, sewing any other types of fabrics is also fun while using this machine. This is overall an ultimate workhouse.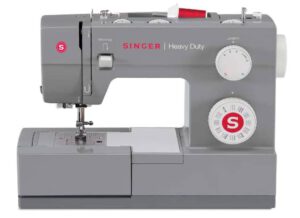 Check Price on Amazon
It's known that SINGER is one of the oldest brands that produce sewing machines for different purposes. Among many of its other options, this 4432 model is an upgraded version. The frame of this unit is made of full metal. With 50% extra power and speed, it can effortlessly sew thicker and longer fabrics. It provides the required strength to handle difficult needlework easily.
Many of the industrial-grade features make it ideal to provide professional results. You will get your desired result within a short time as it ensures easy fabric flow and skip-free sewing. It's bed-plate and interior frame are metal-made. So, beginners can use it, and no problem if they make some mistakes.
Pros:
Included 4 pressure feet for superior capability.
Confirms 1,100 stitches in each minute.
110 different stitch applications, reverse stitch enabled.
Budget-friendly for every level of user.
Cons:
Can produce a little bit of unpleasant noise while sewing.
Read Next: Guide on Fabric Cutting Machines for Quilting and Sewing
2. Brother ST371HD Sewing Machine for Thick Fabric
Brother is one of those popular companies that manufacture top-quality sewing and embroidery machines. This Brother ST371HD sewing machine is not an exception. It will definitely amaze your mind with its many necessary features.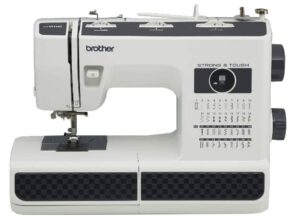 Check Price on Amazon
This strong & tough sewing machine comes with 37 versatile built-in stitches so that you can choose your desired sewing styles and apply them to fabrics. An attached auto-sized buttonhole turns it into a more versatile choice. This machine can confirm about 800 stitches every minute.
We loved its auto needle threader. So, you don't need to do anything manually. This threader will push the thread from end to end of the needle. The machine has also a drop-in top bobbin which prevents jam while threading.
Its free arm makes it ideal for any user from beginner to expert. This feature also allows you to do various sewing projects with ease. In the package, you will get 6 sewing feet, a DVD manual, and more.
Pros:
Strong and durable, designed to last longer.
Most useful pre-programmed stitches.
Free arm to ensure effortless sewing.
Beginner-friendly with the easy-to-understand manual.
Cons:
The LED bulb doesn't provide stronger light in the targeted space.
3. Janome HD3000 Sewing Machine Bundle with Purple Tote, Bobbins, and Needles
With 18 built-in stitches and a one-step buttonhole, this Janome HD3000 sewing machine is the right machine for the right task. As the machine material is metal, the machine is durable. And it comes with a built-in needle threader, you don't need to try thousand times wearing grandma glasses just to thread a needle!
Check Price on Amazon
It provides stitch length and width adjustments, so you get a lot of advantages while working. And features like snap-on presser feet, reverse stitch lever, push-pull bobbin winder, and stitch selection dial makes your sewing experience even better.
The 7-piece feed dog allows you to sew both thick and thin fabrics. So, you can comfortably work with both types. And for sewing multiple layers, this machine handles the task pretty smoothly. This machine is overall simple and easy to work with. If you are thinking of just getting started with sewing, you should give this one a try first.
Pros:
Best for a long time and regular use.
Sewing multiple layers is effortless.
Great for sewing upholstery fabric.
Easy instruction book for beginners.
Cons:
A pricey option with some regular features.
4. SINGER Heavy Duty 4411 Sewing Machine for Heavy Fabric
The SINGER Heavy Duty 4411 Sewing Machine is a versatile machine with 11 built-in stitches. With a collection of 6 basic and 4 decorative stitches and a built-in buttonhole, it helps you to open the doors of your artsy skills and turn your ideas into beautiful home decor, cute crafts, trendy fashions, and more.
Check Price on Amazon
If you are worried about whether the machine is going to allow you to add zippers or do topstitching on the fabric, worry less. It's because this amazing machine allows you to change the needle to 3 available positions. And you can easily sew different types of fabric from lightweight to heavyweight fabrics with the help of the adjustable foot control presser.
It gives an amazing rate of 1100 stitches on the fabric per minute. Plus, it features a metal frame and bedplate made of stainless steel. That's why with the combination of your skills and this Heavy-duty 4411, you can get a professional-quality sewing experience every day.
Pros:
69 stitch applications for mending, repair, and crafting.
High-speed sewing for canvas, denim, and leather.
4 different presser feet are included for versatile works.
Easy to thread and easy to work for a long-time.
Cons:
The needle that comes with the machine is not top-quality.
5. VEVOR Industrial Sewing Machine DDL8700 Lockstitch Sewing Machine for All Types of Fabric
The VEVOR DDL8700 Lockstitch Sewing Machine comes with a simple design made with the newest 3D-CAD design technology. It features a table and a metal stand that ensures stability at work. This machine allows you to work with materials mostly of a medium thickness like 7 mm thick.
Check Price on Amazon
With a maximum stitch length of 5 mm and a maximum sewing speed of 5,500 S.P.M, you get a much better sewing experience. Plus, the machine allows you to adjust the distance between the needles manually. That's why, you can easily use this machine for tailoring, curtains making, fashion designing, and more.
One thing worth mentioning is that the machine comes with an all-copper servo motor, so the electric energy conversion rate gets improved. And some amazing features like automatic trimming, automatic reinforcement, and automatic rewinding to increase the tightness improve your sewing results.
Pros:
All-copper electromagnet servo motor improves sewing performance.
It produces very low sound, only around 30 dB.
Industrial-grade machine, ideal for medium to high thickness fabric.
Well-built solid structure; made for long-lasting service.
Cons:
Assembling takes some time, do it carefully.
6. SINGER Heavy Duty 4423 Sewing Machine for Thick Material and Leather
If you're looking for a highly reliable machine, pick this SINGER 4423 sewing machine without any hesitation. It's a heavy-duty machine and it comes with all the necessary accessories. So, you don't need to look any further and ensure you're sewing properly with ease.
Check Price on Amazon
No matter what's your sewing project, this machine will always come in handy. It provides 23 pre-programmed stitches that include basic, decorative, stretch, and buttonhole. You can do your needlework for fashions, quilts, home décor, crafts, and so on.
Like other SINGER models, this SINGER Heavy Duty 4423 is also equipped with an auto needle-threader that confirms easy thread flow through the needle. You will never experience frustration or eye strain while using this machine.
For owning this professional-grade machine, you will have to spend less than $250. As an affordable choice, it will save your money and give you an amazing sewing experience.
Pros:
1,100 stitches/ minute speed up your sewing job.
Stronger motor and improved stability can easily sew thick fabric.
All necessary accessories are included for ultimate convenience.
Sewing Assistant app helps any beginner-level user.
Cons:
A hard case is not available with the machine.
7. Janome 4120QDC Computerized Sewing Machine
If you are looking for a sewing machine for various types of sewing tasks from high fashion to everyday home decor, this Janome 4120QDC is the thing you need. It features an amazing range of 120 pre-loaded stitches which includes 7 buttonholes! So, you will definitely feel the difference in working experience.
Check Price on Amazon
This machine comes with some amazing features such as an LCD screen, on-screen stitch editing, and an auto thread cutter that give more advantages while sewing. The control panel and the LCD screen ensure better stitches. It also provides the built-in Alphabet feature to sew quilt labels and much more.
It features a precision tension dial to set the tension to your desired level. With the 7mm stitch width feature, you get amazing sewing results. And one more thing, say goodbye to eye strains because this machine features an automatic needle threader.
Pros:
120 pre-loaded sewing stitches and built-in alphabet.
A user-friendly control panel makes sewing a fun job.
Jam-free threading, effortless system for bobbin change.
Included most necessary items and easy manual.
Cons:
It can overheat when used for a longer period.
8. SINGER | Quantum Stylist 9960 Computerized Portable Sewing Machine
We recommend this product for a few special reasons; it's stylish and most customizable. Many users want to purchase a sewing machine for heavy fabric that is highly efficient and great-looking. Well, simply pick this SINGER Quantum Stylist 9960 machine and fulfill your long-cherished dream.
Check Price on Amazon
You will love its font selection feature. Every font can give you the best result. You will need to select your choice, and press on the foot pedal; the rest will be done automatically. The machine has other decorative stitches and you can mix them with font selection. Designing different projects is really fun with this machine.
The more pre-programmed stitches a machine provides, the more versatile it becomes. And for this machine, it's true; it's a versatile machine with numerous stitches. You can utilize this machine for home décor, fashion sewing, crafting, and more.
This is a high-speed sewing machine. It offers a speed of 850 stitches/ minute which ensures doing many difficult sewing jobs within a short time. Large selections of pressure feet are included for enhancing sewing capability.
Pros:
Computerized and portable.
A great look with highly-efficient features.
Built-in automatic needle threader, jam free threading.
One-touch stitch selection, pre-programmed buttonhole.
Cons:
A bit pricey as a home-use option.
9. Juki HZL-80HP Sewing Machine for Heavyweight Materials
Don't underestimate this Juki sewing machine as it's our last selection. It has everything to be durable and tackle heavyweight fabric. It's compact in size and comes with an easy carrying box. So, it can be your best traveling companion. It has comparatively little weight and with its case, it's always ready to travel with you.
Check Price on Amazon
This Juki HZL-80HP comes with sturdy construction. Its overall design is very stable and can provide the necessary strength to sew heavy materials. Though it seems expensive but will not make you disappointed with its exclusive features.
Auto needle threader makes the threading job easier without experiencing eyestrain and headache. The machine can sew the buttonhole that's perfect to fit the button you put on the buttonhole foot.
This machine is also equipped with free arm sewing which makes different awkward jobs easier. You can sew collars and cuffs without any hassle. Adjustable foot pressure ensures better sewing for any type of material.
Pros:
Auto one-step button included.
Drop-in top bobbin prevents thread jam.
Easy to use, perfect for DIY sewing, beginner-friendly.
Travel companion case, can be transported easily.
Cons:
The lettering option is not good.
Things to Consider when Buying a Sewing Machine for Thick & Heavy Fabrics
As you're planning to buy sewing machines for particular types of fabric, you should be very careful to check some special features. I have described them below, take a look at them.
Construction:
For sewing heavy and thick fabric, your machine should be heavy-duty. A lightweight machine can't produce enough strength to sew heavy materials. Necessary stability and power can come from a metal-made sturdy sewing machine. So, make sure your selected machine is well-built with heavy-duty metal.
Computerized Sewing Machine:
You can choose from 3 different types of machines that include electronic, mechanical, and computerized. Mechanical sewing machines are the oldest option. They are affordable and user-friendly. You will need to set up everything for your sewing.
Electronic sewing machines are handy. They come with many built-in stitches so that you can select any style easily and apply that to your fabric.
However, if you have a smart budget, you should definitely go for an industrial-grade computerized sewing machine. These are heavy-duty and full of quality features to sew heavy fabrics.
Sewing Type:
You will not buy a sewing machine for doing only one sewing. Different sewing styles can be required for various purposes. So, pick one that will offer versatile options. Also, make sure your machine can sew multiple layers at a time. Because sometimes, you need to sew more than one layer.
Built-in and Reverse Stitches:
If your chosen sewing machine has pre-programmed stitches, you can utilize them in your different Needle-works. You don't need to do many things manually. The built-in stitch patterns can make sewing heavy fabric much easier.
Additionally, make sure that the machine is equipped with reverse stitching. It will ensure the stitch is stronger and durable.
Throat Plate:
Heavy fabrics indicate you have to select a sewing machine that has an extended and wide throat plate. To sew large and thick fabric, it's important to ensure that there is enough space between the structure and needle. However, a narrow throat plate is fine if your project includes sewing only regular and thinner fabric.
Speed:
All sewing machines don't come with equal stitching speeds. Depending on your need, you should select the stitching speed. For quicker operation, you should pick a heavy-duty unit equipped with improved stitching speed.
Tension adjustment is also important because it controls the firmness of the threads. Using this setting, you can ensure when the fabric should be loose or tight. The fabric shouldn't be too tight or loose to prevent unwanted hazards.
Extra Features:
When selecting a heavy-duty sewing machine, you should also look for some other features. The machine should have an automatic needle threader option to ensure easy threading.
Nowadays, most modern options come with digital displays. Make sure you choose a machine that shows more statistics on the display. Also check, the machine has an LED light. All these features will turn your machine into a more convenient unit.
FAQ's on Heavy Fabric Sewing Machines
Are Old Sewing Machines Heavy Duty?
It's simply a conventional idea that any old item is better than modern items. It's true in some cases but not always. Also for a sewing machine, it's true that vintage sewing machines are hefty and heavy-duty but they have definitely some drawbacks.
Most of the old sewing machines are designed to use at home, not for use as semi-industrial. They're unable to ensure even stitches on fabrics and can't sew through thick and heavy fabrics. So, the vintage options are sturdy enough but they're not the right choices for heavy fabrics.
Which Sewing Machine is Best for All Types of Fabric?
Make sure your selected sewing machine is not too lightweight as some strength and stability are required for sewing thick fabrics. Your machine should be versatile with decorative, heirloom, utility, and other stitches. Speed control, digital display, and some other features make a sewing machine ideal for any type of fabric.
Our reviewed items are very versatile. They can be used for almost any type of sewing on different types of fabrics. So, you can choose any of them and utilize that for your different sewing projects.
Can My Sewing Machine Sew Thick Fabric?
It depends on the features of your sewing machine. If you have a vintage one, possibly it's time to change that. It's because the old one can't handle heavy fabrics.
You should check some factors like the layers you need to sew. Do you need to sew leather as well? What stitching style do you need to do? When you know what you want while sewing heavy fabrics, then you should check if your sewing machine is capable to serve you all those or not.
If you have a heavy-duty option and designed to sew thick materials, you can sew heavy and thick fabrics with that. More built-in stitches, and user-friendly features will make your sewing job more enjoyable.
What Is The Best Sewing Machine for Thick Fabric?
From our reviews, you can choose any sewing machine for sewing thick fabric. All of them are selected for needlework on heavy and thick materials. If you plan to buy one out of our list, just make sure the machine is stronger enough and that ensures a wide throat as well as the smooth flow of the fabric.
Can Heavy Duty Sewing Machines Sew Light Fabrics?
A heavy-duty sewing machine is quite versatile. But make sure you don't have heavy-duty vintage machines because they lack many necessary qualities.
A modern-designed machine comes with so many handy features that you can apply to sew light and heavy fabrics. To sew light fabrics, you may need to change some settings only. Otherwise, everything is fine while sewing light fabrics with a heavy-duty machine.
Final Words
The sewing machines for thick and heavy fabric are designed to tackle sewing projects that include larger, thicker, and weighty fabric. A conventional machine is not ideal for these projects and so, I have reviewed top heavy-duty sewing machines.
Your investment in a sewing machine is not little, so make sure to secure it. Pick any of the machines from the above reviews. You will find every product very handy. However, I recommend SINGER 4432. It's a professional-grade machine and you can obtain this at an affordable price.