Tea towels are no ordinary add-ons for the crockery set. You cannot use a hand or any conventional towel as a tea towel; your heart will not just accept it.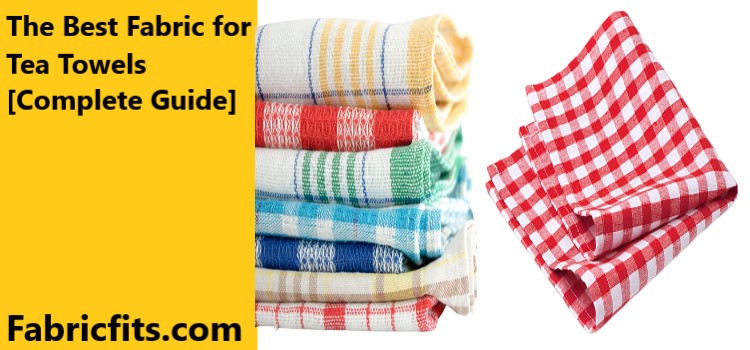 Its liveliness touches us through the distinguishing texture and fascinating illustration. Hence, acquiring the best fabric for tea towels is a must-know information.
The materials that transform the tea towels into unique pieces are usually linen and cotton. These fabrics are perfect for excellent absorbency. Terry cloths, diaper fabric, flannel, huck toweling, etc., are also some options you can try out.
Since quality is pretty much everything to this historically valued cloth, I have more examples lined up in the sections below.
What Are Tea Towels?
They are traditional soft cloth pieces to wipe dry the crockery/dishes. These expressionism pieces come in various designs, making them appealing for versatile décor.
But is it just an embroidered piece of cloth to set next to the teapot?
Did you know the famous Van Gogh often ran out of canvases and resorted to whatever was around him? Tea towels are such instances he laid his hands on many occasions.
In modern days, tea towels are considered more expedient than the rest for being sustainable to the world. I admit that they can be costly with the illustrated ones with high-end fabric.
But customizing them at home is much less a hassle and more reasonable.
What Type of Fabric are Tea Towels Made of?
If you are game, acquainting with the fabric type for tea towels is your first step. The more designs you see online, the more you want to buy.
It means spending more money than necessary without learning practical worth. The list below will provide you with some examples to save time.
Cotton
Linen
Bamboo
Flannel
Huck Toweling
Bottom Weight Fabric
Cotton Linen Blend
Terry Cloth
Diaper Fabric
Dishtowels Fabric
You see, tea towels are made from specific textile materials. It is how they were woven since the 18th century. We merely keep the tradition alive with a bit of a contemporary twist.
What Material Is the Best for Tea Towels?
To understand this question, you must ask why they used linen or cotton in the old days. How about we begin with linen?
1. Linen
This fabric discovery dates back many thousand years; let us not go that far.
You will notice that many people prefer wearing linen garments during summer. It is because of the fast-drying advantages of the flax fibers. It absorbs the body's sweat yet keeps you cool at the same time.
During the British Empire era, linen was used for similar reasons when crafting tea towels. It ensured the china sets remain dry and new no matter how many years passed.
The linen towels also worked great for hiding spills.
2. Cotton
Did you know the evolution of cotton built most countries' economies in ancient times? At first, people used it to spin ropes or yarn and weave clothes.
Eventually, they began exchanging it for agricultural products. The trading business grew large over time, encouraging the cultivation to grow massive.
Cotton is now recognized universally due to its absorbing and breathable quality. This is why it is the second-best fabric to make tea towels. It keeps the spills at bay without staining.
What Are Tea Towels Used for?
As I have already mentioned, traditional tea towels are used for spillage during tea serves. Is that all the towel does? Should you even invest in buying fabrics for trivial tea spills?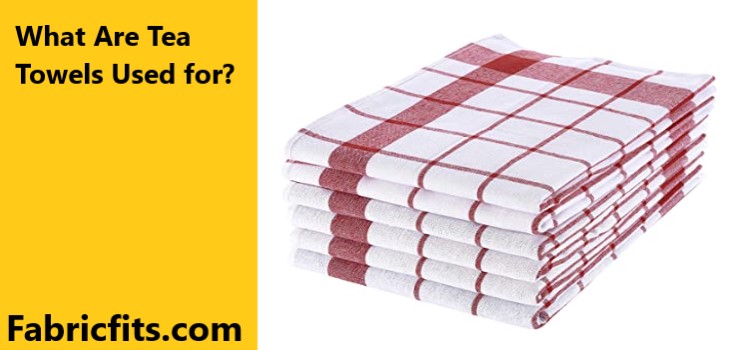 Tea towels have other uses too, which makes them a pleasant accessory for the household with a poetic touch.
Who says it is limited to serving tea only? You can try anything on it! Does the hot oatmeal bowl need a little help? Grab the tea towel. Do you wish to serve desserts or coffee to guests the posh way? You know what to do!
It even makes the dining table more aesthetic if you choose a trendy design.
Tea towels are utilized as mats, too –not the ones you place by doors, of course! It helps dry the freshly washed vegetables faster after placing them.
I even wrap my freshly baked goods in a tea towel. The food stays fresh, and I get praised for an excellent presentation. You can try it as a sustainable gift wrap for bread or muffins as well.
Do you think it is high time to ditch the old-school bathroom towels? A sophisticated tea towel can brighten the interior further than an industrial hand towel.
You can even line the cabinet shelves in the kitchen with tea towels. It will absorb hidden moisture and water drips from recently washed dishes or glasses. Besides, I love the visual appearance it delivers.
Who does not love an eco-friendly gift that can be practical for regular purposes at home? Yes, tea towels, especially embroidered by you, can be superb holiday gifts for relatives or employees. They will appreciate the gesture for a lifetime!
Here is a small fact– a tea towel and a dish towel are the same unless it is made from terry fabric. The people in the United States call it the latter, whereas the British or Canadians use the term tea towel.
Things to Consider When Buying Fabric for Tea Towels
Keep in mind for what purpose you wish to make the towel because its uses range widely!
Suppose you wish to create a set of four tea towels. What do you need to know next?
Fabric Type or Texture
The texture is everything in choosing the fabric. If you select something that takes long minutes to absorb a water drop, eliminate its potential use as a tea towel.
Never go for synthetic fabrics like polyester. They are the abomination against the classic gesture of what a tea towel represents. Besides, you require something that can handle constant washing, wringing, and absorbing process.
While linen and cotton are my ultimate goal each time, you can opt for fabric with tighter weaves.
Color or Pattern
Imagine choosing a color that does not go with the kitchen theme. Despite its top quality, the tea towel might remain concealed, so to ignore it at every opportunity.
Similarly, patterned designs or illustrations can frustrate your mind if it does not match the surrounding decorations. This is when you choose a readymade product.
If you wish to make the towel yourself, consider the embroidery or the artwork you plan to accomplish. Pick a color or pattern that can heal your creative vision instead of bleeding it dry.
Size
You can go for any size and shape you like to add a flair to the traditional symbolism. Nevertheless, determining the size in advance ensures no wasted scraps afterward.
The standard size generally begins from 18" x 28". Therefore, making four of them at this aspect will need about 72" x 112" of fabric. You can add a few extra inches to minimize sewing errors.
Top 10 Fabric for Tea Towels Reviews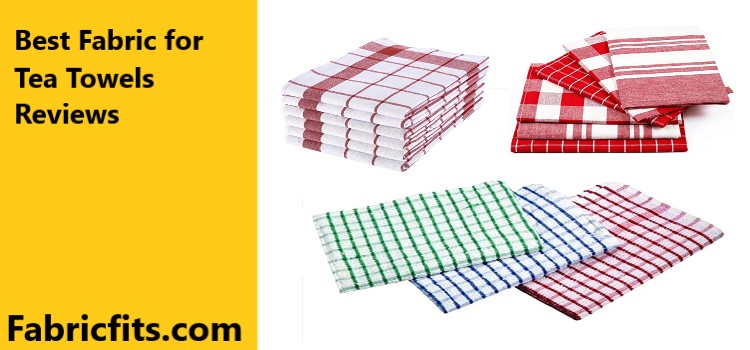 So, how to pick the right fabric for making elegant tea towels? You can always return to this section whenever you make a new towel with a different style.
1. Linen
The ancient Egyptians used it to create garments and undergarments for comfortable wear in the hot climate.
It absorbs sweat and dries faster, making it an ideal fabric for all purposes. Did you know the mummies were wrapped in linen bandages too? As eerie as it sounds, the fabric actually preserved the historic marvels for many eras.
Therefore, why not use what the ancient people used for your tea towels? It will absorb the spills promptly, offer distinctive quality, and last for years.
Moreover, linens are super soft and suitable for delicate glassware and china items.
Just remember that pure linen is expensive and tends to crease a lot. You might have to iron it once in a while before laying it in the dining space or lining it on a tray.
2. Cotton
The use of 100% cotton is ideal these days and rather, a budget-friendly contender for making tea towels. It is super absorbent and constructed strongly.
Therefore, no more wet streaks to ruin your dishes in the long run. Plus, it provides good color if you decide to print artwork on it.
The fabric still remains lightweight and features soothing textures with a twill weave.
3. Flannel
I suggest sewing double panels to make the tea towels slightly thicker. There are multiple color and pattern choices for you. Flannel cotton is more in demand for tea towels than wool versions.
It is absorbent and appreciated for being sturdy. You can purchase it in yards without wasting much.
4. Cotton Linen Blend
Some find 100% cotton or pure linen a bit much to their preference. Hence, the market offers a blend of both. It is usually 95% cotton with 5% linen, giving a texture of the latter.
The combo is premium and highly versatile with a durable weave. It delivers that relaxed feel to the touch despite being a deluxe fabric. The tea towels made of this blend last longer and offer powerful absorbing quality.
It also offers superb reproduction of any digital prints with great colors!
5. Bamboo
Did you know bamboo fibers are naturally antibacterial? A towel made from this cloth can kill up to 70% of bacteria when in use.
This is the sole reason I own a bamboo tea towel for my bathroom. It also protects the skin from irritation. The fabric is quite durable and absorbs moisture quickly.
6. Terry Cloth
We use terry cloth specifically for making dish towels. This fabric can handle large drips or spills on kitchen counters or around the sinks.
It consists of looped fibers to guarantee good wipes and drying process. The only drawback it has is the lint remains. Terry cloth tends to leave behind lint if used on dried dishes.
I recommend the fabric for making a dish or hand towel in small sets only.
7. Dishtowels Fabric
If you have heard of this fabric before and have not known how to apply it, here is a brief explanation.
It can be any fabric, so long as the label says to use it for wiping wet dishes. Therefore, the cloth can be made from linen or cotton.
The cotton version is generally a birdseye or a huck.
8. Diaper Fabric
It is also 100% cotton with birdseye weave, making absorbing skills quite extraordinary. You can buy it in plain texture to add color or pattern yourself.
9. Bottom Weight Fabric
The bottom weight is the next fabric for the tea towel-making project. Its plain weave is generally used for skirts or pants.
Admittedly, finding this fabric with a 100% cotton label can be difficult. You should scour the local fabric stores to get it right instead of relying on online shopping.
10. Huck Toweling
The pattern that sets it apart from other textiles is the vertically raised thread through the weave. It is also the reason why huck toweling is ideally absorbent and soft.
FAQs
Are cotton or linen tea towels better?
Yes, they offer incredibly strong absorption quality for spillage while preventing skin irritation upon regular use.
Is a tea towel the same as a dish towel?
Technically, they are the same. The fabric can be different, but the term indicates a similar notion. The Canadians or the British call it a tea towel, whereas the Americans say dish towel.
Both are utilized for wiping the dishes or glassware dry.
Is a tea towel the same as a kitchen towel?
Yes, in a way. A tea towel, by definition, is made from specific fabrics, like linen or cotton. You can polish delicate objects with it.
The kitchen towels are usually made from terry cloth, a little thicker, and provide good wipes for large liquid messes or spills.
Final Words
Do not worry if you have some leftover scraps from the best fabric for making tea towels. You can salvage them for quilt patches or get creative to make other accessories (coasters, placemats, tablecloths, etc.)
The tea towels you personalize with these materials will surely transform your home more scenic and ambient. Plus, make some for your local book club members; they will love you to the moon!