Customizing fabric maybe someone's hobby because a little beautiful change can turn the fabric into an amazing piece. But how to customize fabric? Well, there are so many ways, and many crafters like to use glitter glue. Though it is a common way, still many users want to be 100% sure that can you use glitter glue on fabric.
For making your fabric captivating, glitter glue is definitely the right choice. It is a non-toxic and safe way to attach glitter and gems to your fabric. The glue is generally permanent; however, it doesn't make the fabric stiff. Even you can wash the fabric many times without damaging its quality.
Before using glitter glue on the fabric, there are some more things that you should know. This guide will help to give you a clear idea of using glitter glue for fabric items.
What is Glitter Glue?
Glitter glue is a form of adhesive that has glittery materials in it. Generally, loose glitter is blended with the glue and the color and shine of the glue change. That's why applying glitter glue provides a sparkling appearance.
Glitter glue is just like other glue but it prevents material waste. While using glitter separately, you have to use glue and glitter separately. So, you will need more glue and glitter. But the glitter glue prevents waste with the mixture of these two.
The adhesiveness of this glue makes it suitable to use on different surfaces. It provides a better seal also. Moreover, using glitter glue will reduce mess because it will not leach out glitter from it.
Glitter glue makes a surface sparkly and attractive. People use this glue on different surfaces to make the surface shiny. Even sealing with it is also possible. You can use glitter glue on glass, fabric, wood, paper, and many other surfaces.
Generally, glitter glue is available on tubes but you can also buy sticks of it. For using the sticks, you have to put that in a glue gun. If you want a better result, you must dry the glitter glue after applying it on a surface.
Using glitter glue is so convenient that you can work with it quickly. You just need to draw an outline and apply the glue over it. It also dries fast. So, you don't need to wait a long time. After drying the glue, it will permanently sit on the surface and remain durable.
Types of Glitter Glue
There are various types of glitter glues available in the market for various projects. They include:
Liquid Washable Glitter Glue
Mod Podge Extreme Glitter
Art Glitter Glue
Glitter Glue Sticks
Glitter Glue Pens
Different types of glitter glues have different applications. For example, two types of glitter glues are commonly used on fabric. Glitter glue with small tips is used for children's craft projects and projects that are easy to complete.
Glitter glue sticks can be used in standard low or hot-temperature glue guns. Hot glue guns should not be used by children as they can harm them. It should only be handled by adults with proper care.
What is Glitter Glue Used for?
Glitter glue that comes in different colors is widely used for craft projects. It is one of the most popular glues for decorating projects as it is easy to use and control. Before you start your project work with glitter glue, let's know about its usage.
Apply on fabric and hair accessories:
Modify your clothes, shoes, and headbands with glitter glue. Take glitter glue and make your accessories more stylish and eye-catching by painting various shapes or designs.
Customize scrapbook projects:
A scrapbook is a book with a set of a lot of memories. Glitter glue is an extra accessory that can make pages more beautiful as your desire. Give it a customized look by creating glitter borders around the edges of a photo or page or decorating it to your liking.
Make elaborate card designs:
You can create a cool design on a card with your glitter glue. When you use a rubber stamp to design your card, be sure to do the gluing on the stamp very quickly.
Decorate wooden frames and wooden clothespins:
Give any plain wooden frame or clothespins an attractive look and make them more sparkle using glitter glue. You can also apply your creativity to most other types of frames by using this adhesive.
Paint rocks and flat marbles:
You can make rocks or marbles more sparkly by using glitter glue. Paint mind-blowing images or designs on them using it.
Decorate flower pots, glass jars, and wine bottles:
You can bring newness to any recycled materials like wine bottles, glass jars, etc. You can also design flower pots by applying it.
Does Glitter Glue Work on Fabric?
Glitter glue works perfectly on fabric. Generally, the mixture of this washable glue is so smooth that it works on the fabric fantastically. This glue is suitable to use on most fabrics. That's why people use it on fabric for crafts and styling.
While choosing glitter glue for fabric, choose the one with clear glue. In the clear glue, the glittery materials will be seen clearly. But if you use colored glue, the fabric will have to color from the glue along with the glitter. This might affect the actual design.
However, using glittery glue on the fabric can be beautiful if you apply it correctly. Sometimes, people think this glue will be removed after washing. But the adhesive in the glue is as strong as other glues. So, there is no chance of removing this glue.
The adhesiveness of the glitter glue also depends on the fabric. Generally, most fabrics will hold this glue because it doesn't need additional sealant. Its features help it to work as a sealant itself. So, if you want to seal a fabric that looks good also, you can use this amazing glue.
Does Glitter Glue Stay on Fabric?
One of the most beneficial features of glitter glue is its excellent adhesiveness. It sticks to the most fabric material; cotton, denim, polyester, and many other fabrics.
Some factors are also considerable on this matter. Generally, glitter glue dries pretty fast. That's why the glue sticks to the fabric surface easily. But you must allow enough time to dry the glue. When the glue is dried, it will stick to the surface strongly.
Dried glitter glue is strong enough to hold on the surface. Even after washing, the glue will not go away. Moreover, you can machine wash the fabric on which you applied glitter glue. If the glitter glue is not expired or is very low quality, it will stay on the fabric.
Some glitter glues might be available that are only used on paper. Though these glues have adhesiveness, you should choose fabric glitter glue for fabric for a better result. So, it remains on the fabric for a long time if applied correctly.
Can You Use Glitter Glue on Fabric?
The purpose of using glitter glue on fabric is to create uniqueness. But many of us have confusion – can it be used on fabric? Well, beautiful pieces of glitter are mixed with clear glue which is known as glitter glue. It has great adhesiveness and completes its purpose properly. So, I can definitely say glitter glue works on fabric.
Due to its durable adhesiveness, it stays on fabric for a longer time. Most of the glitter glues are permanent, but make sure not to wash it soon after applying. However, you can wash your fabric designed with glitter glue after fully dry.
Therefore, you can definitely use glitter glue on the fabric. It comes in different colors and you can apply it to achieve many special designs on the day of a special occasion. It can be applied efficiently on cotton, polyester, and denim. However, you will not achieve a satisfying result on silk.
The 2 Best Glitter Glue for Fabric Reviews
ELMERS E199 Elmer's 3D Washable Glitter Glue
Amazon Basics Liquid Washable Glitter Glue
1. ELMERS E199 Elmer's 3D Washable Glitter Glue
If you want to enjoy a stylish cloth with glue that will add dazzling colors to that piece, then Elmer's glitter glue can be an ideal choice for you.
Check on Amazon
It adds a new level of sparkle to your homemade slime, art working, outlining, gluing, writing, and decorating posters. Moreover, it makes your every project exclusive with its bright glittery look. It adheres well to fabric, paper, foam sheets, craft sticks, and many more.
You get 10 different color pens in every pack of Elmer's washable glue. So, you can easily get many exciting color options together. It's like a blast of colors.
This glue doesn't contain any harmful substances. It's just a little thick. It may be necessary to repeatedly shake the glue bottle and apply considerable pressure to obtain a steady line of glue.
Pros:
No weird odors were added.
Super easy to use and clean up.
A large variety of bright colors.
Cons:
Slightly difficult to control the tube.
2. Amazon Basics Liquid Washable Glitter Glue
Amazon Basics washable glitter glue is non-toxic and efficient for your craft projects. There is no better choice than this one for slime-making and other fun projects. It also works well on fabric, paper, cardboard, wood, etc.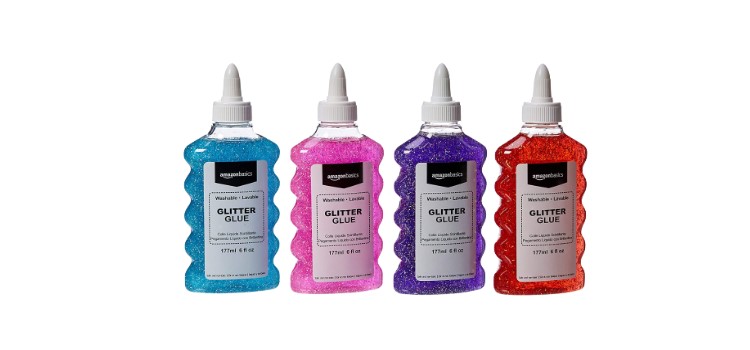 Check on Amazon
This glue is available in 4 different glittery colors. These colors are red, blue, pink, and purple. Each package comes in a 6-ounce bottle. It's designed with a twist-open applicator system.
The package comes in a variety of color combinations and varying degrees of simmer intensity. So, check the color you need and the amount of shimmer in it while purchasing.
Since it is made of non-toxic formula, it's undoubtedly safe to use at home, or on any other craft projects. This glue doesn't have any unpleasant odors that may irritate you. If it imbues your hands or clothes while using it, you can wash it off very easily.
Pros:
Ideal for fabric and slime making.
The excellent adhesive formula works faster.
Non-toxic, and safe for babies as well.
Cons:
A bit thicker glue and requires pressure to use it.
How to Use Glitter Glue on Fabric: Step by Step
Using glitter glue on the fabric like T-shirt can make a special occasion more special. You can create some beautiful designs on fabric, but truly, this is not too tough to use glitter glue. Here is the step-by-step guide.
Step 1:
Select your fabric. Consider its quality, color, and other things that will impact choosing glitter glue. After selecting the fabric, pick glitter glue that will match the fabric and make the design catchy.
Step 2:
Place the fabric on a flat surface. Make sure there is no fold in the fabric. It is better if you place a newspaper first on the surface. This will prevent mess.
Step 3:
It's time to show your imagination on the fabric. You can draw or write something. If you don't prefer to draw directly, make a sketch using a pencil. And then use glitter glue on the sketch. Finally, you will see a great design on your fabric.
Step 4:
It's done. Wait for a certain amount of time and let the fabric dry before using it. Don't wash your new glittery fabric frequently or at least, be a bit more careful when washing.
Does Glitter Glue Dry Clear on Clothes?
Making your craft project stunning is easy when you use glitter glue. But remember it takes some time, effort, and investment as well. So, you might expect a great result.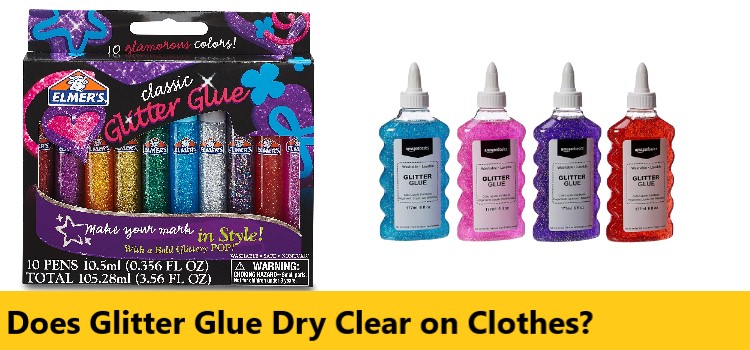 When glitter glue dries clear on clothes, you can see the glitters that enhance the overall beauty. However, all glitter glues don't perform equally. It is better to check the packaging before you buy one.
Most of the glitter glues dry clear on clothes. But some of them are colorful and they will not allow you to view the glitters. So, depending on your expectations, choose clear or colorful glues. In every case, you will need to be extra careful.
How Long Does Glitter Glue Take to Dry on Fabric?
It's difficult to tell the exact time the glitter glue will take to dry on the fabric. It depends on the type of fabric and different glue brands. It may take different times on different fabrics. But it usually takes about 10 to 20 minutes for the glue to dry on the fabric.
The numerous pores in the fabric surface allow the liquid part of the glitter glue to evaporate quickly through them. So, the adhesive agent dries faster on fabric than on any other project surface.
Humidity plays an important role in the drying time of glitter glue. This can frustrate you if you want to dry your project in a place with a high humidity level. That is because a dry area is recommended for this glue for faster drying, not an area full of humidity.
Another cause for the variation in glue drying time is the amount of water in this glue. Different brands make their glue by mixing different amounts of water. For this reason, it may take different drying times in hot or humid areas.
Sometimes you may need to wait for 2 to 4 hours to dry the glue thoroughly. If you apply a thick layer of glitter it will naturally take more time to dry. So, wait patiently until the glue dries completely. It should not be touched at all before complete drying.
If you don't have enough time to let the glue dry on its own, a hairdryer, fan, room heater, etc. can help your glitter glue project dry faster.
Final Words
No doubt, glitter glue can bring a great change to your fabric. But this can only be possible when you know how to do that. The guide above can be handy when you're going to use glitter glue on the fabric.
Choose the right glue and apply that properly. Don't hurry as it can spoil your whole work. Be careful and beautify your fabric with the efficiency and stunning look of glitter glue.