Want to make a customized glamorous feather prom dress or vest to get the most unique outlook but don't know how to attach feathers to fabric? Well, then you have stepped on the right sight. This is one of the most asked questions on the internet. And people actually want to know the answer.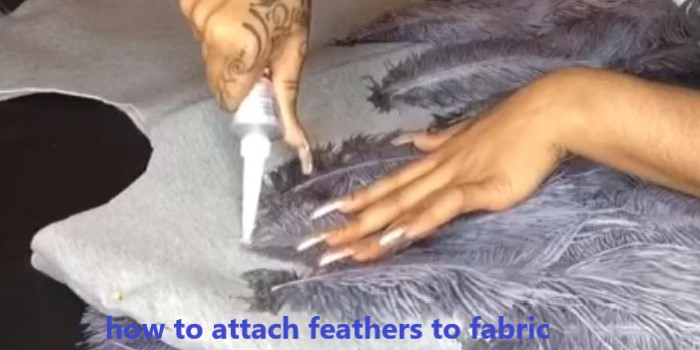 There are several ways to attach feathers to the fabric. Usually, people go for a feather costume where a feather boa is sewn. It is sewn generally onto the lower portion of a costume. But many ask for ways to attach individual feathers to fabric.
Hence, to get you cover, we have come up with all the ways you can pursue to make a feather dress. Let's see how can you attach feathers to the fabric.
How to Attach Feathers to Fabric?
You can glue feathers to fabric. Some feathers are especially sold for costume designing. These feathers work well on fabric. Many intend to use the ones from arts and crafts shops. But these feathers are not suitable for costuming. However, you can attach your desired feathers to the fabric using the following adhesives.
1. Hot Glue:
It is a quick adhesive. Using a glue gun, you can apply the hot glue. It creates a thin layer on the fabric. Also, it is inexpensive. So, if you do not have any problem with heat then you can use hot glue.
Then again, for better result, you can go for glue that will offer more properties for flexibility. According to flexibility, you can choose the following glue for using on fabric.
2. Shoe Glue:
For attaching feathers to fabric, shoe glue is also considered. It comes with a comparatively thick formula. To get a better result use the shoe glue using a rubber roller or brush. So far, the rubber roller has offered more desired results.
Also, the Shoe Goo an adhesive of styrene-butadiene can be used for this purpose for great flexibility.
3. Acrylics or Epoxy:
Resins are also a good adhesive for fabric. Acrylics or epoxy work well since they penetrate the fabric. For extensively strong joints, these resins are recommended. Liquid resins are, however, much easier to apply than thick epoxy.
Nonetheless, a hot melt adhesive is okay to attach the feather part to the fabric. But you will get only one chance to attach it. It is simply because of the strong bond it makes that damages the feather and its quality.
Also, a contact adhesive can help you out with this. It almost works like the hot adhesive one yet it also changes color. Now, if you want to glue the central part of the feather, go for the permanent hot glue.
Tips
You should avoid adhesives that are water-based. These adhesives only mess up and damage the feathers. Getting the pressure-sensitive ones, however, may work well. They are produced based on the resin acrylic. So, if you gently work with it, you may succeed.
Read Next: How to tell if fabric is 100% cotton fabric
How to Glue Feathers Individually on Fabric
Gluing feathers on fabric is a simple process. You just need to get the right feathers and glue. Many people use ostrich feathers to make their prom dresses.
Now, to glue the feathers, take an individual feather and set it on the fabric. Get the best glue and press it on the tip of the feather. Glue the base of the fabric, stem, and some feathers of the upper portion. Then let it set.
When you are done with one, grab another and follow the same process. Make sure you start from the left side and go to the right side accordingly. Also, start it from below so that you get a great look at upper-level feathers overlapping the lower-level feathers beautifully.
Remember that, it is a quick process. So, carefulness is also required.
Tips:
Use enough and right glue to make a strong bond.
Make sure the fabric base matches the feather color.
Cover the glued part of the feather with another feather sticking it on the upper side.
Read Next: Tips on Making Fabric Backdrop
Can You Sew Feathers on Fabric?
Well, sewing feathers is also possible. In fact, it is another good idea of attaching feathers to the fabric. Surprisingly, there are things called feather trims that are sold in the market. People buy them and sew the feather trim bands row after row on the fabric. It is the simplest way possible. You can choose the density of feathers according to your wish as well.
Read Next: Step by Step Guide on Gluing fabric to wood
How to Sew on Feathers on Fabric
Sewing Individual Fabric
Well, to sew individual feathers on the fabric, put the feather on the fabric where you want. Start sewing from the end shaft of the feather. Push the needle with thread from the opposite side of the fabric and run it around the shaft. Repeat the process a couple of more times till it holds the feather to the fabric nicely.
Add stitches the same way in few more places so that the feather doesn't slide away from its place. Keep on doing the same process.
Sewing Feather Trim
Now, in case you do not get the feather trims, you can make them on your own. Just grab multiple feathers suitable for fabric. Also, get a strip of tissue paper with 1/2-inch of width. Arrange the feathers according to the density you want. Remember setting them on the lower part of the strip.
When you are done, put them on a sewing machine. Sew the feathers on the tissue paper gently, carefully, and slowly. If needed, double stitch it for proper attachment. Then you are done making a feathers trim. Now stitch it on your desired fabric in the same way.
Sewing Feather Quills
You can also increase the feathers density. Attach and stitch their quills together. It creates more luxurious and larger plumes than you will get from the natural ones. With a blanket stitch, you can sew two feathers or more together making a lining up of quills. Make sure to use thread that matches the color of feathers.
Moreover, to get lengthy feathers you can also sew them end to end. Then you can again sew them on your fabric.
Wrap Up
There are basically versatile ways to attach feathers to the fabric. But every way will not be suitable for you. Decide why you are going to attach feathers to fabric and then, pick the right way that fits your needs.