A Coach purse is the apple of the eye to anyone; there is no doubt about that! But when it gets dirty, the thing loses its charms!
Well, if you want to maintain the top-notch condition of your handbag, you need to clean it once in a while. As you cannot put it in a washing machine, you've to do everything by hand!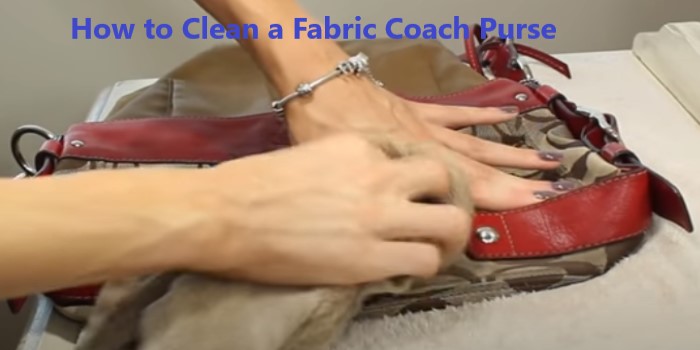 Moreover, you need to learn the proper method as you can damage it pretty easily.
So to help you with the task, I've prepared this quick guide on how to clean a fabric Coach purse to keep it sparkly all the time!
Without wasting much time, let's get into that part right away!
How to Clean a Fabric Coach Purse: All You Need to Know
If you know the right tips and tricks, you can always make your coach purses look like new ones! But when you don't know the correct methods, you may end up damaging your prized possession!
Well, you don't have to worry about that anymore as I am going to tell you how to keep your purses clean and make them look brand new.
So let's get started!
Method One: The Light Cleaning
You can apply this cleaning method when your purse isn't too dirty but still looks rusty.
Pour Some Water:
First of all, you need to take some lukewarm water in a bowl. Make sure that the water isn't too hot; otherwise, it will damage the whole thing in no time.
Dampen Your Sponge:
Now take a sponge to dampen it in lukewarm water. It would be better if you get rid of the excess water to keep your purse safe.
Clean the Whole Thing:
You can start the cleaning process from a corner of the handbag. Carefully rub the sponge all over the purse, including the belt. However, you should go for the bottom at the last moment as this part collects most of the grimes.
And if the bottom is too dirty, you can scrub it with the sponge twice to make it squeaky clean!
Sometimes the purse's fabric comes with a tricky pattern. In that case, go with your sponge in a clock and anti-clockwise motion. But don't put much pressure on just one spot as it can make the area too wet.
Keep it Dry:
When you are done with the cleaning, take a soft dry cloth and wipe the whole purse thoroughly. You have to make sure that there is no excess moisture on the purse's surface. Otherwise, there will be a musty smell developing on it, and you don't want that!
Now keep the purse hanging for a while so it can air dry. In this way, you can ensure that your purse is perfectly crispy!
Read Next: Full Guide on How to Remove Silly Putty from Fabric
Method Two: the Deep Cleaning
So it is time for you to learn the deep cleaning method as you will need to do it once in a while. Sometimes our handbags become too dirty, and that's when this method will be fruitful.
Choose Your Cleanser:
First, you need to determine the cleanser you would want to use to clean your bag. It would be better if you pick a mild cleanser for this purpose.
You can use a baby wash or detergents for delicate clothes to do this task. But never use regular soap or detergents as they are too harsh for your designer collection.
Clean Your Bag:
Now dampen your sponge and apply the mild cleanser to the fabric coach purse. After giving it a few squeezes, you can start cleaning the surface.
Gently dab the sponge on the purse and work on smaller areas. If you attempt to cover a large portion at once, the section might get dried before cleaning it properly. For a better experience, you should clean one side first and proceed to the other one afterward.
Clean it Thoroughly:
While dabbing the surface with the dampened sponge, move it into a circular motion. Work your way through the fabric pattern and remove all the grime that your purse collected.
Remove the Soapy Residue:
When you are done cleaning the spots, it's time for you to get rid of the excess cleanser. Take a piece of soft, damp cloth and use it to wipe your purse.
You have to make sure that you have every last residue of the cleanser as the soap can damage the fabric.
Get Rid of the Wetness:
Now take a dry and crispy cloth and wipe your purse with it thoroughly. There should be no extra moisture on the bag's surface.
Even after running the towel through the fabric, it might feel dampened, and it is alright. You just need to hand the purse in a well-ventilated area so it can air dry.
When it is perfectly dried, you can store it in your closet for further use.
Read Next: Guide on How to Remove Slime from Fabric
Method Three: the Coach Cleaning Solution
Suppose you are too worried about ruining the condition of your favorite Coach purse. In that case, you can get a unique solution manufactured by this brand.
Coach has this specific cleaning solution to get rid of the spots and dirt from their fabric purses.
So if you are willing to spend some extra bucks, you can get these solutions for a better result. As it is an official product, there will be no damage for sure.
Get the Coach Cleaner:
You can get the cleaners online and use them to make your purse brand new.
Apply the Cleaner:
Take a damp cloth and apply a tiny amount of cleaning solution to it. You shouldn't use too much at once as it can create water rings on the fabric.
Moreover, always have to use a white piece of cloth as a colored one can stain your purse. So it's better to be on the safe side.
Get Rid of the Stain:
Now rub the cleaning product on the dirty spot you want to clean. Make circular movements on the stains to clean them properly.
If you have multiple spots, repeat the process from the beginning for better results. When you use the same solution for cleaning more than one spot, you may end up ruining the whole thing!
Furthermore, you cannot clean the whole purse with this specific cleaner as it is made for stains only.
Remove the Excess Product:
Wipe the purse with a clean, damp cloth to remove the extra product from the bag's surface. The cloth may get soapy, and if it does so, you need to rinse it again and repeat the process until the purse is cleaned correctly.
Let Your Purse Dry:
For a better experience, you can dab a dry cloth over the purse to make it dry. Then you can hang it to air dry to get rid of the musty odor.
How to Clean the Lining of a Coach Purse – Everything You Need to Know
Sometimes, you may spill some products on the inside, which may cause a foul smell. Therefore, you need to clean it immediately. Moreover, the linings always keep getting makeup stains; hence you need to learn how to clean the insides as well.
Empty Your Bag:
Firstly, take everything out of the bag and check all the compartments and pockets. As this process involves water, you need to take out all the money and documents to keep them safe.
Start Cleaning:
Now take the fabric inside out and get some soapy water. Then dampen the sponge on it and go through the whole material to get rid of the dirt and grimes.
If there is any stubborn spot, you may need to rub a little hard to remove that. But don't get too aggressive, as you can damage it pretty quickly.
And if you are using regular detergents instead of mild ones, you should be careful while doing that. Because when these regular soaps touch the outer fabric, it will ruin your lavish purse, and you don't want that!
Allow it to Dry:
When you are done with removing the spots, hang the bag inside out in a ventilated area. And make sure that it is perfectly dried before you start to carry it again!
Some Additional Tips and Tricks to Clean Your Coach Bags
Now that you have learned about all the methods you can try to clean your fabric Coach purses, you can follow these tips while performing this task. In this way, you can ensure a better result every time!
When the spot is too stubborn, you can use a damp cloth instead of a sponge. It will provide you with a better grip on the fabric.
Always go for mild soaps or baby wash to clean your bags.
If your purse has a makeup stain, you can try using a gentle makeup remover to clean it properly.
Never soak the sponge or cloth entirely. Always dampen them while cleaning.
You should always avoid products that contain acetone. Otherwise, it will ruin your purse!
Wrap Up
Hopefully, now you've learned the right way to clean a fabric Coach purse to make it look like a new one! These are the safest methods you can try. To ensure top-level maintenance for your exclusive bag, you can use this article as your guide!