What I do is pretty basic – gather the leftover fabric scraps from other items I make and create patches. Then I join them all to make a rather colorful quilt.
However, this method distributes uneven temperature levels at different patch sections. It is because I opted for nonsuitable fabrics at times. So, what is the best fabric for quilt?
There are many options to preserve that patchy appeal without compromising comfort level. Pure Cotton, Flannel, Linen, Minky, Voile, etc., are some of the best choices to consider.
But is this your first time joining the quilting crusade with no assistance nearby?
Then begin the journey by understanding the purpose of the item before reaching the destination. Here we go!
How Quilt Is Made?
Quilting is an old method of connecting multiple fabrics to make a comfortable covering. Some of us use it as a wall hanging too.
When you organize the fabrics, say three, with two exteriors and an insulating interior, it is time to stitch them. Here is how you do it.
First, place all the layers on top of one another accordingly. The insulating part should be in the middle.
If you want to add patch fabrics to the quilt, stitch the pieces on an external fabric in order before laying it at the very top of the middle one.
Mark the design or pattern on the surface if it is plain.
Make sure all edges are equal.
Now pin the entire item in horizontal or vertical rows to hold all layers together.
You can use the basting method to join them together.
Then you can sew the design with the machine or hand, keeping an even length.
The finer the stitching is, the better the quality of the quilt will be.
Lastly, you can sew the binding to the outer raw edges as a finishing touch.
Do You Need Special Fabric for Quilting? Fabric Type
You would not be here reading quilting history if all fabrics were suitable. Nevertheless, I often choose random cloth pieces for patchwork. However, those pieces are attached to a particular fabric in the end.
Therefore, planning to make a warm and puffy quilt will need different materials for a good filling and a bond.
Plus, the fabric should be breathable and relaxing but not too light for the heat to escape easily. So combining fabric layers is the crucial part of quilting.
Let me make things easier for you by stating which materials are better for the project.
Quilter's Weight Cotton: It is most commonly used in the quilting industry and is made of pure cotton and cotton batting. It has a risk of shrinkage, though.
Linen: There are two types – Essex linen and Quilter's linen. The latter is not really linen but 100% cotton. Its texture can fool anyone. Essex linen, on the contrary, is a blend. The fabric offers 55% linen and 45% cotton, assuring an excellent feeling during cold.
Decorating Cotton: It is a fine choice for decorative quilts on walls.
Voile: This version of cotton can be found pure or with a polyester blend. It is lightweight, making it suitable for top layers.
Flannel: It is also a part of the soft cotton family that offers various textures, weights, and fabric mixes.
Minky: You can use it when sewing with a machine. The fabric is great for binding and applique in a quilt.
What Kind of Fabric Is Best for Quilting?
The answer to this question will vary significantly since you have to use three or four different fabrics for each layer. However, many use the same material for all and call it a day.
I find it inconvenient as the quilt at hand might become too light or bulky enough to call a comforter.
How about we categorize the best fabric in terms of layers? That will help you tremendously!
Top Layer
You can opt for Voile, Linen, Minky, Decorating cotton, or simple 100% cotton for this.
They can also be the foundation fabric to attach the patchwork or applique. It is all about the needlework skill and the visual impression the colors deliver.
Filling or Middle Layer
You will need something fulfilling; I mean it as a figure of speech. But you get the gist.
The fluffy layer should be slightly dense to retain heat. It should be able to wrap you around with warmth as you rest on the couch.
So, the batting can be Cotton, Flannel, Minky, Linen, etc., depending on the thickness you wish to achieve.
Backing or Bottom Layer
Honestly, it is a difficult choice at this point because all the mentioned materials make excellent backing.
Once again, it relies on one's preference since only you can be the judge of the convenience you seek.
My favorites are Minky, Voile, Quilter's linen, and Flannel.
What to Check When Buying Materials for Quilts?
I recommend experimenting with various fabrics to understand how each feels. It can be time-consuming and expensive for some serious hobbyists.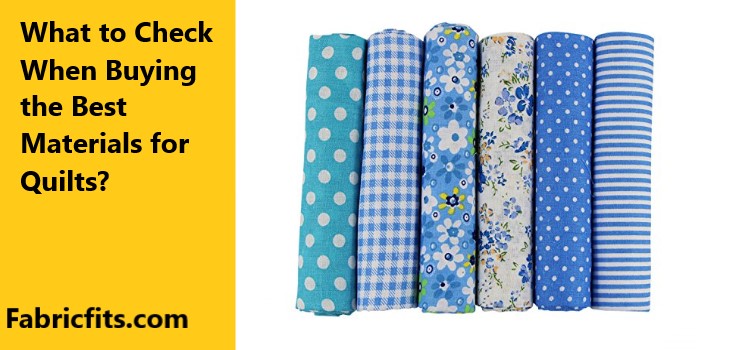 So, let us check on some factors before buying the materials for quilting projects.
Fabric Cuts
This step comes first because you need to understand the measurement terms to make the best out of the fabric.
Fat Quarters
It is a square-shaped piece of material in one-quarter of the yard. The size helps accumulate how many quantities you will require for making a sizeable quilt.
You can even get a fat quarter of each fabric type to experiment with the sewing convenience instead of buying a roll. It is economically reasonable.
Wide Fabrics
You may have to buy a wide fabric to use as backing instead of piecing together the patching. This supports the overall quilt in one go. Just remember to add additional inches when buying the fabric. It is important for edge seams.
Jelly Rolls
As the name suggests, jelly rolls comprise a roll of a similar fabric type with design varieties. You can create beautiful blocks since the roll comes in small strips or squares.
Fabric Type
While pure cotton is one way to go, you can select other options given in the next section. Just remember some properties before choosing it:
It should offer multitudes of colors or prints.
The fabric should be tightly woven.
Make sure the material does not allow noticeable filling.
It must have a stable quality to avert warping or stretching when sewing.
Fabric Weight
Remember that weight is essential in making a quilt, no matter its size.
Nevertheless, it also relies on how heavy you want it. Some favor the lightweight style, while others love the weighty feel.
Besides, the slight heftiness provides better longevity. Ideal cotton weight should be about 4oz./140gsm at each yard. But you can go higher for a nicer finish.
Prewash
I hope you wash all the newly purchased clothes before wearing them. It is the basic instruction of all garments.
Thankfully, no such directions are necessary for quilt fabrics. You can start working right after obtaining them!
The 6 Best Materials for Quilts Reviews
Now the most awaited part – finding the precise one among the best. I am sure you will choose what seems right for you.
1. 100% Cotton
It is everyone's first choice because of the various prints, designs, and color accessibility.
Cotton or quilting cotton ensures comfort and durability while making the stitch work easier to maintain.
Plus, it offers minimal shrinkage unless the fabric quality is low. It can also have color bleeding so try avoiding cheap material if you do not want to be disappointed.
One way to overcome the shrinking issue is by washing it beforehand!
2. Linen
I repeat, go with top-grade value even when it is linen. You can opt for Essex linen, a mixture of cotton and linen.
It tends to offer a superior feeling when you want comfort and breathability at the same time.
However, its open weaving fibers can lead to gathering or unraveling. This may seem like a minor flaw, though later produces further problems when hand sewing.
Quilter's linen is pure cotton but with a linen texture. This is why it delivers better absorbing quality with cooling properties.
It is one of the most popular options for making quilts despite its price.
3. Decorating Cotton
When people search for this fabric online, nothing but a bunch of printed fabric shows up without any information. Let me enlighten you with its texture.
The fabric is pretty versatile in prints, designs, and colors. But it is the satin finish of the cotton fabric that wins over our hearts.
If you want to make an ornamental wall mount quilt or throw pillows, decorating fabric is the ideal pick.
It is also utilized to make regular bags to totes with a hint of contemporary grace. The heavyweight ensures the quilt remains in place without wrinkling.
4. Flannel
Did you know flannel cotton has numerous aspects? It can be light or heavy, printed or solid shades, etc.
However, one quality abides against all the variables. Its texture is always soft. As a result, flannel is an excellent choice for making baby quilts to wrap them adorably.
It is also a perfect choice for keeping by the couch arms, always reachable when needed.
The flannel fabric ensures no color bleeds or fades, so the printed options are awesome examples of creating little quilts!
5. Minky
If you are more into applique designs instead of patchwork, Minky is your ultimate goal. It is heavier while plush to the touch.
Quilt makers use Minky for its durable quality that delivers an ultra-soft and cozy feeling.
It is also a great material for a baby blankie. The fabric will not shrink, so keeping it clean becomes an easier task.
Most beginners might have difficulty cutting and sewing the fabric. Thus, take all the time you need.
One point to note, Minky fabric has different pile lengths on both sides. The front should have more than the back.
6. Voile
This fabric is my favorite type to use as the top layer. Although it is cotton, too, the material has a sort of transparent vibe. It is due to the silky texture with colors.
Thanks to its smoothness, it is softer than other fabrics, making it a lightweight quilt.
If you wish to make a heavier version, I suggest using a different filling or middle layer that has weight. Use voile for the top and backing to give off a comfy impression.
FAQs
What is the difference between cotton and quilter's cotton?
Quilters or quilting cotton holds better standards than regular cotton, even though both are 100% cotton.
It is a lot stiffer than pure cotton and does not need frequent washing. Additionally, it outlasts regular cotton in terms of longevity. But both are prone to shrinkage.
How much does quilting fabric cost?
It can be costly when making a larger quilt. You may have to spend from $5 per yard up to $14. Therefore, the average rate should be about $9.5
Where to buy quilting fabric?
You can buy them online or at the local fabric stores in your neighborhood. Make sure to understand the measurement before purchasing in bulk.
Final Words
I am confident that you will do well, even if it is your first time. Making a quilt is fairly easy despite the time it takes.
It is the fabric combination for the layers you must consider before pairing up. So, what is the best fabric for a quilt? You now have several ideas to work with.
Do not forget to share your quilting experience in the comments below; I would love to admire your finished work!