After investing a lot of money in good quality furniture, it's common for people to worry about keeping the thing protected. A great way to keep furniture away from dust and dirt is by using a fabric protector spray.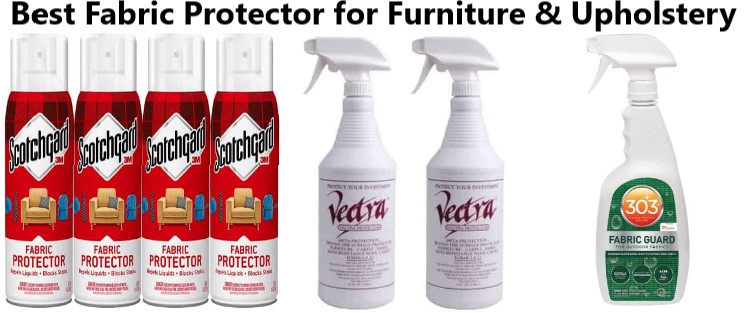 No matter what kind of material your furniture is made with, this concoction will be able to protect your sofas and chairs without any harm done.
With the best fabric protector & upholstery protector for furniture, you don't have to worry about frequent cleaning, high-cost maintenance, or even bug infestation.
After going through thousands of options available in the market, we've selected the top few that are worth taking a look at.
Our Top Picks:
Things to Consider When Buying Fabric Protector
When buying a protector spray for your furniture, you need to keep an eye out for some features. Here are a few that might help you make the right decision.
Ease of Application
Spray bottles are the way to go when buying upholstery protector sprays. Any other method will be a lot messier and more time-consuming.
Check if the spray bottle has a wide coverage. The feature will allow you to spray a wider area in less time.
Wider coverage also ensures even layers. A fine mist spray will stop the protector from clumping onto places.
Ingredients
It might take some time, but you should always go through the ingredients list on a protection spray. As you will be spraying this thing indoors, you need to check if the product has any ingredients that you are allergic to.
Going for pet-friendly and non-toxic sprays is the best option. These are not harmful to the environment and are great for households that have babies and pets.
You might also want to check if the ingredients are compatible with the kind of fabric you are dealing with. The wrong kind of chemical can ruin the fabric and even the wood on your furniture.
Dry-Time
With quick-drying protection sprays, you won't have to wait too long to repeat layers.
Quick-drying also means that your furniture is not wet for too long. If you don't have too much time on your hands, this is the prime option for you. It will reduce the waiting time for a second spray coating.
Color Protection
Most upholstery protector sprays are made with harsh chemicals. Few of these might fade the color of your furniture.
Before investing in a protector spray for your furniture, look for the color protection tag.
Otherwise, this substance might do more harm than any good to your furniture.
To stay on the safer side, spray the protector on a small area of your furniture, preferably on the backside, to see if it fades color. A quick patch test beforehand can save you a lot of money in repairs afterward.
Multi-Purpose
A protector spray that you buy should not only be limited to use on furniture or upholstery. All-purpose protector sprays are great because they can be used on rugs and indoor and outdoor furniture. Usually, these kinds of protector sprays can be used on any sort of fabric as well.
Top 10 Best Fabric Protector Sprays for Furniture & Upholstery Reviews
Choosing the right kind of furniture and upholstery protector spray is vital if you want the proper results. Keep on reading to find out which one might be the right product for your furniture.
1. Scotchgard Fabric & Upholstery Protector Spray
The number one brand that comes to mind when thinking about upholstery sprays is Scotchgard. They have been in business making the best fabric & upholstery protector for years now and have gained a huge fan base; rightfully so.
The product at hand is great at protecting your furniture from water damage. Even if something spills on your couch, the liquid won't touch the fabric. So clean up is much easier.
Besides using the spray on furniture, you could also try adding the fabric protector to shirts, curtains, ties, or pillows.
The gentle formula of the protector enables you to use the product on delicate fabrics such as wool and even silk.
Pros
Can be used on pillows, curtains, shirts, and ties
Compatible with delicate fabric such as wool and silk
Adds a waterproof layer to prevent stain
Easy to clean
Needs only one coat
Cons
Verdict
A very safe bet; spray provides water and stain protection with just one coat. Also, a must-have product if you want to protect the woolen fabric.
Read Next: Fabric Shaver Options for Sweaters & Clothes
2. Vectra 2-Pack Furniture, Carpet, and Fabric Protector Spray
Vectra is one of the safest brands to go for if you want to avoid color fading. The combination of ingredients promotes fiber strength in your furniture. Even after repeated coats, there is no significant change in the appearance of the fabric.
The mist is fine and has a wide coverage. So coating your furniture is fast and easy.
Adding the fabric protector spray makes the fabric water and abrasion-resistant.
Even if you clean your furniture quite often, the spray does not lose effectiveness. But to get this, you have to clean the furniture as directed. No harsh cleaning liquid should be used.
Pros
No color fading
Promotes fiber strength
Fine and even mist with a wide range
Remains effective even after a thorough cleaning
Helps increase the lifespan of furniture significantly
Cons
Cannot be used with synthetic suede
Verdict
Great upholstery protector if you want to avoid color fading, add fiber strength, and abrasion resistance.
3. 303 Fabric Guard Outdoor Fabric Protection Spray
Suitable with most kinds of fabric, the 303 fabric guard is a safe and protective layer that you can add to your furniture to increase durability.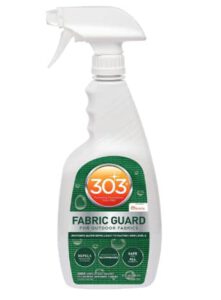 The fabric protector has no odor and can be sprayed indoors with proper ventilation. You can also use the spray on outdoor furniture.
Hard to coat fabrics such as suede and velvet can also be protected.
Because the product helps your fabric breathe there is no harm done to the originality of the furniture.
Add fine coats to achieve oil and water resistance. This helps keep your upholstery dry and stain-less.
Pros
Increases upholstery durability
Can be sprayed on suede and velvet
Keeps fabric dry but lets it breathe
No odor can be sprayed indoors
Adds oil resistance to fabric
Cons
No protection against UV damage
Verdict
Usable on suede and velvet, the upholstery projector spray can add oil resistance. A great product that lets the fabric underneath breathe.
4. Guardian 16oz Fabric Protector
Water-based upholstery and furniture protector sprays are known to be better for the fabric. They allow more air-flow keeping the fabric underneath fresh as a daisy,
You can add this spray to any fabric with a textile surface that can be cleaned with water. With the protector added, you get alcohol, oil, and liquid stain protection. So if you have a couch or chair that you like eating on, this is the fabric spray protector for you.
Stains on top of the repellent spray layer can be cleaned easily with a damp cloth.
Pros
Water-based spray for better breathability
Adds alcohol stain protection
Repellant layer is easy to clean
Compatible with any fabric surface that can be cleaned with water
One bottle goes a long way
Cons
Needs to be sprayed outdoors
Verdict
One of the best water-based protector sprays for your furniture that gives protection against alcohol stains. The product is cost-effective as well as one bottle can be used on multiple large pieces of furniture.
5. Nano Tex-10 Textile and Fabric Protector for Car Seats, Furniture, Sofa, Carpets, Clothes
Eco-friendly options as such are a must-buy if you care about the environment. As the product is water-based and has pure nanoparticles, the protector spray is gentle on pets as well.
Add the spray to clothes, ties, woolen clothing to add UV protection. Even with extreme heat, the solution won't melt off.
With wide coverage of 7.5-30 square feet, you can make your furniture fabric, upholstery, and clothing stain-resistant in just a few minutes.
A paper towel can be used to clean the surface after the protective spray has been added to remove dust.
Pros
Eco-friendly and gentle formula
Pet-friendly
Covers 7.5-30 square feet area
Dust can be cleaned using a paper towel
Provides UV protection
Cons
Verdict
If you can get over the smell, this is an amazing protective spray that is pet-friendly and provides UV protection. It's also time-efficient because of the wide spray range.
6. Scotchgard Fabric and Upholstery Protection Spray
If you want to go for a budget-friendly option, then the Scotchgard upholstery spray might be a good option.
With this spray, you won't have to re-apply the protector too often. The thick layering of this spray can protect against hard to remove stains and scratches on your couch for almost 8 to 9 months.
The greatest part of this spray is that the formula does not have any ozone-depleting chemicals. So it's a budget-friendly option that is also good for the environment.
Pros
No ozone-depleting chemicals added
Wool–a friendly formula
Lasts for about 8 to 9 months
Does not need frequent reapplication
Most budget-friendly choice
Cons
Cannot be used on outdoor furniture
Verdict
The protector spray will work great on indoor furniture made of any sort of material. Non-toxic formulas as such as great if you want to do better for the environment.
7. Kiwi Camp Dry Performance Fabric Protector
Kiwi Camp upholstery protector can be used on coats, fleeces, gloves, light-colored boots, ski pants, and even tents and outdoor furniture.
Because the formulation is so mild but effective, you can add the spray on almost any material without worrying about damage.
Unique weather protection also keeps your furniture from getting too damp in humid temperatures. This keeps furniture from getting moldy.
If water spills on your furniture after the spray has been added, it will bead up and fall off. The fabric of the furniture absorbs no water.
Pros
Can be used on a variety of items starting from gloves to tents
Protects furniture from getting moldy
Water beading system liquid protection
Does not make fabric stiff
No lingering smell
Cons
Nozzle might malfunction at times
Verdict
This thing can practically be sprayed on anything. With weather protection and an anti-stiff formula, you will love this if you live in a humid area.
8. Bayes High-Performance Fabric Protectant Spray for Indoor & Outdoor Use
Water-based upholstery sprays like the Bayes one are better for your furniture. They do less damage and work great.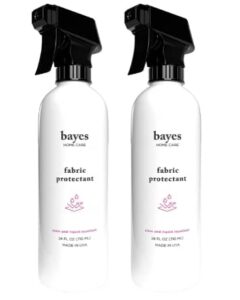 Because there are no petroleum distillates or acetone, you can spray your furniture indoors.
Made with an innovative polymer design, the upholstery & fabric protector spray keeps oil and water stains away from your furniture.
So if you often spill juices or drinks on your couch, this spray will protect your furniture from getting permanent stains.
The bottle that the concoction comes in is recyclable, and the product is cruelty-free as well.
Pros
Comes in a non-aerosol bottle
Cruelty-free product with the recyclable container
Polymer design helps protect furniture from oil and water-based stains
Acts as a sunscreen for your furniture
Water-based safer formulation
Cons
Verdict
Available in a recyclable non-aerosol container, this model is a great ecological option. You might have to adjust to the strong smell, though.
9. Guardsman Fabric Defense & Upholstery Protector for Microfiber, Rugs, and White Sofas & Couches
Not only does the Guardsman Upholstery protector help save your furniture from stains, but it also helps make the furniture look new.
Spray the furniture and upholstery protector on top of old furniture to add back life and vibrancy.
There are fewer harsh chemicals in the concoction. Use the spray on furniture that is old without fear of the fabric fraying or disintegrating.
When buying the protector, one thing to keep in mind is that it does not provide any UV protection.
Pros
Adds back vibrancy to old furniture
Sprayable on really old furniture without fear of disintegrating
Easy to use an aerosol spray can
Quick 2-4 hours dry time
Can reduce the appearance of old stains
Cons
Cannot be sprayed on leather or outdoor furniture
Verdict
Besides adding protection against getting more stains, this unit helps reduce the visibility of existing stains. Aerosol spray can and 2-4 hours dry time helps you get the job done quickly.
10. Stir Technologies Extra Strength Fabric Stain Protector Spray For Furniture, Upholstery, Suede, Couch, Sofa, and More
Made with quick-drying technology, this upholstery protector spray is great if you are short on time.
The sprayed layers dry completely so that there is no tackiness. This prevents dust and dirt from sticking to the surface of the furniture.
Three finger grip on the bottle along with the quick spray nozzle results in quick and even coats.
The main ingredients being water and fluorinated polymer, the upholstery protector is non-flammable and safe to spray indoors.
Pros
Dries with no tackiness
Does not hold on to dust or dirt
Main ingredients are water and fluorinated polymer
Three finger grip on the bottle for ease of application
Safe to be used on leather
Cons
Requires multiple layers to get full coverage
Mist is not fine and can result in clumps
Verdict
Non-flammable protector sprays as such are safer to use indoors. A simple and easy-to-use fabric protector spray that does not attract dust.
Frequently Asked Questions
How often should you re-apply furniture and upholstery protector sprays?
For full protection, it is suggested that you re-apply the furniture protector spray every six months. You can adjust this time depending on how frequently the furniture is used. Furniture that is used occasionally can be re-sprayed every 8-10 months.
How long will a typical protector spray for furniture take to dry?
This length of time depends on the humidity and temperature of the region you are in. But typically, a coat of protector spray should take about 2-6 hours to dry completely.
Quick-dry protector spays might be ready for a re-coat much quicker than that.
Are our furniture and upholstery protectors waterproof?
Most of the furniture and upholstery protectors are waterproof. This is so that the actual fabric on your furniture does not get any stains. Waterproof sprays provide full protection to your furniture from leakage and spillage.
Waterproof sprays are also easier to clean.
If needed, non-waterproof options are also available for purchase.
How to use furniture and upholstery protectors?
Usually, these come in spray bottles. To get the best results, hold the spray bottle at a distance from your furniture. Spray in even and thin coats. Let the first coat dry completely, and then repeat as needed.
Can you use furniture and upholstery protectors sprays on suede fabric?
There are special options available that can be used on suede, velvet, and carpets. Check the ingredients and the material compatibility of furniture and upholstery protectors beforehand to be sure.
Final Words
Maintaining or re-purchasing furniture can take a huge toll on your wallet. The best fabric protector & upholstery protector for furniture will save you from this setback. If the right product is selected, these sprays can highly increase the longevity of your rugs, furniture, and even mattresses.
Not only does it save your furniture from getting stains, but the protector can add a waterproof layer and also get rid of bugs.
Want your furniture to last way past its lifespan? Treat it with the right fabric and upholstery protector spray!