Nobody can ensure the stability of the contemporary market. The price of commodities is rising from high to higher day by day. It has become tough to remain within the budget even when we want to buy fabric. Thus, the pricing of fabric becomes a significant matter to us.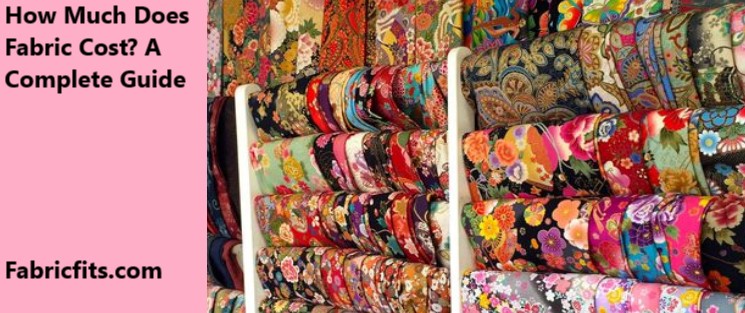 Now you may ask, how much does fabric cost? Well! The average cost of fabric is $30-$60 per yard. It can be more or less depending on the factors. Besides these factors, the same unit may vary at different stores.
In this article, I have enclosed everything related to fabric cost, and how it differs. Also, you will learn who sells the fabric at their specific price.
How Much Does Fabric Cost?
It is not just a random question but rather crucial to people dealing with fabrics. It has an enormous impact on the sewing or clothing business. The cost of fabric depends on some factors starting from material collection to production. You can purchase the fabrics or fabric materials by the yard or the bolt.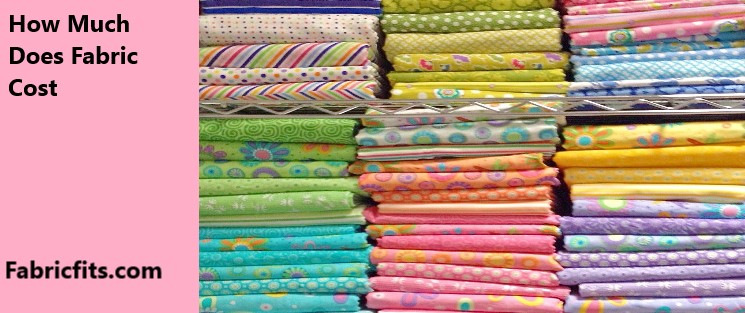 Fabric type, availability, weight, quality, production phases, and colors are major factors determining the fabric. The cheapest fabric is available at only $1 per yard. You can purchase these fabrics as bolts too.
A bolt of fabric may contain 100 yards of fabric on average. Some bolts have 60 yards or vice versa. Usually, the wholesalers sell the bolt to customers who run bigger projects rather than just sewing.
Some expensive fabric like Vicuña wool costs almost $3800 for only 500g fabric material. So, all it depends on how the fabric is collected and processed.
How is Fabric Priced?
I have already shared a couple of factors that impact fabric price per yard. Those factors work when the fabric is already produced. But at the production stage, the raw material cost, size, useful chemicals, machinery, etc. affect the price. Below I have discussed all these factors that define "how is fabric priced?".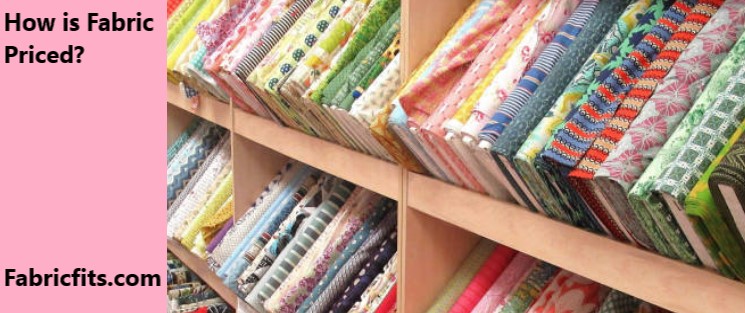 Raw Materials for Fabric Production
Crafting fabric needs raw materials like fiber, threads, yarn, and others. Raw materials share the largest portion of the total price of fabric. According to many fabric experts, almost 2/3rd part of the total cost goes into arranging and buying raw materials.
The sourcing and quality have an impact on fiber cost. You may find some names of fibers like cotton, linen, polyester, silk, and wool. Among them, cotton is more affordable as you can get it at more places in larger quantities than others. Alternatively, silk fibers are less available, which raises the cost more.
Fiber or yarn count also decides the fabric cost. Finer fabric counts cost you more as they increase the whole production cost to produce more fabric and its strength.
Size and Dye of Fabric
If you visit the factory, you may know that fabrics need to be perfectly sized to dye them properly. If you visit the factory, you may know that fabrics need to be perfectly sized to dye them properly.
Sometimes the experts adjust the fabric width for massive fabric production. It helps to save money for dyeing wider fabrics than lengthier ones. But you need to keep in mind that there is still money required to dye fabrics.
Fabric dye also depends on the weight of the fabric. Comparatively, heavy fabrics are expensive as they need more quantity of dye. On the other hand, the cost of dye reduces when the fabric is lighter.
The dye type is also there to measure the fabric cost. Dark-colored fabrics cost more than light-colored ones as they need more time during operation. Even, the manufacturer may need to use more dye. Additionally, some unique colors of dye may be a factor in this criterion.
Cost of Production
During fabric production, the manufacturers use different machines and tools. Running and maintaining them is also the reason why fabric cost changes.
Mostly, the factories use spinning and weaving methods to make the fabrics. To conduct these methods, the machines need to be kept turned on. So, the run, repair, and maintenance cost of these machines is included in the fabric.
Miscellaneous Factors
Rare fabrics use more hard-to-find resources. It even takes increased time to harvest. As a result, the cost of these fabrics becomes higher.
Some unique patterns of fabric may be a factor in determining the fabric cost. Creating the patterns requires more investment.
In some cases, higher quality fabrics may also impact the cost of fabric. Designer fabric is a great example of it.
Impact of These Factors on Retail Prices
From one hand to another hand, this is how we can purchase the fabric. During the changes of hand, the cost of fabric changes (mostly increases). Considering the retailers, they must pay for the fabrics that buyers can buy.
The earlier-mentioned factors can control the retailer price of the same fabric. After all, the manufacturer and retailer both do business for money. It is obvious that manufacturers demand more money than their actual production cost.
In the same way, affordable or less expensive fabric at retail shops gives the idea that they cost less during production.
How Much Does a Yard of Fabric Cost?
You have already known, there are some obvious factors to fluctuate the cost of fabric. So, it is tough to answer what can be retailer or manufacturer cost of fabric per yard. Especially, the retailer's price changes more frequently depending on the factors.
However, if you want to buy upholstery fabric, the average per yard cost is $30-$60, and $10-$20 for the cheaper quality fabric. For unique pattern fabrics, you need to pay 2-3x more than regular fabric. These designer fabrics are valued at $100-$200 per yard.
Price varies at retail shops. But in most cases, common fabrics such as cotton of good quality may cost $7-$20 per yard.
How Much Does 2 Yards of Fabric Cost?
The cost of 2 yards of fabric can vary widely depending on several factors. The primary factors influencing the price include the type of fabric, its quality, and where you purchase it.
In general, basic cotton or polyester fabrics may cost around $5 to $15 per yard, so 2 yards would range from $10 to $30.
However, more luxurious or specialized fabrics like silk, wool, or designer materials can cost significantly more, ranging from $20 to $100 or more per yard.
It's essential to check with fabric stores, online retailers, or local suppliers for specific pricing on the type of fabric you require.
How Much Does 4 Yards of Fabric Cost?
The cost of 4 yards of fabric can vary widely based on several factors such as the type of fabric, its quality, and where you purchase it.
For basic cotton or polyester fabrics, you can expect to pay around $5 to $15 per yard, resulting in a total cost of $20 to $60 for 4 yards.
However, more specialized or luxurious fabrics like silk, wool, or designer materials can range from $20 to $100 or more per yard, making 4 yards potentially cost between $80 to several hundred dollars.
It's essential to check with fabric suppliers or stores for precise pricing on the specific fabric you need.
How Much Does Cotton Fabric Cost Per Yard?
Several factors work behind the cost of cotton fabric per yard. Among them, quality, quantity, color, design, pattern, etc. are the main reasons to differ the values. The same cotton fabric may even cost differently at versatile stores.
It's hard but possible to get cotton fabric for only $1 per yard. But like I said it's hard, you may find the regular price. Some stores sell cotton fabric at $3-$12 per yard. Some others may cost $5-$20, depending on the factors.
Traditional cotton fabric costs less than organic, higher-quality fabric. It depends on the market conditions and way of production.
How Much Does Silk Fabric Cost Per Yard?
Silk is a soft, natural fabric material. You may see models, and actors wearing dresses made of silk. Using silkworms, these fabrics are produced. Most probably, the first production of silk fabric happened in China, considered a high-quality fabric.
It costs sufficient money for silk production yet it is natural. Generally, 1lb. silk is produced using 2000-3000 silkworms. After collecting the fibers, the collector weaves or knots them together. Thus, we get the silk fabric. You may get several forms or versions of silk. Chiffon, crepe, and organza is my favorite silk fabric.
You can purchase raw fabric at $10 per yard. If it is woven well, it may cost $5-$65 per yard. Chiffon costs $5-$10; Dupioni costs $13-$20 per yard on average.
How Much Does Upholstery Fabric Cost Per Yard?
Our mentioned factors work the same for buying upholstery fabric per yard. You may know that upholstery fabric has better thickness, durability, and variations. So, the price can go higher than regular fabric materials.
The popular shop named One sells its upholstery fabric at $30-$60 per yard at its outlets. If you prefer premium designer fabrics, you may need to pay more. For more than 5 yards, you may need to count a lot of money. However, the cheaper version may range from $10-$20 per yard.
How Much Does Sunbrella Fabric Cost Per Yard?
The sunbrella fabric costs $25 per yard at some retail outlets. The same thing may appear with discounted prices from online sellers. Some other online shops may sell at $40 per yard depending on the width of Sunbrella fabric.
Amazon, the worldwide popular market, sells a 3-yard Sunbrella at $23. But it can change over time and depend on the factors.
How Much Does Satin Fabric Cost Per Yard?
Satin is also the standard choice for many of us. It is a man-made fabric material. Any manufacturer can produce them in mass quantity. Therefore, items made with satin look elegant and attractive.
It may look pricey but actually, it's not. It is within the budget range. The cost of satin fabric can vary from store to store for quality variants. Walmart sells satin fabric for $3-$40 per yard. Mood Fabrics sells satin for $22 per yard. On the other hand, Amazon also sells for $25-$40 per yard on average.
How Much Does Fleece Fabric Cost Per Yard?
You can buy Fleece fabric material starting from $2 per yard at online stores with a discount offer. But for better quality, you need to pay a bit better.
The offline market displays $3-$10 per yard of Fleece fabric. You can get it at Joann's at this price. However, you always have the opportunity to justify the best, most affordable Fleece from the shops.
How Much Does a Bolt of Fabric Cost?
You can get the fabrics in a bolt. By bolt, you can purchase 100 yards of fabric.
Fabric bolts are preferable to people who aim for a large sewing project. It is also in the preference list of people who want to make multiple items with the same item. All they buy is fabric in bolt form because the bulk amount of fabric is more affordable. Retailers can make more money when they sell fabrics individually.
The mentioned factors and types of fabrics affect the price of a bolt of fabric.
Some famous retailers like Joann Fabrics and Walmart sell their fabrics as a bolt. But you can see the difference when you buy any fabric from them.
For example, Walmart offers its customers a 25-yard bolt of Tulle fabric for $2.50. it can go higher (like $100) if you buy larger bolts.
Customers can also buy fabric bolts from wholesale shops. Likewise, the bulk quantity of fabrics is cheaper and sometimes available with discounts. You may not get the privilege of buying the fabrics individually.
Where Can I Buy Fabric?
The modern world is moving towards online marketing where you can deal with a couple of clicks. Fabric materials are also available for online shopping. However, the below companies are popular sellers of fabric products and materials: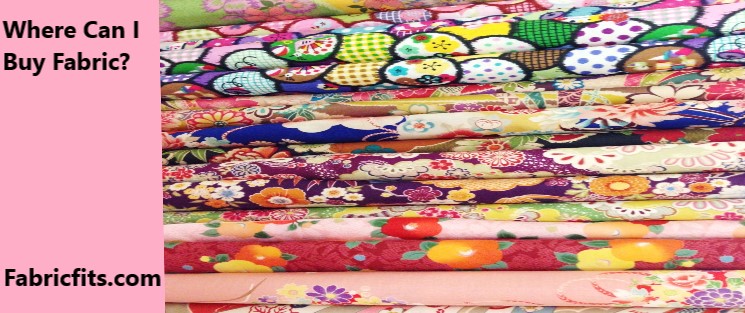 Fabric.com has a rich library of fabric materials at affordable prices. You can pick them by filtering them with color, type, application, and theme.
Joann Fabrics offer online and offline shopping. You can surf their library of fabrics. They are divided on their theme and types. Indeed, they sell lovely, selected quality, and cheaper fabrics.
Minted sells different fabrics besides stationery, cards, and print items. Freelancer designers work on designs of these goods. You can choose fabrics based on their color and other features.
Mood Fabrics operates from NYC, yet you can buy fabric from your residence via online shops. They have a wide spectrum of fabrics, from cheaper ones to exclusive designer fabrics. You can purchase high-quality fabric at a cheaper price.
Organic Cotton Plus works on natural, eco-friendly fabrics. It is a sister company of one of the cotton farms in Texas. You can find pure fabric material here as the farm is certified organic. Woven, knit, hemp, wool, silk, etc. fabric items are available at this shop.
Spoonflower offers custom artist fabrics to its customers. You can also avail of seasonal fabric offers. The price may be a little higher than other shops but you get eco-friendly products. Additionally, the company offers a sample pack to justify the quality.
Walmart is an independent online shop where you can buy anything that you use in your regular life. 3rd parties sell the fabric materials you get here. But the cost can please you easily with fabric variations.
How Much Does a Yard of Fabric Cost at Joann's?
I have already told you about Joann's. They sell fabrics from cheaper ones to premium ones. Typically, the cost of a yard of the fabric remains $5-300.
You can select the fabric by filtering to their categories. These categories can be fashion, apparel, quilting fabric, and some others.
The cost of fabric from these categories may be a bit higher than others. A simple example would be the fabrics for curtains. You need thicker fabrics for curtains than clothing fabrics. So, you have to pay more.
How Much Does a Yard of Fabric Cost at Hobby Lobby?
You can save your wallet if you buy fabric at Hobby Lobby. This company follows strict policies, yet they are beneficial to the customers. You can check out their website for practical knowledge.
An average Hobby Lobby fabric may cost $7 per yard. It may increase or decrease on the type of material you desire. In some cases, you can pay $20 for premium designer fabrics per yard.
How Much Does One Yard of Fabric Cost at Walmart?
Fabric material per yard may cost $2.9-$15 per yard at Walmart. Some seasonal offers like summer clearance may cost less than the year-round price. You can also buy 3rd party fabric from Walmart. But the price may vary.
You can check different categories of fabrics at their online store. Filtration like material, size, pattern, and brand helps the users a lot to find the perfect one. It includes categories like fabric names such as polyester, cotton, and others.
How Much Does it Cost a Yard of Fabric at Michaels?
Michaels offers fabric with versatile categories from cotton to licensed & character fabric (their unique product). You can filter the categories by fabric types, color, brand, rating, and so on. Still, you have your freedom of choice to pay for fabric per yard.
The cost of Michaels's fabric per yard starts from $1.99. The exclusive items may cost a bit more. You can check the latest offer on their website.
What is the Most Expensive Type of Fabric?
The rarity, types, production, and other factors set the price of fabric. Apparently, expensive fabrics are easier to find than cheaper ones. This is because cheaper fabrics have a wider spectrum of choices.
The below fabrics are the most expensive according to the market:
Vicuña Wool
Have you ever heard of Vicuña wool? It costs the highest amount of money than other fabrics. Generally, it costs $3800 to buy below 500g of this rarest wool.
Vicuña is a rare animal in South America, close to animals like llamas and alpacas. The coats of these animals grow slowly (like three years), making the wool very expensive. Also, they are tough to catch for collecting wool.
Guanaco
Guanaco is another rare, protected animal like Vicuña. They are endangered animals harvested for collecting precious coats. The wool collected from Guanaco is very expensive due to its finer quality. Also, it is so soft to the touch, like Cashmere. But it provides extreme warmth.
A retailer like Alpaca Collections has products made of these wools. They sell a scarf made of this fabric for below $2000 at the Alpaca Collections store.
Mulberry Silk
Silkworms are fed on mulberry leaves. Thus, mulberry silks are made through industrial processes. These silks are mostly refined fabrics having natural and hypoallergenic quality.
Due to these factors, Mulberry silk is also expensive to buy them. Usually, Mulberry silk costs $60 per yard.
Fur
You can find versatile types of fur coming from different animals. Among all, leopard fur is the most luxurious version. But the leopard is an endangered animal. Also, it is illegal to sell them.
Some other popular fur types are chinchilla and mink fur. They offer premium quality, yet hard to deal with them. In this case, chinchilla fur has more popularity for its softness. When you want to buy a chinchilla coat, you may need to pay a lot, like $100000.
Cashmere
Cashmere goats are found in the Himalayan mountains of Asia. The low temperature of this region causes these goats to grow thick fur. Therefore, the cashmere fur is collected from these goats.
The softness of cashmere fur can give flexibility of wear. Besides the softness, the rarity of the fur raises its price. People say only 200g of fiber can be collected from one goat per year.
What is the Cheapest Fabric Material?
Let us talk about the most affordable fabrics. Cotton and polyester remain atop the list. Their availability and easy production offer more purchases and versatile uses. However, the way of production may differentiate their quality, probably lower than others.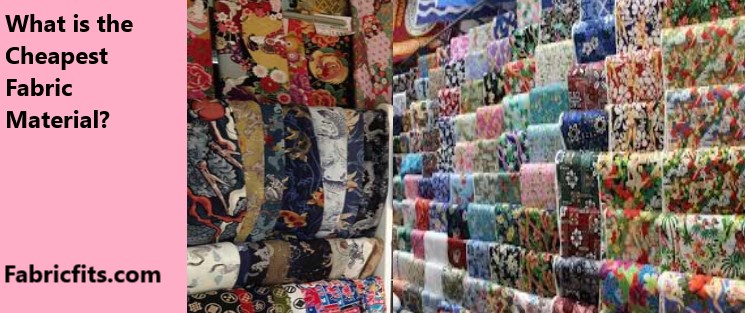 Below are some cheapest fabric materials that you can find at any store:
Cotton
The fabric industries are known for two common forms of fabrics. You can find both traditional and organic cotton to make clothes and vice versa. Price mostly fluctuates for the way of growing cotton.
Traditional cotton is cheaper than its organic counterpart. Industries use machines to collect traditional cotton. These machines help to gain faster and better performance. However, there is a risk of damaging the fibers and lowering the purity using machines.
The cotton fields lose the soil quality over time as the cotton is grown in the same field again and again. Sometimes, chemicals and herbicides are applied to grow kinds of cotton faster. But they can reduce fiber quality. So, you need to pay less.
Organic cotton has better purity as they are collected manually by hand. Fibers almost remain intact for manual collection. These fibers are usually longer, softer, and more durable than traditional fabric.
No chemicals or herbicides are applicable in organic cotton cultivation. Also, the farmers use different lands to grow this cotton every season. These are why organic pieces of cotton are a bit pricey, better quality, and softer than prior ones.
Polyester
Who doesn't know about polyester fabric? It's getting more popular day by day. It is very much affordable to produce using coal, oil, and water. Basically, it is one kind of plastic that manufacturers produce automatically.
These artificial fabrics are easy to produce within a shorter time. So, the cost of polyester is relatively lower.
Final Verdict
Many men, many minds!
Perhaps, the same proverb goes for fabric cost. You can see there are lots of variations when you want to buy fabric materials. They vary from shop to shop, price to price, color to color, and production process.
I have tried to cover everything relevant to how much fabric costs. You can now buy the cheaper or exclusive one for your sewing project. I hope this article will assist you a lot.