Making pillowcases sounds interesting. And at the same time, it's the most effortless project to take if you're new to sewing. You can go with multiple colors and patterns of your own choice.
Designs and colors are fun. But what makes this exciting task hesitant is the first question that usually pops into the mind of any sewist. You're sure to fear whether you've cut enough material for your pillowcase or not.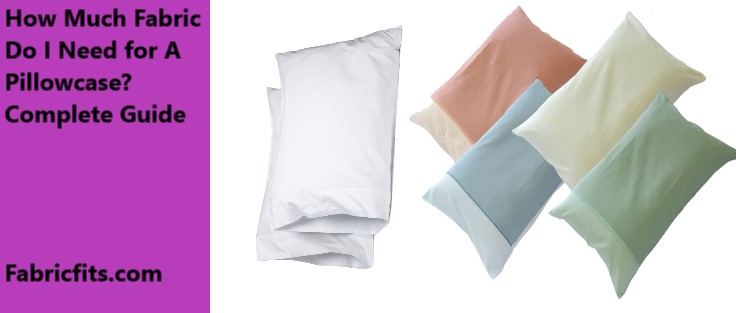 Hence, how much fabric do I need for a pillowcase? Well, around ¾ and 1- ½ yards of fabric will work to perfection to make a pillowcase in case the fabric is 45 inches wide. No matter how tiny or big your bed size is, any size pillow won't look good unless the pillowcase fits your pillow perfectly. That's what causes the need to know your fabric need before any purchase.
However, certain factors may cause your fabric quantity to go up or down. If you're looking for an exact amount, my friend, it depends on your bed size or pillow size preference. That's why for each size, I bring you our yardage calculator to solve your material riddle.
Let us cut out your calculating hassles and help you make a pillowcase that fits your pillow!
How to Measure Fabric for Making Pillowcases?
When you're trying to make a pillowcase, your first task is to measure your pillow. It's because this way you can estimate the amount of fabric you're going to need. Here I break down the steps to measure material for pillow cover making:
Step 1:
Make sure your pillow fill is evenly stuffed and fluffed up.
Step 2:
Next, you need to note down the total dimension of your pillow.
Step 3:
Hold a measuring tape or any other device. Go beneath the pillow. Then wrap it a bit loosely from one end to the other.
Step 4:
To get the fabric requirement for one side, divide the total measurement by 2. So you get measurements for both the front and the back.
Step 5:
Add an inch extra to the total dimension for seam allowances. That means half an inch more for both sides.
That's it! Now, supposing that you want your figure in terms of yards, we'll add one more step. All you need is to divide the figure by 36. And you get the amount of fabric in terms of yards you're going to need.
Make sure you take both sides' measurements at once. For that, you can snug up the measuring tape at a balanced point that is neither too tight nor too loose. If you hold it too tight, your pillow cover will turn shorter. But too loose a measurement will make it baggy and unfitting.
How Much Fabric Do I Need for A Pillowcase?
If you measure a standard pillow, you'll see it's 20 inches wide and 26 inches long. But while making a pillow cover, the exact pillow size doesn't count. Instead, you need more than twice the fabric.
So, the standard measurement for a pillow should be about 22.5 inches in width and 31.5 inches in length. It'll adjust the fill depth and seaming. However, it's better to keep 4 inches extra for hemming.
Thus, we've figured out that 1 yard of fabric having 45 inches of width works ideally if you're making a standard-size pillow cover. For that, you've to preshrink your cloth by washing and drying them.
In case you let slip the preshrinking part, take around 2 inches of fabric more. But if you're going for other pillow cover sizes, the fabric quantity will indeed differ.
Let's keep you on the safe side, no matter which size you prefer for your pillowcase. About ¾ and 1-½ yards of fabric will be enough to make a pillow cover if your material is 45 inches wide.
Read Next: Guide on how much fabric for quilt
How Much Fabric for A King Size Pillowcase?
A king-sized mattress or bed allows enough legroom for all. And for such a bed, you're sure to need a king-size pillow cover to match. It might be for your bed or a lavish gift.
Now to make a king-size pillowcase, what must be your fabric requirement? Well, I know it right, so don't worry. For this, all you need is 1-½ yards of fabric that is 45 inches wide.
With that much material, you can make a pillowcase measuring 20 by 36 inches. But for a 20 by 40 king-size pillow cover, 2.5 yards sounds ideal.
However, I suggest buying 10% more fabric. It's because, when you go for pre-washing, it may shrink. Now you can adjust the yardage based on your fabric width.
All pillow covers are pretty standard. Hence it doesn't ask for any modification. But if you're allergic or an asthma patient, you better pick hypoallergic material for your cover.
How Much Fabric for A Queen Size Pillow Case?
Yes, you know, right? The queen-size pillowcase is a bit smaller than the size known as the "King." Now you must be curious to know about the fabric amount for such one pillowcase.
So, in case you're making a queen-size pillow cover, you can purchase 1-¼ yards of fabric that is 45 inches wide. It'll give you a 20 by 30 inches queen-sized pillowcase.
Don't skip washing and drying the material prior to cutting it for your pillow cover. It'll help you to pull out the filler. Next, it's a must to preshrink your material.
You better use the width of the fabric and cut about 40 inches along the length for one such pillowcase. In 30 minutes, you're sure to sew a queen pillow for yourself at ease!
How Much Fabric is Needed for A Burrito Pillowcase?
If you're a sewist and love to sew, nothing seems more exciting than making a burrito pillowcase for you. You're sure to notice these are smaller than the standard size or regular pillow covers.
To make a burrito pillowcase, what you need is ¾ yards of fabric for the main pillowcase. We're considering a 9-inch long material with any width. Add ¼ yards for your cuff fabric.
Mark that you're not going to need more than one yard of fabric for this pillow cover. If you're okay measuring by the width, I offer that solution too.
Take the measurement along the width of your picked fabric times 25 inches. That's all you need for your main pillow. Make sure to use one-directional fabric. It'll make sure your design works!
How Much Fabric Do You Need for A Travel Pillowcase?
Traveling is fun. But what comes with joy is the pain. Sitting tediously for a long time is sure to hurt your spine and neck. So, what would you do to get rid of the risk of spraining your neck?
Well, carry a travel pillow. And if you're someone too creative plus love to sew, a better idea is to make yourself a travel pillowcase too.
A travel-size pillow measures 12 by 16 inches. So, you must be worried about the yardage of fabric you might need for making this pillow cover.
Wait, we know it, right? You'll have to buy a fabric that is 24 inches long and 25 inches wide. It means ¾ yards of material is more than enough in case your fabric is 45 inches wide.
However, the yardage also depends on the type of fabric you choose for your pillow cover. For cotton, ½ yard is perfect for the main body. But for the edges, it's better to use 1/3 yard of Minky fabric.
How Much Fabric for A Toddler Pillowcase?
Yes right. Your toddler deserves a comfy pillow with a creative pillowcase too. Like your toddler, a toddler pillow cover is a small one.
The standard size that goes for a toddler pillow is 14 inches by 19 inches. So, you're surely going to need more fabric than the pillow size for your cover.
For making a fun-looking toddler pillowcase, it asks for no more than ½ yard of main fabric (any color of your choice). Add 1/3 yard of material for the cuff and 6″ of accent fabric.
As your toddler grows a little, you'll find the standard small-sized pillow can't give him enough headspace. For that, you better switch to a giant pillow. Then make a new pillow cover as its size demands!
How Many Yards of Fabric Do I Need to Make 2 Pillowcases?
If you know how many yards of fabric to make a pillowcase, you can easily find the same for two pillowcases. Still a thing it's confusing? Let us tell.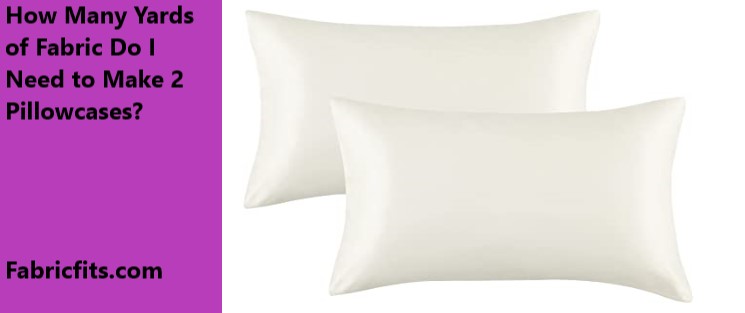 To make two pillow covers, you can buy fabric ranging between 1.5 yards and 3 yards. The exact yardage depends on the size of your pillow.
For example, suppose you own a king-size pillow. For that, 2.5 yards of any fabric seems correct to sew a king-size pillowcase.
But in case you have a standard-size pillow, 2 yards of fabric will be fine for your pillowcase. The same goes for the queen-size pillow cover. Remember to buy 10% extra fabric.
Thus, you'll not even lose an inch of your material if it shrinks or the seller cuts it wonkily.
Concluding Words
Sewing is an art and fun at the same time. Making oneself a beautiful and fitting pillow cover sounds exciting. But no one likes a pillow with a baggy pillowcase that's too large.
The same stands true if your pillow cover is too tight and small. What causes such a mishap is your lack of idea about fabric dimensions for a perfect pillow cover. To avoid such errors, you start questioning.
How much fabric for a pillowcase? But with our article, you're sure to know it all by now. Be it a king-size or queen-size pillow, the Burrito or traveling pillow, or the one for your kid.
So, set out right now to buy the exact amount of fabric you need and start making a pillowcase of your choice!