Are you making a quilt? It sounds like a fun project. With it, you get to upcycle your leftover pieces of fabric or use them as a beautiful gift.
For this, you need three layers of fabric: top one, batting, and backing. You can use your artistic vision for the top one. But the other two require a bit of fabric calculation.
If you are onto a design that follows no pattern, you're sure to get buried in the fabric measurement issue. Either you fall short or overbuy. Then, depending on your quilt size, you can proceed.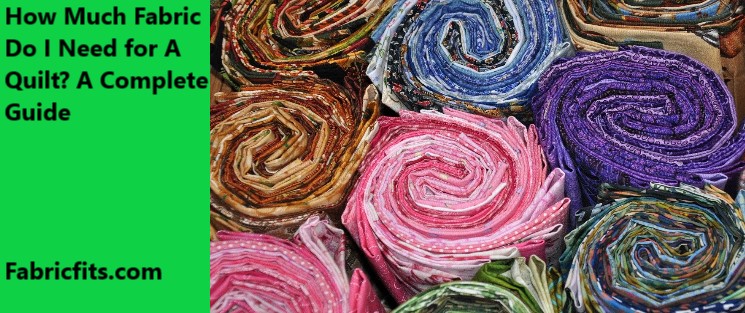 So, How much fabric do I need to make a quilt? Generally, you'll need 1.5 yards of fabric with 42 inches of width to make a quilt of 36" x 50". But it will depend on what size quilt you want to make, for example, if you pick a quilt size larger than 42 inches, it may cost you up to 3.5 yards of fabric. The only idea that stands between you and quilting is the quilt calculator.
Hearing the math term, you may stall a bit at first. It may seem daunting. But we're here to make it easier. Our fabric calculator and size guide will make sure you never run out of quilt fabric mid-way.
Let's take a tour of our handy and standard quilt-size guide!
How to Calculate Fabric for A Quilt?
The calculation of fabric for a quilt mostly depends on your design, pattern, and size requirement. For example, suppose you need a 5×5 sq. inch of cloth shaped like a square.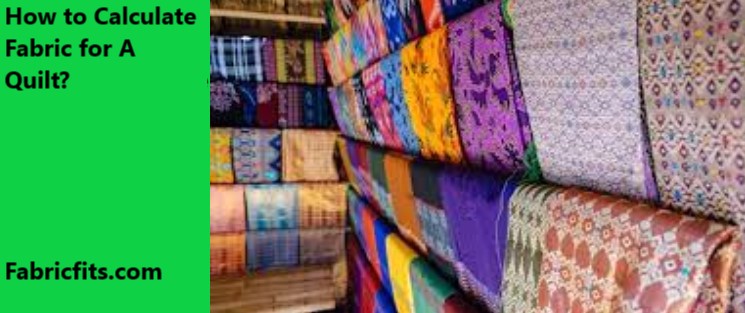 Hence the fabric needs to be cut in the size of 5.5″ from both length and width. Note that your block size is critical. But along that, you need to add a seam allowance of ¼ inches to each side.
So, let's get you to the calculation steps:
Step 1:
First, measure the width and divide its value by your block size.
Assume your fabric is 55″ in width. So, divide it by 5.5″. Thus, you can fit 10 blocks across the width of your fabric. If the math yields, not a whole number, round it down. For example, if it's 7.8, use 7.
Step 2:
Take the total number of blocks you need depending on your pattern and divide it by the obtained blocks number you get to fit in width.
We think that you need 22 blocks in total. Next, divide it by 10. It results in 2.2. Let's round it up to the closest whole number. Here it's 3. So, you need to cut down three strips of your fabric to fit enough blocks.
Step 3:
Now multiply the width of each block by the total number of strips needed.
For our case, 3 strips times 5.5″ width yields a total of 16.5″ fabric.
Hence, we say, to cut out 22 5.5′ squares of cotton fabric 55″ in width, you need around 16.5″ of quilt fabric, taking the hem edges into account.
You can hop to the last calculation step if you already have an evenly cut fabric for your quilt.
How Much Fabric Do I Need for A Quilt?
Before you make your way to the fabric store and buy one for your quilt, you need to know the quilt size. Standard bedding sizes are cot or crib, single and double, twin, king, and queen.
Your demand for cloth depends on your design, pattern, and fabric type. But, of course, the more intricate design you end up with, the more material is needed in extra.
Once you know your size, you're set to work on how much quilt fabric you may need. First, measure the top of the quilt, taking the shorter edge as width while the longer one as length.
Next, determine the usable WOF (width of fabric along with the bolt). When you find your fabric is directional, take 4 inches as additional overage fabric.
Choose your desired unit system and find out your needed fabric quantity. It's that simple! Always keep your cloth slightly oversized than your pattern tells you.
Know that fabric like cotton and fleecy layer of wadding shrink as soon as you wash them. So when you buy such quilt fabric, you better take 5% shrinkage into care.
For that, you need to buy fabric for your quilt measuring 1.05 times the actual size. On top of all, add a bit of extra material too to allow seaming.
How Many Yards of Fabric for A Full-Size Quilt?
Your quilt yardage for any bedding varies with your mattress measurement. For a full-sized bed type, the usual mattress size is 54 inches x 75 inches.
So, a set down for a full-size quilt sounds good if started from 70 inches (178 cm) by 80 inches (224 cm). In terms of yards, the size of your comforter will be 1.9 yards by 2.2 yards.
But what if you need to add a tiny drop in the ends of your quilt too? Simple! You can add 12 inches or 16 inches or even 21 inches drop. For that, the size will differ along with your drape.
With a 12-inch drop, the quilt size will be 2.2 yards by 2.5 yards. You can opt for 2.4 yards by 2.5 yards if your decided drop is 16 inches. Or go for 2.5 by 2.5 (yards) to let 21 inches dropdown.
How Much Fabric for A Queen Size Quilt?
Queen size quilt sounds like a luxury. But most quiltmakers mire bog down to figure out their fabric needs. So let's step up your decision with the correct measurement.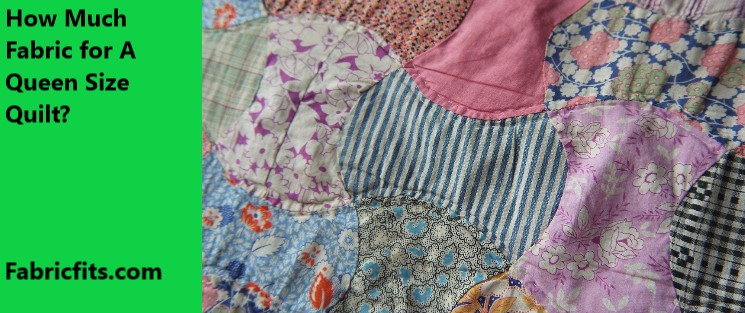 The standard queen-sized comforter is 96 inches in length and 88 inches in width. For this, your necessity is a fabric measuring about 8 yards for the front and one more fabric with 8 yards for the back.
But remember, your pattern and design may cost you extra fabric. So, to stay on the safe side, buy additional 1-2 yards of material, especially if your quilt has patterns with stripes.
How Much Fabric is Needed for A King Size Quilt?
If you're looking for a deluxe comforter, the size your better choice for your quilt is the "King" one. The more comfort you desire, the more yards you need. That's what the fabric world says.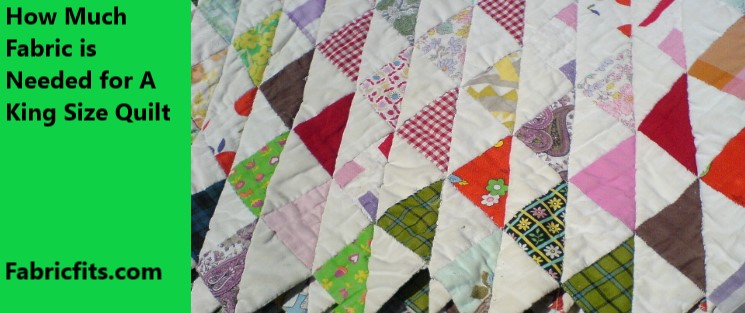 So, let's make the yardage calculation lot easier for you. A king-size bedspread requires a total of 87 yards by 8 yards of fabric that is 44 or 45 inches wide.
When you want it to have over drops, you can choose 57 yards by 8 yards of fabric having 54-60 inches width. Since there's no standard pattern, your fabric need may go up or down.
How Much Fabric do You Need for A Baby Quilt?
All prefer an extra soft, warm and adorable baby quilt. You can design in your way. Thus it adds a personal touch and makes it even more special.
The only confusion is how much fabric you would need to make it. We're ready with our fabric need idea. So a typical baby quilt has a size of 36 inches x 54 inches.
A standard crib mattress is not more than 28 inches x 52 inches. Thus this size quilt will surely fit inside the crib mattress and keep your kid max comfy.
For the newborns, we suggest a quilt size of 30 inches x 30 inches. But if you want to keep some growing spaces, make it 30 x 40 inches. However, your kids can use such quilts as play mats if wider than 36″.
How Much Fabric Do I Need for A Twin Size Quilt?
Sleeping in a twin-size bed sounds fun when you add a twin-size quilt. But, though it seems fun, it's hard to make one when you know nothing about the fabric size.
We know you don't want to interrupt your quilt sewing the mid-way. That's why we give you a clear idea of the fabric you would need for such quilts.
A twin-size quilt begins around 64 inches (162.5 cm) by 86 inches (218.4 cm). Then, rounding them up, you get a 90″ long and 70″ wide quilt.
With a 14-inch drop considering both top and underside, you'll need a fabric being 6 yards in measurement. For a nice drape, you can make it 72 inches by 96 inches.
How Much Fabric for A Lap Quilt?
Quilters know size always matters. Well, a lap quilt has many dimensions to offer you. Starting from small, jumping to medium, and going ahead with large or extra-large, you get all options.
So your preferred size will tell you the amount of fabric you're going to need. For example, if you're into a small lap quilt, your fabric width should be 36 inches, while the length should be 48 inches.
Heading towards the medium lap quilt, the fabric you need to buy should increase by 30 inches wide and 60 inches long. However, 45 inches by 60 inches work well for a large lap quilt.
Want to go larger? Make it 54 inches wide and 72 inches long. It'll give you a cozy drape.
How Much Fabric for A Quilt Backing?
As a quilt maker, you're sure to know that quilt backing demands more fabric than the quilt top. For that, it's advisable to add extra 8 inches both along the length and width of your fabric.
Thus, you'll end up having a total of 4″ extra fabric all around. If you're hoping to make a quilt with 28″ in a square shape, you'll need 1 yard of material for the backing.
But for a quilt measuring 47 inches by 74 inches, a total of 3 yards seems enough for the backing. Again, backing up an XL quilt that is 110 inches long and 90 inches wide needs no more than 9.6 yards.
Final Words
Quilt-making sounds fun. But at the same time, it leaves you with a baffling question like, "How much fabric is needed for a quilt?"
Well, confusion can no more derail your quilt-making process. Depending on every type of quilt pattern and size, we've answered your fabric needs to help you out.
Be it a king or queen-sized quilt for your luxury or a baby-size quilt for your newborns. You now know how much cloth is enough to make yourself a cozy quilt.
All you need to brief in your quilt type and find out your need for fabric quantity!