We must admit, chalk paints are indeed one of the cheapest options out there. And due to how affordable these paints are, they seem to be an attractive option for people looking to repaint old things. The same thing was applicable to us; we were looking to bring our old antique bench back to life on a budget.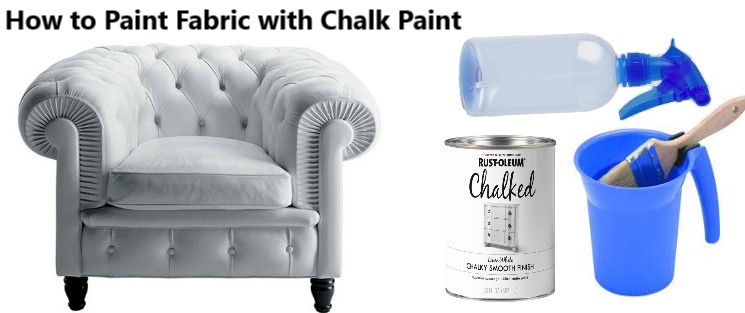 Nonetheless, we did not face any issues when getting our hands on chalk paints because they are highly accessible. However, the problem began when we wanted to use it. We had no clue regarding how to paint fabric with chalk paint properly. That is where we went to a professional painter.
After an in-depth discussion of the topic, we gained adequate knowledge to carry out the project properly. And, in this article, we will go through those exact steps. So, to know the correct way, stick to the very end!
Can You Paint Fabric with Chalk Paint?
Yes! you can use chalk paint to paint your upholstery fabric. When you want to paint your upholstery fabric with chalk paint, you'll need chalk paint, fabric medium, and some other supplies as well. Here in this post, we're going to show you how to do it the right way!
How to Paint Fabric with Chalk Paint: Step by Step Guide
Supplies Needed for the Project
Before we dive deep into the step-by-step process, we would like to state all of the supplies that you will need. So, before you decide to carry out the project, you can check which one you already have and which one you need to purchase. That being said, these are the things that you are going to need:
A good amount of chalk paint
Paintbrush
Painter's tape
Water
Disposable containers
Clear wax
Spray bottle with water
Cloth or Wax Brush
When it came to the spray bottle with water, we recycled an old Windex bottle. You can do the same as well. Just get anything that has a sprayer on the head. It should work exceptionally well for this project.
Other than that, in terms of wax brush or cloth, you need to figure out which one works best for your project. For ours, however, an old cloth worked like a charm.
Steps to Follow to Paint Fabric with Chalk Paint
After gathering all of the required supplies, it would be time to get things started. And the steps that you would need to follow are as follows:
Step 1: Mask the Areas That You Do Not Want the Paint to Be
We know that removing chalk paint is not that hard. However, if you protect the areas where you do not want the color, the whole project can get exceptionally simple. Basically, by tapping those areas, there will be no need to invest that much time and effort to clean up the mess.
So, we would highly recommend taping up the areas where you do not want the chalk paint to be. Just use painter's tape. If you do not have any painter's tape, masking tape will also work exceptionally well. However, do not use anything that has a strong adhesive. It might leave a pesky residue on the surface.
Step 2: Vacuum Clean the Fabric
Before dipping the brush into the paint, it would be wise to clean the fabric properly. Any lint, specks of dirt, and dust can hinder the paint's ability to adhere to the surface properly. For this reason, we would recommend using a vacuum cleaner to clear out all of the loose dirt and dust from the surface.
Step 3: Mix the Paint
When we stated that you would require disposable containers, you were probably wondering what those were for. Well, those are for mixing the medium and chalk paint together. This mixing will make the color achieve a higher complexity, and it will also adhere to the surface pretty quickly.
On that note, you need to prepare the mixture in a 1:2 ratio. That means the mixture will have two parts of chalk paint and 1 part of fabric medium. Use a clean stick or a brush to mix the whole thing together.
Step 4: Start Painting
Now that you have the mixture ready, it will be time to start painting. As a rule of thumb, you need to start with the back part of the fabric. This trick is something that the professional painter taught us. And we found this rule offers a bit of flexibility in tweaking the whole process.
So, you can paint with complete freedom in this step. However, while painting, we would recommend spraying the area lightly with water. If you are wondering why we are recommending dampening up the fabric, it is because the chalk paint will not adhere properly when it is dry.
In comparison, when the fabric is damp, the fabric soaks up the mixture properly, and the paint glides smoothly on the surface. And, once the full backing is covered with paint, start working with the front part. Follow the same procedure as you did for the back area. Spray, apply the mixture, and let the fabric soak up the paint.
Talking of which, you would want to do multiple coats because that will fully cover the fabric's color. We had to do three coats on our benches. And between each coat, we allowed the previous layer to dry properly. If you apply the next coat before the previous one dries up, the end results will not look that appealing.
Step 5: Let the Final Coat Dry
Once you are done with the coats, you must let the final layer dry to the very bone. We recommend leaving the fabric untouched for at least a day. That amount of time would be more than enough to make the mixture settle deep into the fabric.
Step 6: Apply Topcoats
We know that your project looks stellar, and you might be a bit reluctant to work on it further. However, if you want to retain the project's beauty for an extended amount of time, you need to apply topcoats. And in this case, you need to use wax. Clear wax is pretty accessible; you will find them available in local painting shops.
You would need to use either a wax brush or a cloth for applying the wax. We usually prefer to use a piece of cloth when handling wax. However, it is a personal preference.
So, if you find that a piece of cloth is not your thing, you can opt for a wax brush. Nonetheless, when using cloth, make sure it is white or will leave a color film on the surface. However, if you find it leaving lint on the surface, we would recommend grabbing a sock.
Just like the painting procedure, you would need to start with the backside and move to the front side. Play around with the application process and see what works best for the brush or cloth you are using. We would recommend testing the application procedure by following different rhythms.
When the wax settles in, the project will look much better than before.
Read Next: Guide on how to paint cloth lampshade at home
Final Words
As you can see, learning fabric painting with chalk paint is not a difficult task. To get perfect results, all you need to do is follow the steps correctly. However, do ensure that you are testing different application methods for applying the wax topcoat.