Drafting your dress-making patterns yourself sounds pretty interesting. When you go for shopping, finding a suitable fabric is no big deal. Enough fabric in your hand means you can go creative with your dress patterns.
But do you know what's even more challenging? Figuring the amount of fabric you're going to need in advance. Guesswork may ruin your fate with either too little or too much fabric.
If you're questioning, How much fabric do I need for a dress? Usually, You'll need 2 yards to 5 yards of fabric for making the dress. It depends on what dress you are making, 2 yards of fabric is enough for a simple dress. But for a dress with short sleeves, 4-1/4 yards of cloth having 35-36″ width will come in handy.
In the case of a long dress with long sleeves, you need to buy about 5 yards of cloth if it's 35-36″ wide. However, size, height, design, and pattern may cause your fabric requirement to go up or down.
Well, with practice, you can estimate the correct amount of fabric and master it. But, of course, for that, you need to sew a few times to figure the amount out for a particular type of dress. But it seems like a long waiting road.
So, let's put a stop to your never-ending trouble at once. Here's our ultimate fabric guide for all types of dresses!
How Much Fabric Do I Need for A Dress?
Your fabric demand relies on what type of dress you're making or sewing. Moreover, the height of the dress, dress fitting, stitching tricks, design of the dress, the pattern of cutting out fabric, and fabric texture may change the amount of fabric.
However, a simple line dress needs nothing more than 2 yards of fabric (45″ wide). But as you move from small to medium size, the fabric demand rises to 3 yards of fabric with wide width (60″ wide).
You better add extra inches when your size varies. Now, if you're willing to wear a dress that covers you from collar to ankle, 7 yards of narrow-width fabric (45″ wide) sounds perfect. This much cloth can give you pleats, tucks, frills, etc.
Buy 2-3 meters extra when you can't ensure your dress type. While you get a 35″ wide single-width fabric, you would need twice the length of your dress plus add-on stitching and seaming allowances. A little extra is never too harmful, remember!
How Much Fabric Do I Need for A Maxi Dress?
Sewing a maxi dress seems the easiest. It's because it adds no fancy or design elements. Instead, it has a mere straight cut. That's why you need fabric for the front and the back of your maxi dress.
Stop right away if you're working hard to figure out how much fabric you may need for a maxi. We'll handle the rest. Most sewing experts suggest that 2 to 3 yards of fabric will do perfectly for a simple maxi dress.
This yardage was based on knit fabric that ensures stretching. But when you opt for another kind of fabric for your maxi dress, chances are higher that your fabric need may vary. Moreover, your body measurements can be the judging issue too.
However, you can go for 3 yards at ease. When I say 3 yards, you're not likely to need more than that at best. Trust us!
How Much Fabric Do I Need for A Wedding Dress?
A perfect wedding dress is the dream of all brides. So it's a prime concern to find out how much fabric for a wedding dress is a must.
Well, the wedding dress fabric amount depends on the styles and designs you've chosen for the day, along with the bride's size.
Let's break the yardage needs to you based on a variety of wedding dress types:
1. A-line Wedding Dress:
Many brides admire A-line wedding dresses. If you pick it too, 5 to 7 yards of fabric is what you're going to need.
2. Ballroom Gown for Wedding:
As the type suggests, it's the fancy dress you can wear at your wedding. So, you shall go for 8 to 10 yards of fabric.
3. Trumpet or Mermaid Wedding Dress:
About 4-6 yards of fabric is what you're going to need if you choose either one trumpet or mermaid type of wedding dress.
4. Tea-length Dress for Wedding:
If you want something instead of a floor-sweeping gown on your wedding day, go for this one. For this, you'll need fabric not more than 3 yards.
How Much Fabric is Needed for A Long Dress?
Long dresses have turned trendy now. Making such a beautiful long dress is no big deal if you're clear in mind about your fabric requirements.
If you're wondering how much material you may need for a long dress, we're here to answer. Firstly, keep in mind that your dress design primarily affects the quantity of cloth you need.
For example, suppose you're setting up your sewing kit to sew a flared long dress. In that case, a maximum of 3 to 4 yards of any puffy fabric will be your go-to pick.
However, the more flare or puff you add, the more cloth you need. On the other case, you can opt for a long dress with a straight or pencil cut.
For that, all you need to consider is a piece of 60″ wide fabric measuring 2 yards at max. Some like to go for long sleeves with long dresses. In that case, you merely need to add more than half a yard of the fabric.
How Much Fabric Do I Need for A Prom Dress?
If you're sewing a prom dress, getting stuck in for the fabric quantity is pretty usual. But in this case, your design, fabric, and length of the dress will say you need how much material.
Are you going with a long and flared gown on your prom day? If that's the case, you will need roughly 6-7 yards of fabric with having a 60″ width. Then, of course, you can add fabric lining too.
For that, add another 6 yards (more or less) of cloth. Always follow your body measurements to figure out the fabric quantity. Long-sleeved dresses are now a prom fashion.
When you're putting up the idea of prom dresses with long sleeves, you better add an extra half a yard to your fabric measurement.
How Much Fabric Needed for A Wrap Dress?
Wrap dresses are still popular because it's comfy yet flattering. You'll see it comes with a unique tehri design. That's why it usually demands plenty of fabric.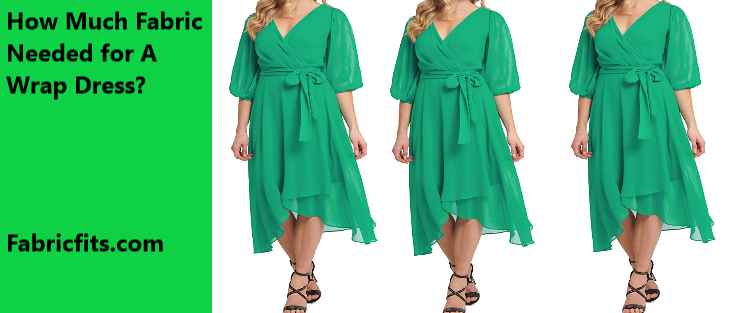 But the query of how much fabric exactly you need might add a curiosity factor. For that, I take the type of fabric you pick, your weight, plus height, and design into account.
Most sewing lovers find 4 yards of fabric ideal to sew a wrap dress based on all these considerations. However, if you use a stretchy fabric (Polyesters or knits), 3 yards of fabric will do fine.
How Much Fabric Do You Need for A Toddler Dress?
Whenever the thought of sewing a dress for a toddler pops up, sewers seem to get tensed. It's because of the little idea about their fabric needs for such a dress.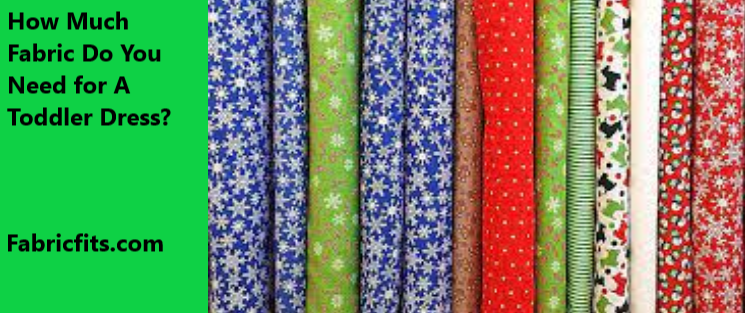 But we're here to ease your worries. Well, a toddler dress is for a small child. That's why sewing such a dress won't require much fabric. It's better to choose lightweight fabric for toddlers' dresses.
For example, shirting fabric or light linen works. Now talking about the quantity, keep 1-2 yards of fabric in hand for this type of dress. No matter what style or design you select, with 2 yards of fabric, you'll fall short of cloth.
How Many Yards of Fabric for A Girl Dress?
Girls wear dresses of various styles and designs. So there's no one dress to mark out as girl's dress. That's why in this section, we'll learn about the yardage needs for different types of girl dresses.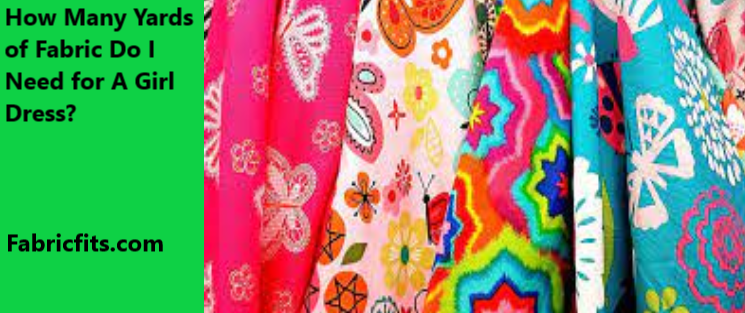 Before leaping ahead, remember that all these fabric yards we're about to use hold for a narrow-wide fabric with 44-45″ width. So let's see the fabric you're going to need for different girl dresses:
1. Shorts with Bermuda Length:
You'll need no more than 2-1/8 yards of fabric.
2. Skirt:
For a straight skirt, 1-5/8 yards of fabric will work. But for A-line skirts, 1-3/4 yards of fabric is what you need.
3. Blouse:
If you're making a blouse with long sleeves, you'll require 2-1/8 yards of fabric. But for capped sleeves, 1-5/8 yards of cloth is a must.
4. Camisole:
You better use 1-1/3 yards of fabric when making a camisole with a bias cut.
5. Dress with A Straight Skirt:
For this purpose, 3-1/8 yards of fabric sounds ideal if you're going for long sleeves. In the case of short sleeves, 3-5/8 yards will do great.
How Much Fabric for A Pillowcase Dress?
Pillowcase dress! As you hear it, your funny childhood memories come in a flash. Yes, it's a simple design dress that kids usually wear.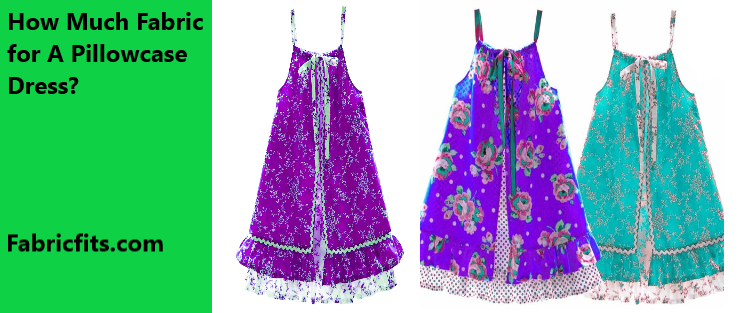 That's why it won't ask for plenty of fabric as you make it. But, for sewing, a cute pillowcase dress for kids, 1-1.5 yards of fabric sounds more than enough.
However, the length of the dress too has a call on determining the fabric amount you're going to need. So, pick your dress length first, whether it's knee-length, tea-length, or mid-calf, and then decide the fabric amount.
Read Next: Guide on How much fabric for a pillowcase
How Much Fabric in Cinderella's Dress?
Cinderella's dress resembles a long yet puffy ballgown. As it's big and puffy, yes, you're sure to stand in need of plenty of fabric. Let us do the yardage math for you.
While making a Cinderella's dress for an adult, 6.5 to 9.5 yards of fabric is all you're going to need. Your fabric needs to depend on your size, remember!
There's more you can do with a Cinderella's dress. For example, you can add full puffy effects and unique designs for the arms and sleeves. If that's your case, don't hesitate to keep an extra 1 yard in hand.
How Much Fabric to Make A Sheath Dress?
A sheath dress is now highly in fashion. It's a fitted dress with a straight cut nipped in the waistline. You won't need a waist seam to sew one like this.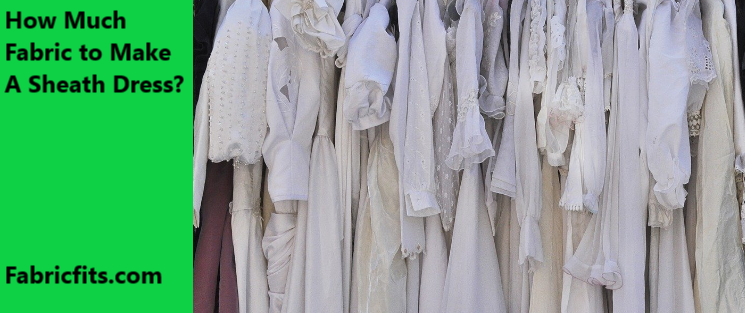 So, if you ask how much cloth you might need to make this type of sheath dress, we'll say it depends. The length of your dress, the fabric you're using, your height and body fitting, designs, and sleeve length all will take the decisions of fabric quantity.
However, when you use the rule of thumb to determine the yardage of fabric for your sheath dress, your solution simplifies. This rule suggests the need for 3-4 yards of fabric at max for a sheath dress.
Final Words:
At the beginning of any sewing or dress-making project, people tend to stumble with one query. How much fabric is needed for a dress? Well, it's an important one to ask.
It's because you don't want to end up having too little and rush back to the store again. Or you don't want to be remorseful for the extra penny you spent as you bought too much fabric.
That's why we're here with our fabric expertise. So no matter what type of dress and patterns you choose, I tell you precisely the amount of fabric that will surely come in handy for you!