Seemingly similar to the popular fabric "satin", many tend to mistake sateen for satin. So, what is sateen?
Sateen is a beautiful fabric type with a range of excellent properties and versatile potential. It is smooth and silky on one side while matte and slightly textured on the other side. So, you get a bit of both world in one fabric.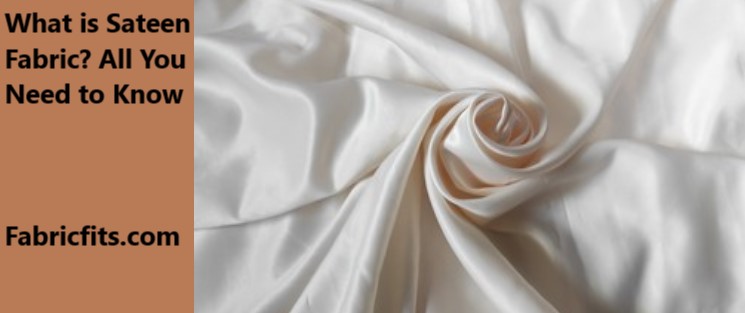 Made from short-spun yarn, this fabric has been a staple in the clothing industry for decades now. They have the look and elegance, the potential, comfort, durability, and everything else you'd expect in a good fabric.
Let's know more about sateens so you don't miss out on this delightful textile.
What is Sateen Fabric?
In simple terms, Sateen is a type of fabric that has a smooth and lush sheen at its front side and a slightly rougher backside. But if we want to be more specific, the term "sateen" refers to the pattern the fabric is woven into rather than its material.
Most sateen fabrics are made from cotton fibers. But using wool, silk, nylon, polyester, and other fibers is not uncommon either. Basically, any glossy and lustrous enough fiber can be used to make sateen fabrics.
The weaving pattern these fabrics follow is where the yarns are floated over multiple warp yarns. This is specifically the reason why they have both smooth and textured sides. We'll know more about the weaving patterns of sateens in the following section.
What is Sateen Made of?
As we have already mentioned, any fiber that is shiny, smooth, and lustrous enough can be used to make sateen.
Cotton fiber is almost always used, but bamboo, rayon, and other sources also provide raw materials for sateen. Depending on these materials, the fabric characteristics also vary.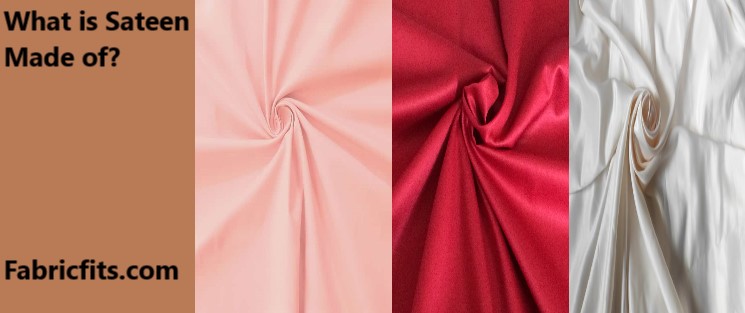 Despite using natural resources than artificial fibers, these fibers are not used in their natural form. Rather they are treated specially by a process called mercerization.
These specially treated fibers are more durable and last much longer than fabrics that use untreated natural fibers.
Sateens also achieve their signature glossy sheen from this mercerization process. Besides, it increases the fabric's acceptability to dyes.
Now as for how sateen fabrics are made, they follow two types of structure or pattern to weave the fibers – warp sateen and waft sateen.
Also, instead of filaments used for most fabrics, sateens use fiber which is first carded to make them longer and more suitable for weaving.
Warp sateen follows a structure where the float of the warp (lengthwise) yarn is more on the face side of the fabric.
On the other hand, weft sateen means when the waft (crosswise) yarn float is more on the face side. Warp sateens are much stronger and thus more popular than weft sateens.
What is Cotton Sateen?
Cotton sateen is one of the most popular types of sateen fabrics. Additionally, it is also one of the most commonly used fabrics in the clothing and fabric industry.
From the name, we can already guess that these sateens are made out of cotton fibers. These fibers are also carded or combed and then treated in the mercerization process.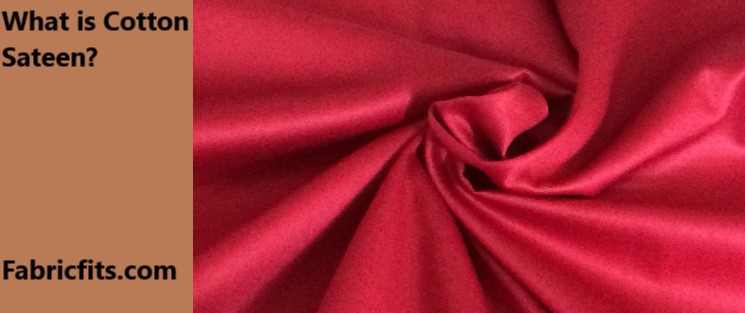 As we haven't mentioned before, mercerization is a special process where the fibers are soaked first in sodium hydroxide and then in an acid bath.
The delicate fabrication process, smooth texture, shiny appearance, and durability to hold their color for a long time, are also reasons why cotton is one of the most expensive cotton fabrics as well.
Is Sateen Fabric Stretchy?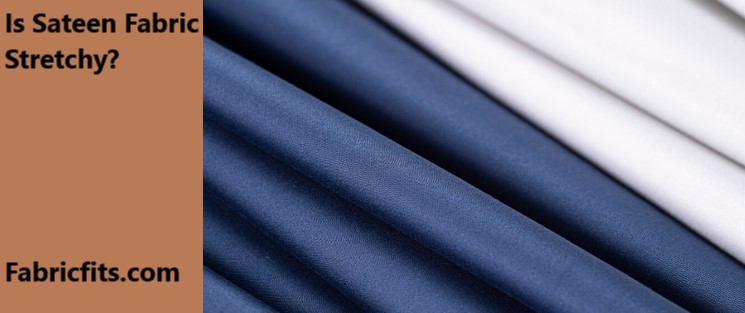 Sateens made from 100% cotton don't provide much stretch. However, while mixed with other fiber types like spandex, it is moderately stretchy.
Is Cotton Sateen Fabric Breathable?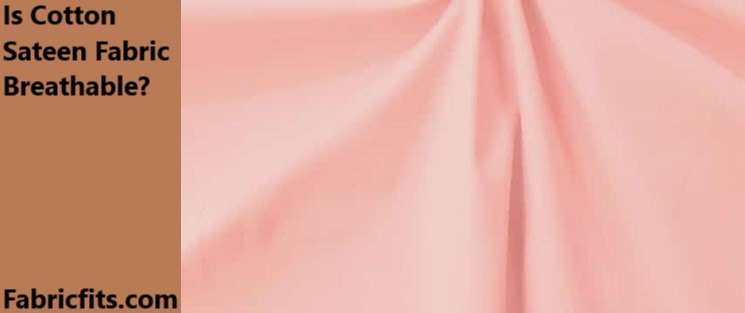 Yes. Cotton sateen fabric is in fact breathable.
5 Types of Sateen Fabric
There are different types of sateens like Milly cotton, Shantung, Cosmo Japanese spring sateen, Chinese brocade, etc. There are obviously more of these sateen fabrics, but these are the most popular ones we see on the market.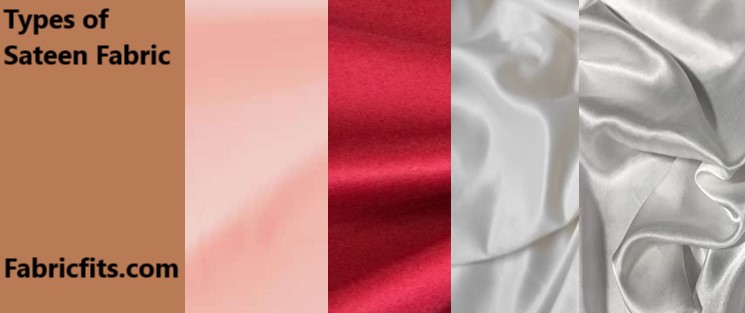 1. Stretch Sateen or Cotton Spandex
Stretch sateen is made out of cotton fibers mixed with a small percentage of spandex to give it a stretchy feel. They are also called cotton spandex in this context.
The cotton fibers used are generally heavy-weight so the fabric is more accustomed to different body shapes.
This type of sateen is comfortable, durable, and perfect for making skirts, suits, and other fitting clothes.
2. Milly Cotton Sateen
Milly cotton sateen is made from 100% cotton so they are extremely comfortable and breathable. Especially for the summer season, they are the perfect sateen fabrics to wear.
People like to make blouses, shirts, dresses, etc with this kind of sateen.
3. Chinese Brocade Sateen
100% polyester is used to make the Chinese brocade sateen. It's fairly lighter than other sateen types and the polyester gives it a shiny metallic sheen.
They are crisp and flowy and widely used in making dresses, flowy skirts, curtains, sofas, cushion covers, and even jackets, etc.
4. Shantung
Shantung sateen is also made out of 100% polyester. But unlike Chinese brocade, it has both a shiny side and a dull matte texture on the other side.
They are also called reversible sateen and are widely used in making bridal clothes like wedding gowns and clothes for special occasions.
5. Cosmo Japanese Spring Sateen
This one is also made from 100% cotton. The uses are pretty similar to Milly cotton sateen such as dresses, shirts, blouses, and even bedsheets, pillow cases, etc.
What is Sateen Used for?
Sateens are popular for their wide range of excellent properties. It's one of the many fabrics that's so versatile and has the potential to be used in different ways.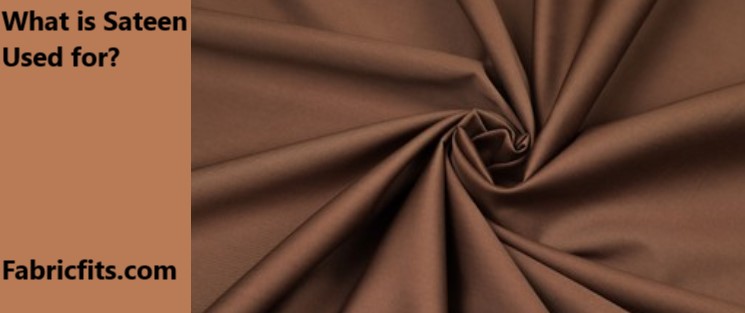 From women's clothes like dresses, blouses, and shirts to children's clothes and even suits and jackets, you can make almost anything out of sateens.
Let's see some of the recent trends of using sateens to make clothes and accessories.
Colors
We are talking about color first because sateen is one of those fabrics that makes every color pop. Whether it be hot chili red or a contrasting off-white or lavender, sateens look good in every color.
The shiny gloss not only makes it pretty but also elegant at the same time. For the summer season, light-colored sateen dresses are the perfect go to go.
Alternatively, in the winter you can choose dark colors, and they'll be equally comfortable. The same goes for any special occasion as well.
Prints
Printed sateen fabrics are one of my favorite pieces to add to clothes. And I'm sure many will agree with me.
Sateens come in some of the prettiest prints so there's a wide range of options that you can play around with. Some of the beautiful sateen printed clothes are
Floral: Floral is effortless, beautiful, and feminine. From casual to formal and date to parties, a floral dress goes everywhere.
Checks: Another timeless print is a checkered pattern. For thousands of years people have been wearing this print and it's still one of the trendiest sateen prints. Especially for people who don't like extravagant prints but still want a mediocre option, sateen check prints are best for them.
Stripes: Striped patterned sateens are great for day-to-day wear or any occasion. They are pretty, easy to accessorize and go with almost everything.
Plain Colors: Plain-colored sateens are not printed, but we still want to assure you that you can make some of the most elegant clothes and dresses with these plain-colored sateens.
Polka Dots: Polka dots are coming back and sateens with polka dots are one of the best options to make the cutest sundress or long flowy skirts. You can also make blouses or shirts with them for equally good results.
Styles
We can't stress this enough, sateens are good for every type of style. From dresses to shirts, pajamas, blouses, skirts, suits, jackets, anything you want to make, you can with sateens.
Some of the styles that are on trend for sateens right now include
Coord Set: You can make a beautiful satin co-ord set either with the same colored or patterned sateen.
Fitting clothes: For a fitted figure-hugging piece, sateens have to be the perfect fabric. They are stretchy enough, durable, and comfortable.
Flowy Dresses or Skirts: It's easy to romanticize your life when you have a long beautiful flowy gown or a maxi skirt made out of your favorite colored sateen.
Where to Buy Sateen?
Sateen fabric is a widely accessible fabric in general. So they are pretty much available in any fabric shop. You can also check out craft shops that make custom-made clothes and pieces.
And in this age of online shopping, you can always search in online shops and buy sateen fabric from the comfort of your home.
However, buying fabric online is not recommended since the texture and color of the fabric may vary from their online images.
Difference Between Sateen and Other Materials?
In this portion, we are going to light upon the difference between sateen with some of the popular fabrics.
Sateen vs Satin
Due to the close resemblance between the two words, many of us sometimes think satin and sateen refer to the same type of fabric.
Here's how you can differentiate between the two
| | | |
| --- | --- | --- |
| Characteristics | Satin | Sateen |
| Type of Fiber | Long filament fiber | Short-staple fiber |
| Fiber content | Silk, nylon, rayon, polyester | Cotton, bamboo, rayon, linen |
| Texture | Slippery and glossier than sateen | Softer and slightly glossy |
| Appearance | Shiny and luxurious glow | Lustrous dull sheen |
| Breathability | Generally, not much breathability unless the fiber is silk | Breathable |
| Durability | Less durable | Lasts longer than satin |
Sateen vs Cotton
Even though many sateens are made of cotton fiber, there are some differences between sateens and cotton fabrics. Take a look
| | | |
| --- | --- | --- |
| Characteristics | Sateen | Cotton |
| Texture | Smoother and silkier | Softer |
| Durability | Sateen's lifespan is shorter | Usually lasts much longer |
| Weave type | Sateen fabrics are made by twisted weave | Uses plain weave |
| Thread per square inch | 120-1000 | Up to 400 |
| Appearance | Shiny | Dull, almost no sheen |
Sateen vs Percale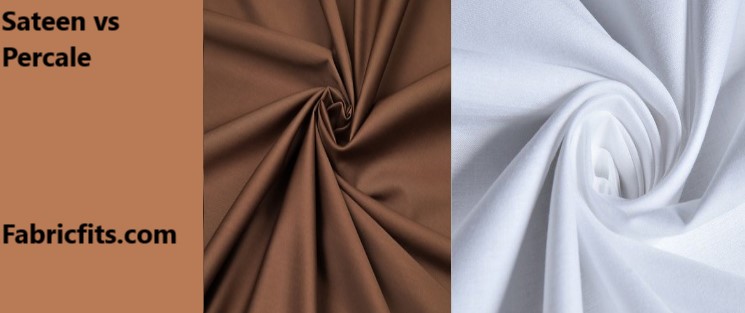 Let's take a look at the differences sateens have with percale
| | | |
| --- | --- | --- |
| Characteristics | Sateen | Percle |
| Fiber content | Cotton, polyester, nylon, rayon | Fiber content is similar to sateen but mostly 100% cotton is used |
| Texture | Softer and slightly slippery | Crisp and dull |
| Thread count | High thread count | Lower thread count than sateen |
| Durability | More durable than percale | Less durability |
| Appropriate season | Winter perfect | Appropriate for hot summer days |
| Maintenance | Requires delicate care | Machine washable |
Sateen vs Silk
Silk is also one of the most popular and competitive fabrics on the market.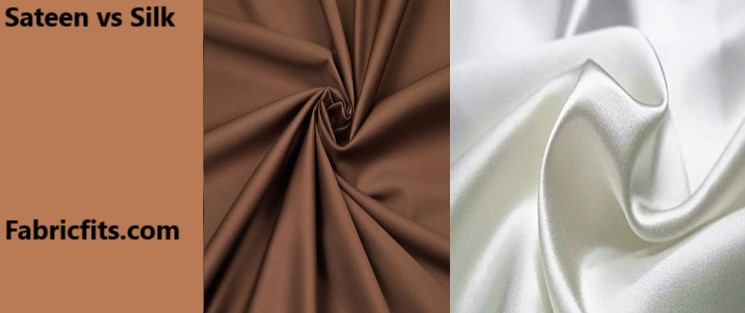 Naturally, it's much silkier than sateen fabrics. Plus it's lightweight, dries fast, is breathable, and doesn't get wrinkles easily.
As for sateen, they are usually 100% cotton made so much softer than silk. It's also breathable and fairly lightweight.
8 Tips on How to Care and Clean Sateen
Sateen clothes are generally easy to care for. Plus most clothing pieces come with care instructions, so make sure you read that before washing them.
Here are some of the common tips on how to care for and clean sateens.
1. Using Right Temperature
Sateens are delicate to high temperatures. So always make sure to use a moderate temperature.
For most sateens, 40 degrees is the appropriate temperature. If you are using a washing machine, set the temperature accordingly.
2. Always Prepare Beforehand
When using a washing machine, always prepare the settings beforehand. Using the mild or lowest setting is the safest option to machine wash sateen. But you can use the normal setting as well with low cycle spin and low temperature.
3. Separate Colorwise
Sateens don't fade in most cases. But be careful never hurts. So always make sure to separate your laundry from light to dark to avoid staining the lighter ones.
Also, don't mix other types of fabrics with it while machine washing.
4. Use Proper Products
Using the right laundry products not only sustains the quality of the fabrics but also saves the planet. Use a delicate non-chlorine detergent to wash sateens. But they should be strong enough to clean properly.
5. Hand Washing
For extra delicate sateen items, you can hand wash them for extra care. Mix some mild detergent in lukewarm water and soak the pieces for about 30 minutes or so.
Gently rub the fabrics with your hand to clean them. Wash it with cool water and rinse properly.
6. Drying
You can tumble dry cotton or polyester sateen at medium temperature. But in most cases, air drying will do the job.
Try to spread it evenly on the drying rack or use a hanger to preserve the natural shape.
7. Ironing
After drying, the fabrics might have some wrinkles. Ironing or steaming them flattens the fibers and restores the shiny lustrous appearance of the sateen.
8. Storing
Always store your sateen items on a right-sized hanger in an airy space. Breathable storage bags are also good for keeping out bugs and keeping them safe for a long time.
Final Words
Hopefully, this article covers all your inquiries about 'Sateen.' This beautiful fabric serves all purposes and has all the traits a good fabric should have.
So, even if you don't know much about it or haven't got a chance to use it before, don't hesitate to give it a chance. I'm sure you'll love it.