Sateen is almost an indistinguishable fabric from satin. Although both fabrics are popular for thousands of years, they come with individual characteristics and create individual fanbases.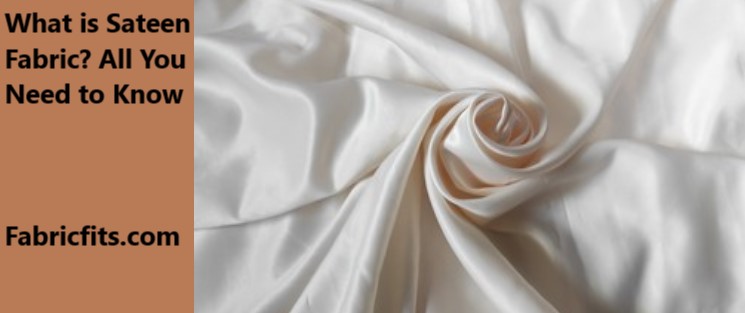 So, that being said, what is sateen fabric?
Sateen is a glossy, smooth fabric made in the satin weave but uses spun yarns instead of filament. The floating fillings of the weave give sateen a lustrous finish. Usually, it comes in 100% cotton or polyester blend. Sateen is often used for pants, dresses, and bedsheets.
After you know what's what, the truth is, there is a lot more interesting information about the fabric you may or may not know yet.
This article will cover what the fabric is made of, its common characteristics, different types of sateen, how you should clean and care for the fabric, and everything you need to know about it.
So, let's see what's there for you!
What is Sateen Fabric?
Sateen is a fabric with a smooth front side and a rough plus dense backside. The term refers to the fabric's weave, not the materials of the fabric. In most cases, sateen is made from cotton fibers, but you'll also find sateen from other fibers like wool, polyester, and silk.
The woven structure of the fabric is provided by twisted threads, meaning, there are only spun yarns in the sheen, not any filament. And, the brightness of the sheen will be increasing as the yarn is strongly twisted.
But what about the soft texture of sateen?
Well, that's produced by the wrap yarn pattern. Let me explain.
Other regular cotton fabrics have such a weaving pattern of one over and one under. But sateen's weave pattern is, four over and one under.
What is Cotton Sateen?
Cotton sateen is one of the five popular sateen fabrics. It's made of the finest possible high-quality yarns. Cotton sateen is the most expensive cotton fabric type but guess what? It's also the most widely used fabric in clothing and sheeting production.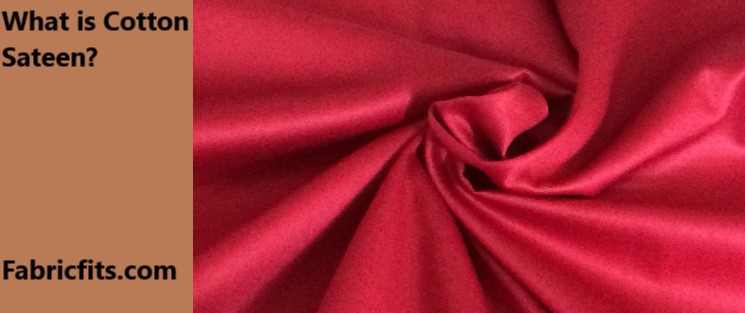 Mercerization is a process applied for making a cotton sateen. In this unique process, manufacturers soak cotton fibers in an alkali solution and then do the same thing in an acid bath.
This treatment helps the threads to be smooth and firm and prevent them from fading after the staining process is done. Also, it provides the cotton thread with an amazing sheen.
Overall, mercerization is a process that makes the sateen fabric denser and improves the staining quality.
What is Sateen Made of?
As you've already been informed, sateen is made of staple short fibers instead of filaments. Manufacturers spin the staple short fibers into lengths of yarns. Unlike other similar fabrics, sateen is derived from plant matter.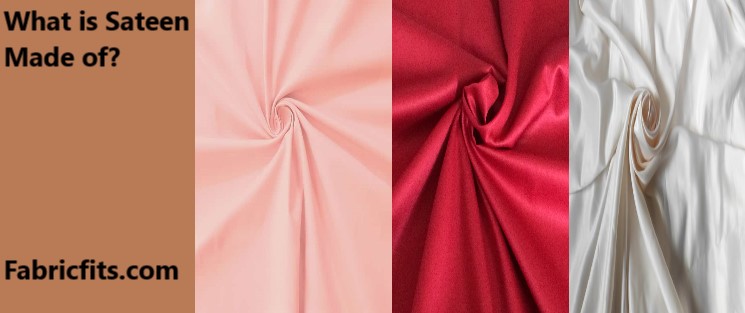 Sateen can either be produced using cotton or bamboo, rayon, etc. Materials like bamboo, cotton, rayon have natural properties that give the fabric a distinct characteristic.
The cotton you'll find in sateen is carded firstly, then combed, and then mercerized. Mercerizing makes the cotton fibers stronger with a better sheen. And, fibers that are processed afterward are woven into a twill weave.
Is Sateen Fabric Stretchy?
Not that much. The finest high-quality yarns are used for cotton sateen so there are also elastane fibers which make the fabric a little bit stretchy and water-resistant. So, how much is that 'little bit' actually?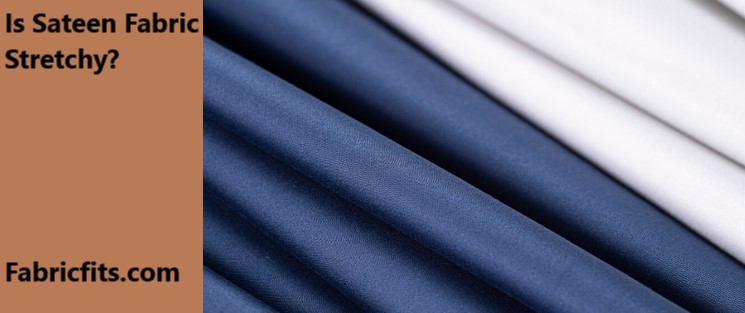 It's believed that there is around 3% stretch in cotton sateen which you may guess, isn't that much. Since the fabric is a cotton mix and is dense enough, the stretch in it is moderate.
The structural quality of the fabric means you can make great dresses and skirts with it but it can be a bit stiff for a top or blouse. Since stretch means how the piece can stretch out while construction, you should follow the right instructions for staying stitching.
Is Sateen Fabric Slippery?
Yes, sateen is soft and sometimes slippery based on what type of yarn is used. As sateen isn't a heavy fabric, it provides a slippery smoothness which is great for warm temperatures.
The combination of sateen weave and cotton lets the fabric achieve around 400s of thread count if some great cotton is used.
Is Cotton Sateen Fabric Breathable?
Yes, cotton sateen fabric is breathable enough because sateen is a plant-derived material. Why plant-based material matters here because the final fabric inherits the breathability of the host plant.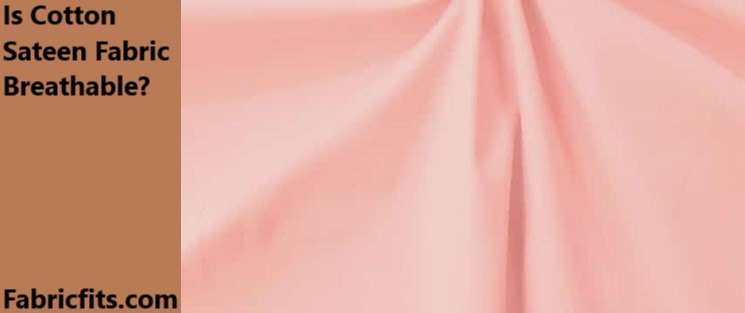 For this, sateen has the breathability of the natural fibers. No matter if the fabric is cotton, rayon, or bamboo-based, each fiber variation is derived from natural plant matter.
Worth mentioning, you should always prioritize comfort and heat more than bragging rights. Because you know that your body has to lower its temperature for sound sleep so yes, breathability is something you should care for.
Next Read: About What is Chenille Fabric
Types of Sateen Fabric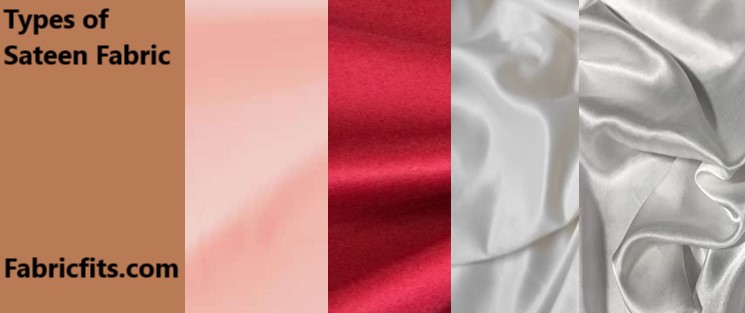 The most popular types of sateen are given below:
Chinese brocade sateen: It's lightweight and made of 100% polyester. Skirts, dresses, pillows, and window treatments are the most-used categories of this fabric.
Cotton spandex or stretch sateen: It's made of relatively heavy-weight cotton with some elastic in it that makes the fabric a bit stretchy.
Shantung sateen: Shantung sateen is also made up of 100% polyester and it's used for special occasions, bedding, dresses, skirts, coats & jackets, and window treatments.
Cosmo Japanese spring sateen: This type of sateen is made up of 100% cotton. People use it for pillows, window treatments, dresses, skirts, shirts, and blouses.
Milly cotton sateen: Milly cotton sateen is also made of 100% cotton. This fabric is mainly used for making dresses, shirts, and blouses.
Read Next: A complete Guide on What is Modal Fabric
What is Sateen Used for?
Sateen fashion trends and uses are broad enough but people still ask with curiosity, "what to sew from sateen?". Well, since sateen is made with natural cotton, it can be a great option for child's wear, blouses, lingerie, and suits.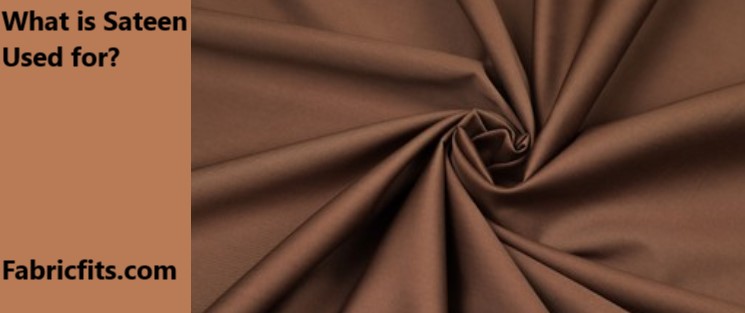 Below is an explained answer to the real question here. So, let's see how you can use sateen from casual to formal uses.
Prints
There are several glorious prints to talk about when it comes to sateen.
Floral: Floral dresses made up of sateen fabric are absolutely versatile. You can go from office to date to party with a floral-printed sateen dress, it's simply all the go.
Checks: Well, check-dresses are an evergreen option in fashion history. Sateen fabric with a combination of checked designs is another level of elegance.
Stripes: More specifically, vertical stripes. This print is my personal favorite as I love wearing a blue-and-white dress and pair it with a denim jacket. This version inspires me with sailor vibes.
Polka dot: If you're looking for an ultra-famine mini dress, this is what you can get.
Style:
Although the style is totally personal preference-based, these ideas of sateen styling may help you in any way.
Ruffled skirts: Regardless of maxi or mini skirts, just pair them with a plain shirt or an off-shoulder top, the look kills it, trust me! Another way to add ruffles to your everyday style is by pairing them with frilled sleeves. It's even an ideal choice if you wear a fancy sateen top because the fabric is great for its Drapability (the ability to conform to the surface of mold).
Pajamas: That's a new street style. If you go for the full pajama style, then consider wearing some accessories such as a fancy bag and open-toed high-heel shoes. Or, if you prefer wearing only a pajama shirt, team it with a leather skirt or jeans.
Shirt-dress: It's the perfect attire for summer cause it looks really simple but elegant. If you've been planning to combine a shirt dress with some eye-catching accessories and shoes, this is a great opportunity.
Colors:
Whenever I think about sateen, ultra-violet is something that comes very first in my mind. This is not all, you can think about pastel colors such as peach, lavender, sky blue, mint green, rapture rose, and so on.
If you're just thinking about your dates, then the chilly red color is what you'll like. And, for evening dates, more specifically, go for a chocolate brown or deep blue.
Where to Buy Sateen?
There are so many options on the market if you want to buy sateen fabric. You can check out the fabric in any craft supplies & tool shops that also have custom and handmade pieces. Also, there are specific sateen fabric stores both online and offline where you can get exactly what you want.
Difference Between Sateen and Other Materials?
As you've known about sateen for a while, it's time for us to show you the differences between sateen and other materials that are close to sateen.
Sateen vs Satin
As they sound so similar, these terms are what most people get confused about. Here's why sateen and satin are not the same.
Fiber content is the main difference between sateen and satin. Satin is made of some kinds of filament fibers such as polyester, nylon, or silk whereas sateen is made of staple fibers that form short spun yarns. The most-used fiber in sateen is nothing but cotton.
Although both sateen and satin come with the same weave pattern, sateen fabric's cotton content tends to be more durable compared to satin.
Now, here's a table that compares the fabrics based on their characteristics.
| | | |
| --- | --- | --- |
| Characteristics | Sateen | Satin |
| Fiber content | Cotton, bamboo, rayon | Polyester, silk, nylon |
| Breathability | Breathable | Breathable when it's silk-based |
| Appearance | Lustrous sheen | Luxurious |
| Allergies | Hypoallergenic, resistant to mold, mildew, and dust mites | Hypoallergenic, resistant to mold, mildew, and dust mites |
| Durability | Tough and durable | Luxurious instead of being super durable |
So, overall, satin is a smooth, soft, and luxuriant fabric but it requires delicate care. Also, it's really slippery to work with, synthetic varieties aren't breathable, and can't be dried so easily.
Therefore, if you are to decide between sateen and satin, you should consider your project first. Both sateen and satin look almost similar but there are differences that could either make or break your project.
Sateen is durable and luscious and a great choice for you if frequent washings are needed. Satin is the one you should go for if elegance and luxury looking are what you want. But satin can't withstand a heavy hand, it requires a delicate touch.
Sateen vs Cotton
The main difference between cotton and sateen fabrics is a specific method of weaving the fabric to give it a certain finish type. Other factors like thread counts, weave lifespan, different types of fabric weaves, etc also matter here.
How many threads there are per square inch in a fabric piece is termed, thread count. The usual range of sateen's thread counts is 120-1,000. But 100% cotton fabrics have up to 400 thread counts. The higher thread counts a fabric has, the softer its texture is.
Also, the type of fabric weaves matters. In sateen, one wrap thread usually passes over a minimum of four weft threads that create a softer luster finish.
Sateen vs Percale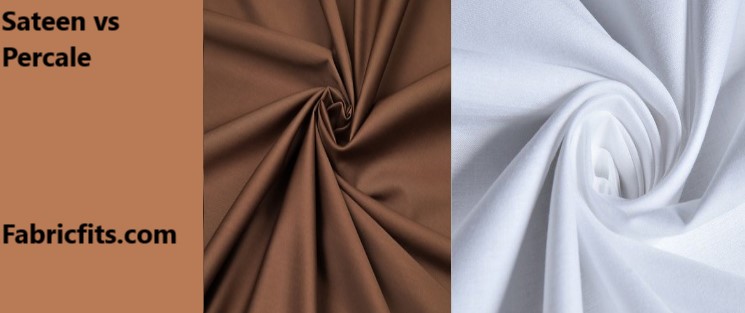 Let's begin with a quick comparison between sateen and percale.
| | | |
| --- | --- | --- |
| Parameter | Sateen | Percle |
| Best for | Cooler seasons | Hot summer season |
| Difference in feel | Feels soft | Feels crisp |
| Cleaning and care | Machine washable using the air-dry, no heat cycle | Machine washable |
| Durability | Exceptionally durable | Moderately durable |
| Thread count | Higher | Moderate |
Percale fabric is plain in weave and recognized by crisp hands and a matte finish. Since this fabric offers better breathability or air permeability than sateen, it makes percale weave the right choice for hot summer days.
On the contrary, sateen is the right one for cold sleepers or simply for cooler seasons. Because it uses a three or more over and one under weave that's incredible for trapping more heat.
So, overall, it's up to you what you should go for according to your sleep comfort.
Sateen vs Silk
Silk is some people's first choice as it's a natural material, lightweight, and incredibly breathable. Also, it dries really fast, regulates body temperature well, and makes you feel warm in the winter and cool in the summer.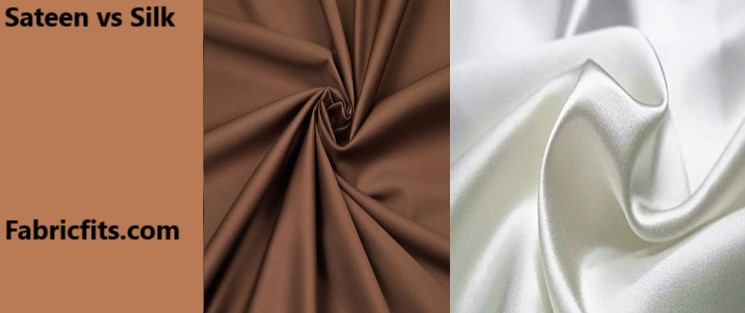 Therefore, the temperature-regulating feature is what makes sateen and silk different.
A high-quality sateen is always luxurious but it's not so smooth like silk as it's made with cotton.
People who want the benefits like preventing hair breakage and protecting facial skin prefer sleeping on luxurious silk or satin for their bedsheets. It's because silk is incredible for moisture retention in the skin.
How to Care for and Clean Sateen?
Every time you put your sateen items in the washer, make sure you read the care instructions on the label. Although most sateen items are made with cotton, you still want to be so careful that you don't have to face the fabric pilling, color fading, or shrinking.
Here's what you can do to keep your sateen new like the first purchase after washing it.
1. Machine Washing
Machine washing is kind of a must if you're working with polyester or cotton items like sheets. It ensures the deepest clean so let's see what's the right way to machine wash sateen items.
Prep Work
While washing any sateen item, try not to overfill the washer with other clothes. When extra items inevitably get entangled with the sateen items, it may cause a less effective washing cycle. Damage to the fibers may happen if the case is worse.
Setting Temperature to Wash Sateen Fabric
Once you've placed your items in the washer, you may ask whether you should use cold or hot water. Well, actually, you should use it somewhere in the middle. Hot water may damage the threads or shrink, whereas cold water may not clean the fabric perfectly. So, somewhere in the middle will work the best.
What Settings to Wash Sateen Fabrics
The safest way is to wash sateen fabrics using the delicate setting no matter which washing machine you own. Trying the normal setting initially is okay but then, you should spin the cycle to low and adjust the water temperature to cool.
Avoid using any harsh detergent. Go for any mild detergent that's free of bleaching agents.
Worth mentioning here don't ever use bleach on your sateen fabrics. It's because sateen is already made from natural matter so you don't have to use any fabric softener while washing it.
2. Handwashing
Any delicate items like sateen are always safest to hand wash. Let's see how you can do it.
First of all, make your sink filled with cold water.
Add 2 cups of delicate wash to the water.
Submerge your sateen item and gently agitate the water using your hands to make sure you evenly distribute the soap.
Soak it for around 30 minutes.
Run cool water through the item and rinse well.
Drying and Finishing
Once the cleaning is done, lay your sateen items flat on a drying rack or you can simply hang them to dry. While doing so, make sure the items are in their natural shape.
If you're dealing with polyester or cotton sateen, tumble dry it using medium temperature.
The thing is the most delicate items wrinkle after laundering. To get the safest and best finish, we suggest you steam the item. If you iron them, you'll want to use the lowest temperature setting.
Storing
If it's a sateen dress or skirt, it's okay to simply hang it on a hanger. But you have to be mindful of clips as they may leave marks on the material. It's best to store items clean.
It's best if you store the items in a breathable cotton storage bag. It'll protect the items from bugs. Try to avoid storing in plastic as it tends to yellow the items and may trap mildew-causing moisture.
Final Words
So, 'what is sateen?' isn't a big question for you now, right? Sateen is easy to sew as well as economical to purchase. And, you'll love this beautiful fabric as it comes with a luster and great colors. Sateen is a versatile fabric, looks classy, so you can feel free to go for the fabric anytime without worrying about trends.